Last year our review of LG's V20 was criticized for suggesting that it was too original and one of their half-baked experiments. To those who doubted that harsh review, I'd like to introduce you to the much improved 2017 version–the V30. As it turns out, LG took its experimental design back to the drawing board and came back with something that clones the design features of many of its competitors. Read on below for the full review.
Design
The LG's V30 is what I'd call the birth child of Apple and Samsung's incredible design. This doesn't look like a typical LG flagship. Instead, it resembles a Galaxy Note and iPhone Plus put together.
LG took great strides to fit in by dropping its most recent gimmick. They've finally ditched the secondary 2.1″ experimental display, lost the steel sides, and replaced them with Gorilla Glass 5 and aluminum. Simply put, they've built the V30 into a bright and beautiful bezel-less smartphone tailored for 2017.
Per LG's trademark, the power button remains on the back doubling as the fingerprint reader. The volume rocker is to the left, and there's a headphone jack on the top right. It charges with USB-C, has one large loud speaker grill on the bottom right, and a nearly edge-to-edge 6" display that tapers just slightly around the sides. With its brand new 6″ OLED display panel, the V30 has an 18×9 aspect ratio like the LG G6, meaning it's extra wide (compared to 16×9). Due to this, some apps, videos, and smartphone content do not entirely fit, resulting in black bars on the sides.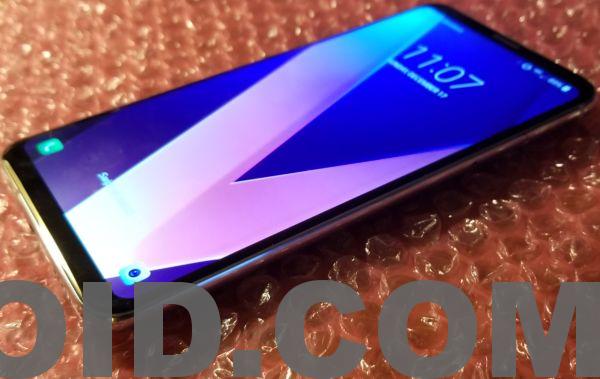 Specs
The LG V30 comes with a top of the line Snapdragon 835 Octa-Core processor, an Adreno 540 GPU, 4GB RAM, and 64GB of internal storage. There's also a microSD slot capable of adding up to 2TB of external storage. The display is a 6" P-OLED with 1440 x 2880 resolution and 537 ppi. The battery is 3300 mAh, which is a bit larger than the V20's of last year. As for the cameras, the V30 comes with a dual 16 megapixel and 13 megapixel camera setup on the back, with a 5 megapixel shooter on the front. There is a 3.5 mm headphone jack on top, an incredible loud speaker at bottom, and of course the fingerprint reader/home button and heart rate monitor on the back. The V30 also comes with fast charging, wireless charging, IP68 waterproofing, and Bluetooth 5.0.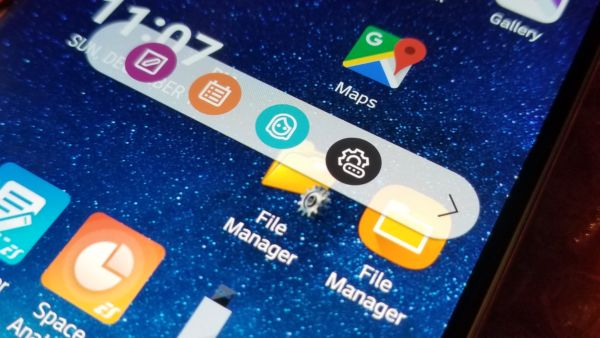 Software
Android 7.1.2 Nougat is on board the V30 along with LG's latest software skinning. Rather than using that 2.1" display on the V10 and V20, LG actually made a "floating bar" for extra sidebar features like opening apps, making appointments, taking screenshots, or controlling LG's music player. It's a smart innovation that made the initial hardware gimmick (the extra 2.1" screen) all the more regrettable.
With Android's always-on display feature, you can see the time, battery life, date and other information when the screen is off at all times. Battery saving modes (extended and maximum) may turn this off to save energy, but it doesn't suck much juice as is. And those battery saving modes are pretty awesome, suggesting an additional 16 or even 30 hours of battery usage on one charge.
LG's famed Knock On feature, allowing you to double tap the screen on and off, is indeed still here. It's my favorite proprietary LG feature, and it's especially handy on larger phones like this where it's difficult to reach the power button to turn off or wake the screen.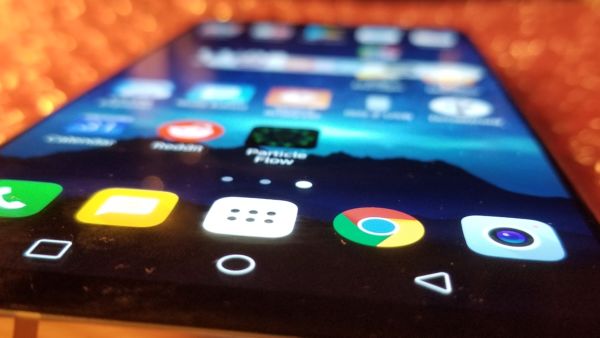 For the video game-obsessed, there's a gaming mode you can use to tweak graphics and other features. You can also double tap volume down to open the camera app when locked.
As for my main dislike, LG's OS skin still feels bubbly and oversimplified considering the state of stock Android (it's bare bones and efficient already). But aside my personal taste, I encountered no problems using the V30 in terms of function. Nevertheless, I really wish I could have swiped upward to open the app drawer rather than pushing a button, but I've most definitely been spoiled by Samsung and other hardware companies' competing features.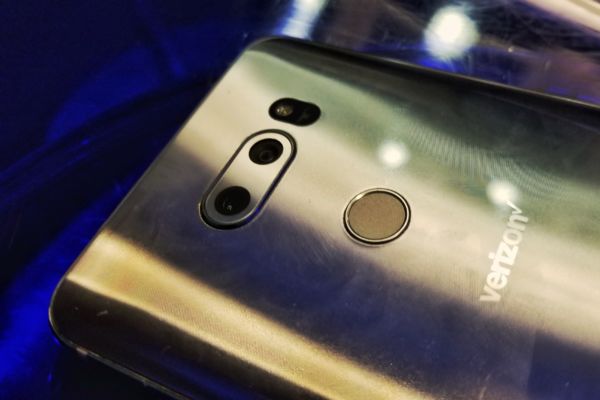 General Use
Using the V30 was pretty comparable to using a Samsung device. Even though it's a tad larger than your average flagship, or even last year's V20, this 6" phone feels great in the hand. It's completely balanced, has no camera bump, and it's and incredible 7.3 mm thin.

Along with that, the glass sheen on the back screams Galaxy Note Galaxy from afar. You'd never guess it was an LG phone. The tapered edges are smooth, and it's a wonderfully elegant piece of hardware to carry around. And that's really the only handling problem I had with it. Like other metal and glass phones, we recommend a skin backing, Popsocket, or a case for extra grip with the V30. It's definitely cumbersome to hold with average-sized hands, and the slippery factor is something you'll never escape.
Phone calls, web-surfing, and texting via Verizon's 4G network was absolutely great on the V30. However, the most notable experience on the phone is that beautiful OLED screen. While not all content fits the 18×9 aspect ratio, in visual testing I couldn't notice any major difference between a Samsung Galaxy S8 and the LG V30's color, brightness, and saturation. This display is absolutely stunning, and LG should be proud of the switch from the V20's IPS display.
I was also pleased to have USB-C, a headphone jack, and ample battery throughout the review. You can read more about the battery and camera experience below.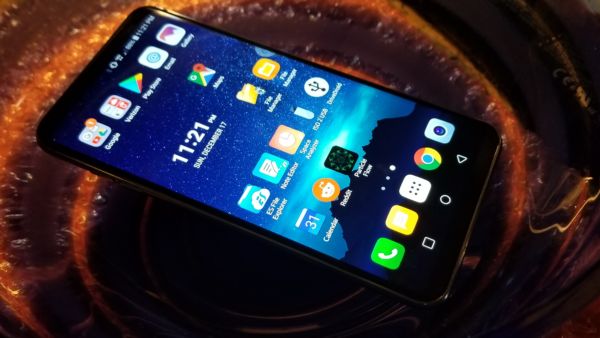 Battery
The LG V30 comes with a large 3300 mAh battery, which is 100 mAh larger than the V20. To say it lasts would be an understatement, as 2-3 days on standby isn't unheard of, and 30 hours on average use is definitely feasible. It's a 24-hour battery, and you can treat it as such.
The downside? Some are sad that it's non-removable, but we all know those people are wrong. That's because the V30 comes with fast charging, offering a 35% charge in roughly 20 minutes, and a full charge in about an hour and a half. As long as you can find a power source once every 24-72 hours, this phone's power button will require a weekly dusting (you won't be touching it).

Why seal the battery? First, it's sleeker in an aluminum/steel/glass unibody design; and second, it supports the IP68 waterproofing on the V30, which is a nice upgrade from the V20. Also, LG added a bonus feature to the V20 this year–wireless charging.
Camera
LG's dual cameras are pretty incredible on the V30. Using those dual cameras, 16 and 13 megapixels individually can come up with some stunning and fun results. LG's camera app has a lot of interesting features, but it's most notable is the ability to shoot with extra wide angles, at either 71 or 120 degrees. You can shoot video in 4K with these cameras, and other modes for filming include fun things like slow motion and a "Cine Video" mode, which allows for preset filtering and steady/slow zooming with the touch of a finger.
There's plenty of fun photography modes, too, like popout, match shot, panoramas and other gimmickry. But more importantly, the shots turned out very clear and sharp. At first they seemed a bit dull compared to other smartphone photography, but it's because LG isn't over-processing the images with the V30. This means you won't end up with over-saturated pictures. That's much better for editing later, but it may not please those attempting to get that color punch from Samsung or an iPhone camera.
I was most impressed by the V30's ability to take great shots in low-light situations. One of the cameras has a very large f1.6 aperture, so that was a big help for shooting outdoors at night and in a dive bar. I wasn't as impressed with the image stabilization when shooting video, but the cameras were definitely great for sports events, group pictures, and landscape shots.
The front-facing camera is okay for selfies, but surprisingly, we found the colors to be a bit dull most of the time. LG packs their app with filters, lighting options, and skin tone remedies, but it's most definitely nothing to write home about. That's some sharp contrast to the amazing cameras on the back, but it won't be a deal breaker for most.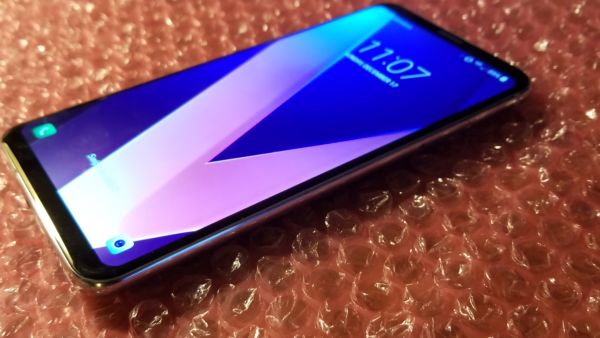 Overview
The LG V30 is one of LG's best smartphones yet. We really thought the V10 and V20 were phones on the edge of something great, but the gimmick of that 2.1" screen really held it back. The 2017 upgrade of the display to a gorgeous OLED is a big win, along with the IP68-worthy glass back, slightly bigger battery, and improved cameras and spec sheet. This phone is large at 6", but we've never had an easier or comfortable experience using a device of this size. LG's mimicry of Samsung and iPhone's glass and metal designs do feel a bit unoriginal, but the visual appeal can't be questioned, along with the performance. Nevertheless, the price is still quite high, and that's something that could be a deciding factor for consumers, even if it's competing with the likes of an iPhone 8 Plus and Galaxy S8+.

You can pick one up from Verizon for $840.00 or $35.00/mo for 24 months. Given the season, we recommend searching around for holiday deals.
9/10