If you're looking for that great tech gift, Verizon is offering some decent buy one get one (BOGO) free holiday deals on the Samsung Galaxy S8 and 8+, and Note8, as well as Apple's iPhone 8 and 8 Plus. The deal launched this past Friday.
Verizon is offering the deal if customers buy the two devices from the same manufacturer (no mix and match Android/iOS here), and activate a new line on Verizon's unlimited plan. The deal will show up on the bill as a discount credit, covering the second device for two years. Of course, if you're on a limited data plan and not looking to upgrade your monthly payment, the additional cost of unlimited (and the first new phone) may not make it a deal for everyone.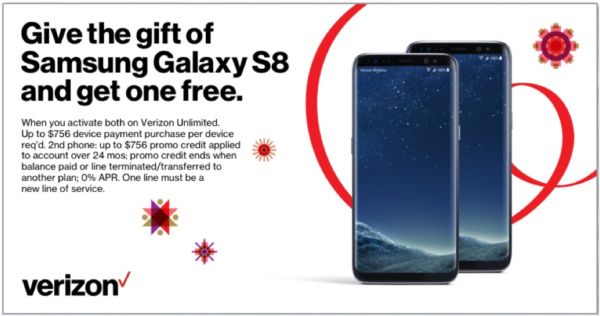 Nevertheless, BOGO deals don't get much better for flagship devices, and this could be a great way to jump start a family plan with brand new smartphones. Trade-ins aren't necessary and the offer is available for those upgrading or switching.
The fine print for the deal on the S8+ is below.
Up to $960 device payment purchase and Verizon unlimited per device required. 2nd phone: $756 promo credit applied to account over 24 mos; promo credit ends when balance paid or line terminated/transferred to another plan; 0% APR. One line must be a new line of service. First device can be any memory configuration of Galaxy S8, S8+, or Note8. Second device can be any Galaxy S8, S8+, or Note8 of equal or lesser value to first device, but devices other than the Galaxy S8 will not be free after $756 promo credit.
Source: Verizon