I have been using the Samsung Galaxy S4 since a week prior to its U.S. release on AT&T. It has taken me a bit longer than usual to write about this device because I have had mixed feelings about its glamor. I know there have been millions of people that have bought this phone because of the marketing hype Samsung created prior to the launch but with sales estimates reportedly slowing, it will be interesting to see if the GS4 will continue to sell through the market.
Since I am not a tech analyst (maybe one day), I will simply report on my thoughts and findings on  Samsung's latest flagship device.
Hardware
I have never really been a fan of the hardware on Samsung devices. They are known for the use of plastic which many consumers point out as a major turnoff, but what Samsung says they will continue using to preserve signal strength. The iPhone 5 and HTC One both utilize metallic finishes and I have experienced no issues with signal strength.
Other than the plastic finish, Samsung did make some improvements to the design versus the GS3. The GS4 is thinner, lighter and includes a larger 5″ HD Super AMOLED display. The GS4 also has a 1.9GHz Quad-core Qualcomm Snapdragon processor and 2GB RAM. Fairly standard for flagship devices these days. There is 16GB of internal storage with up to 64GB of MicroSD storage, an advantage over the iPhone and HTC One. If Samsung maintains its approach to expandable storage and removable batteries, this would be music to the ears of their power users who are used to swapping batteries and SD cards.
Smartphone photographers are treated to a 13MP autofocus with LED flash which takes excellent photographs. Below is an unedited sample: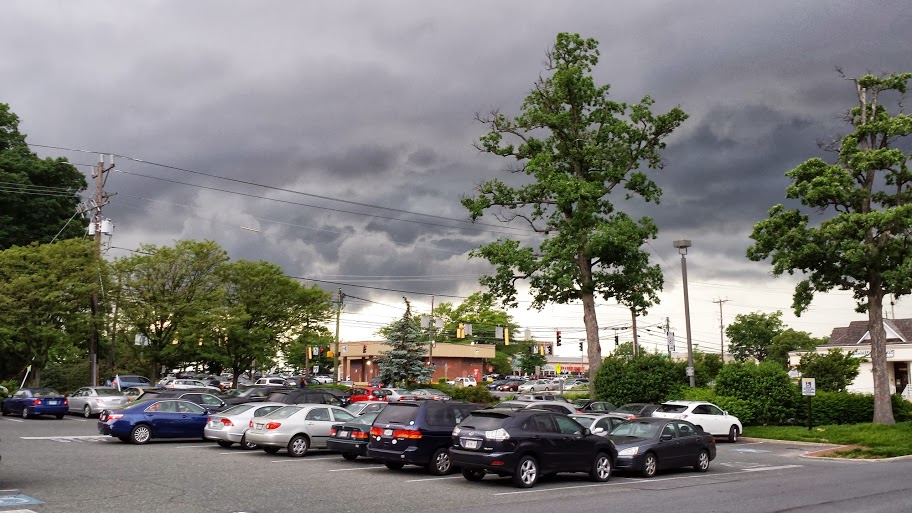 Thanks to TouchWiz, there are some amazing software enhancements that make the Galaxy S4 camera truly unique. This sounds like a good opportunity to segway to the software on the GS4 which makes the device stand out (for better and worse) from its competition.
Software
Starting with the camera software mentioned earlier, the Galaxy S4 comes with a multitude of shooting options. Listed below are the camera modes and a short description of what they offer:
Dual Camera- Combines photos and video from front and rear cameras into one.
Drama Shot- Take a series of action shots and put them together in one photo.
Sound & Shot- Captures audio with images to help you relive the moment.
Beauty Face- Brightens or darkens skin tones or hide portrait imperfections.
Best Photo- Shoots multiple photos of your subject and chooses the best shots.
Panorama- Creates a single widescreen photo from consecutive shots.
Cinema photo- Introduces motion to your photos.
Rich Tone (HDR)- Blends three photos captured at various exposures. You can also switch to Sports Mode, Night Mode, and more for dramatic shots.
Eraser- Gives the ability to erase unwanted people or objects in pictures with just one touch.
There is also an "animated photo" feature which allows you to capture a few seconds of video, convert the footage to a still image, and then select elements of the still to be animated. In other words, you can create your own animated GIFs right from the phone.
Here is an example I shot at the pool. I was shooting through a metal fence so please excuse the black on the left.
The GS4 comes preloaded with both Samsung apps and tools from AT&T. Again, some for the better and some not so much. Samsung apps include S Health, an app that tracks workouts, daily calorie intake, and weight levels, and helps chart your progress, S Translator, which instantly converts voice or text to other supported languages of your choice, S Voice (Samsung's answer to Apple's Siri), Samsung Hub and Samsung Link.
AT&T apps included are AT&T Address Book, AT&T Navigator, AT&T Family Map, myAT&T, AT&T Hotspots, AT&T U-Verse Live TV, YPmobile, AT&T Smart Wi-Fi, AT&T Messages, AT&T Drive Mode, AT&T Locker.
These aren't even all of the apps that come preloaded on the GS4 and this is why you really only have about 9GB out of 16GB for your own app storage. Not only are a majority of the AT&T redundant and will go unused by most, but you cannot even delete them. The only option you have is to "disable" them, thanks to the Android operating system.
Otherwise, the UI of the latest version of TouchWiz running on Jelly Bean 4.2 is very appealing and does offer some improvements over stock JB. The notification system is offers more functionality and quick access to the power controls like WiFi, Bluetooth, etc. Some will prefer the pure "Google Experience" (me included), but TouchWiz has come along way since its inception. There are many innovations within the software that add value to this device.
The bad news: Most of the software features touted in that marketing blitz mentioned earlier are plain gimmicky. Features such as "Air Gesture" and "Smart Stay" are great in concept, but are unnecessary for your average daily user. In fact, for people that rely on their smartphone on a minute-to-minute basis, these features end up slowing processes down rather than enhancing your experience. I think people are perfectly comfortable with the way they interact with their phones currently and all of these features impacted the battery life on my review unit so I decided to turn them off.
Network
My device was provided by AT&T and LTE performed beautifully in the DC region. Speeds were consistently in the double digits averaging about 14Mbps on the download. AT&T has invested a lot of money and resources into enhancing their network and remains the fastest network speeds in this area. T-Mobile is catching up — thanks in large part to the failed merger by AT&T — but for now, AT&T is the king. If only AT&T let the manufacturers and 3rd party devs handle the apps and not junk up the device with their own apps.
Overall
When people compare Android smartphones, the two phones currently at the top are the Galaxy S4 and the HTC One. More than a few people have asked me for recommendations on which of these two devices they should purchase and to this point, I have to say the HTC One is still the bees knees.
Is the GS4 a great smartphone? Without a doubt. But to be honest, I am not sure I would even justify this as an update to the GS3. The GS3 has a smaller frame which many prefer. The specs are nowhere near outdated. And with the exception of some of the new Samsung "features", all of the delights of Jelly Bean are still available.
I remain a fan of Android but for me, the Galaxy S4 missed the mark.