As our readers well know, I have recently had the opportunity to review the Lucid and Intuition by LG. Both devices are functional, but are clearly designed for different audiences.
The LG Lucid is a powerful little device. With comparable specs to its cousins, all that lacks is a little bit of size. But that didn't stop David, Muggsy Bogues or General Tom Thumb. Selling for free on contract, the Lucid makes the perfect entry device for someone who is just starting out with Android or smartphones in general. You probably won't be watching too many full-length movies on this device, but you can email and surf the web with the best of them.
The Intuition is the Goliath to LG's David. Overwhelmingly big, the Intuition is large, but I didn't feel in charge. The device was too big to handle with one hand and the OS lagged. One of Tech Void's readers, Mark, has also reported lag on his device as well, so I doubt it is an isolated issue.
Enter the Spectrum II by LG. With a 4.7-inch, True HD IPS 720p display, a 1.5GHz dual-core Qualcomm S4 processor , 8-megapixel camera and 16GB of internal storage, its the perfect combination of size, shape, form and function. I didn't experience any lag in performance during my time with the device. The UI is very responsive, however LG's version of Android (Optimus UI 3.0) is just not the prettiest of operating systems I have seen. This most likely doesn't mean much to your average smartphone user, but in my opinion, something that can affect the overall feel of a device. I find that I lean more towards Samsung's latest version of TouchWiz, if not vanilla Android.
The display is bright and colorful, but I could still see pixels with the naked eye whether I was using Chrome to view web pages, watching a Youtube video or even just tooling around the home screen. The clarity of the IPS display is nowhere near the retina display on an iPhone 5. Since LG makes high-definition televisions, one would think they could make a decent smartphone display. Samsung, they are not.
The 8mp camera is certainly useable. Photos look decent for a smartphone, but I wouldn't compare that of the Spectrum II to Samsung or Motorola cameras. I considers these manufacturers to be setting the standard in smartphone photography with HTC a close third. They are even beating Apple in the camera/sensor department. Now, if there were only a digital camera that could do almost everything your Android phone could do because it's loaded with Android Jelly Bean. Wouldn't that be nice? Teaser.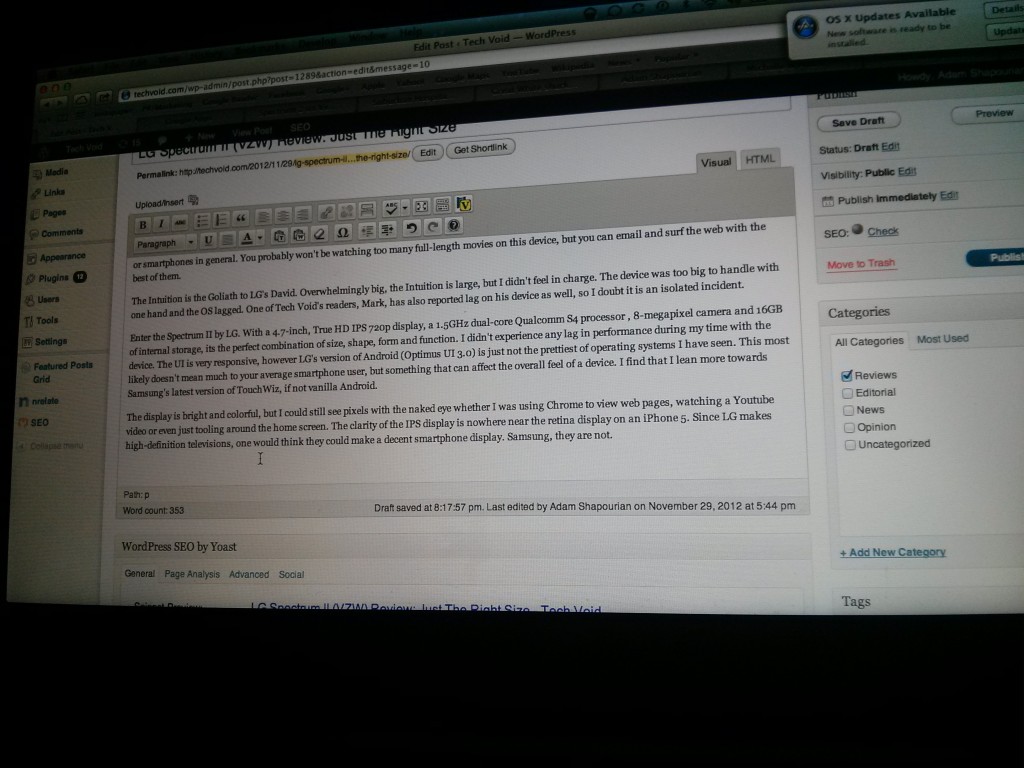 Overall, I think the LG Spectrum II is a solid device. It doesn't have everything I am looking for in a smartphone, but not everyone needs the most cutting edge specs. They probably won't mind LG's custom user interface and may not even notice the pixels on the display. Call quality and data speeds were extremely reliable, so as a communication tool, the Spectrum is top rate. The hardware is durable and feels good in your hand. I can definitely navigate the device with one had which is always a plus. And for $99 with two-year agreement, the device is a steal of deal. Slap a 16mp camera and a quad-core processor on this bad boy and you'll have one heck of a phone.
There's that teaser again…