Babies are a wonderful handful, especially for first-time parents. Thankfully there are helping hands (besides grandparents) available, and they involve Dad's favorite solution–technology! Read on below to find our top 10 list of must-have baby gadgets and toys to get you through the first six months of baby-dom. Oh, and don't forget to buy the batteries!
1. Zzmart Nursery Bear Night Light

Every nursery or baby needs a night light, so why not one that's a cute white bear? This one has seven different  colors and a simple tap control for exhausted parents with debilitated motor skills. Zzmart's nursery light is only $15 and is a joy for adults and babies alike.
2. 

Skip Hop Stroll & Go Portable Baby Soother and Sound Machine, Owl 
You won't get a baby to sleep without the help of some shh-ing or a white noise machine. Personally, I prefer one shaped like, yes, an owl! In a pinch, this product is great as it can be clipped onto a baby carrier, bassinet, or almost any other baby chair/bed of choice to keep your infant snoozing on-the-go.
Skip Hop's Stroll & Go owl 
has a rubberized feel and four melodies and nature sounds, including the ocean and rain forest. Bonus? It's under $15.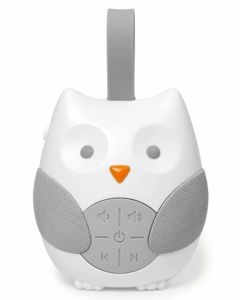 3. Samsung Wisenet BabyView with BabyView Watch and Sensor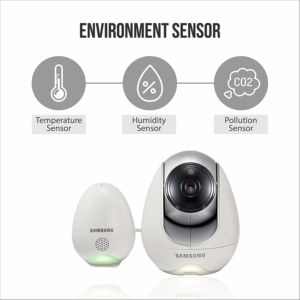 Samsung has a lot of gadgets, but you might not realize they also make pretty decent baby monitors. The latest
WiseNet BabyView
package comes with a camera, room sensor, and wearable monitoring watch. While the included tablet will suffice, the system also has the ability to connect to wifi for camera monitoring via smartphone app or watch. In addition, the remote sensor can monitor your nursery's air quality, humidity, and temperature. The unit comes with endless features and should have any gadget-tinkering parent falling in love with it.
5. Owlet Smart Sock 2 Baby Monitor
Perhaps the most hardcore baby-monitoring device is the Owlet Smart Sock. Owlet's most recent product can track baby's heart rate and oxygen through a "smart sock." Just place the sensor/sock on the baby's foot and you can monitor your baby's pulse remotely from your smartphone. The device comes with three washable socks and connects to your phone via Bluetooth. This might not be for most parents (it's pricey), but for peace of mind, it might be the ticket. Owlet suggests swapping the product to opposite feet each night when monitoring. As always, remember to follow all safety information closely with any product for your baby.
5. Fisher-Price Rock 'n Play Sleeper
It might seem primitive and dated, but the Fisher-Price Rock 'n Play is the most necessary baby gadget around. The timeless use of rocking and vibration to get babies to sleep is a must-have tool in your parenting arsenal. It takes one large battery but will last for months in our experience (not all day use). Some models also come with an AC adapter for charged operation. Pick up one for yourself (or to list on your registry) for $59.99.
6. 

4moms mamaRoo 4 Bluetooth-Enabled high-tech Baby Swing 
If you want to go above and beyond rocking your babe to sleep, the 4moms mammaRoo Baby Swing is the cream of the crop. With five different set swinging motions and a Bluetooth-enabled app to control reclining, motion, and music/sounds, your little girl will have the ride or snooze of her life in the Rolls Royce of baby swings. At only $200, it's priced accordingly, but the used resale value is undeniable.

7. Wubanub Pacifier
Okay, so we're getting a bit loose on "gadget." This one's pretty basic, but no baby can go without a stuffed animal. But we're not talking about just any stuffed animal; this one is a Wubanub. What's a Wubanub? Only the most useful tool in your Dad arsenal to pacify a baby! The brilliant product combines a soft pacifier (safe for babies of all ages) with a soft stuffed animal to hang onto. Get an elephant, a tiger, a reindeer, a monkey, and more. Just don't forget you can wash the little guys, which is absolutely necessary. You just can't beat it for $15.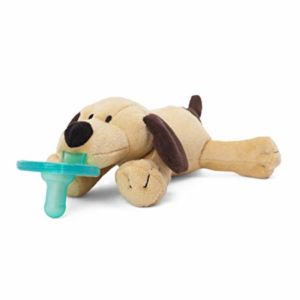 8. Baby Einstein Caterpillar & Friends Play Gym
One can't say enough how helpful the Baby Einstein mat has been for my own infant. Having a place for baby to keep herself occupied is a Godsend after all of the feeding, barfing, crying, and pooping going on. Bonus: It's fairly easy to clean. The mat comes with two arch mobiles full of toys and dangling handles for baby to cling to. Better yet, it comes with a removable musical star that teaches babies to hit, kick, and play on the mat in order to continue the 25 minutes of classical tunes. Soon you'll memorize the entire concert (whether you like it or not), but baby will play on. And on. And on. $50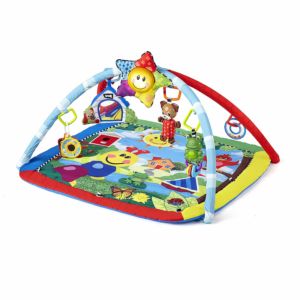 9. Safe Baby Tech Baby Car Mirror
If you're planning to drive anywhere with your baby, don't forget to pick up a backseat baby car mirror. Safe Baby Tech's mirror adjusts to any headrest or backseat, giving you the perfect angle and view of your infant babbling in her rear-facing car seat. It's not the hippest tool, but it's definitely an important one. $14
10. Infantino Flip 4-in-1 Convertible Carrier
Assuming you're man enough to carry the baby around alone, you're going to want a baby carrier. The best bet is something that fits an infant at the get-go, and the Infantino Flip does just that without breaking the bank at $30. Better yet, you can carry a baby in four different ways, so long as they're between 8 and 32 pounds. With padded support and included cover bibs, you'll keep your infant safe and yourself clean while walking the mall or hiking the trail. Just remember cover your infant with a blanket if they're not old enough for sunscreen.