Lenovo has taken great strides to bring the Moto brand of smartphones to the head of the Android pack. And following their attempt to bring modular to the masses in 2016 with the Moto Z and Moto Z Force, they're up to it again this summer with the Moto Z2 and Z2 Force.
But has the nickel and dime mod-snapping platform gotten better? And if not, does the new Moto satisfy on its own? Find out below in our review of the Moto Z2 Force on AT&T.
[slideshow_deploy id='10746′]
Design
Despite LG ditching its modular design on the LG G6, Lenovo isn't quitting. With some impressively useful mods (projector, cameras, battery packs, and more), the Moto Z2 continues the effort to make modular stylish, easy, and snappy. Back plates are still all the rage to hide the camera bump, and the general look and feel of the device hasn't changed much at all. The corners are rounded, the edges are aluminum, and the screen is plastic shatterproof resin while the back is aluminum with a 16-point connection for attaching mods.
The Z2 Force is incredibly thin and wide, and even without a back plate (our review unit didn't come with accessories), it grips fairly easily with some nice balance when held in the palm of your hand. It's still 5.5", but it's only 6.1 mm thin and weighs 143 grams, 20 grams lighter than last year's model. The main visible differences? The fingerprint reader on the front is oval rather than square, and the upgraded rear camera is a dual 12 megapixel camera.
Hardware
The Z2 Force comes with a wonderful 5.5" Quad-HD super AMOLED display, a Qualcomm Snapdragon 835 processor, an Adreno 540 GPU, 64GB of internal storage, and 4GB of RAM. In addition, there's a microSD slot providing up to 256GB of external storage.
As mentioned, the new improved camera is a dual 12 megapixel camera with autofocus and dual-LED flash that can shoot in 2k, although no OIS is mentioned. The front-facing camera is still an average 5 megapixel.
The phone's battery is actually much smaller than other Moto Z and Z2 models. It's only 2730 mAh, which might be a deal breaker for some. However, with fast-charging and the addition of Moto Mods with battery packs (half the point), it's arguably not a problem. And with Android 7.11 Nougat on board, its energy-sipping efficiency is superb.
Oh, and of course, the Moto Z2 Force, like every Moto Z before it, has no headphone jack. It comes with a USB-C port and adapter dongle, so don't plan to charge and listen to music at the same time unless it's using Bluetooth headphones. Of course, there's always the decent speaker.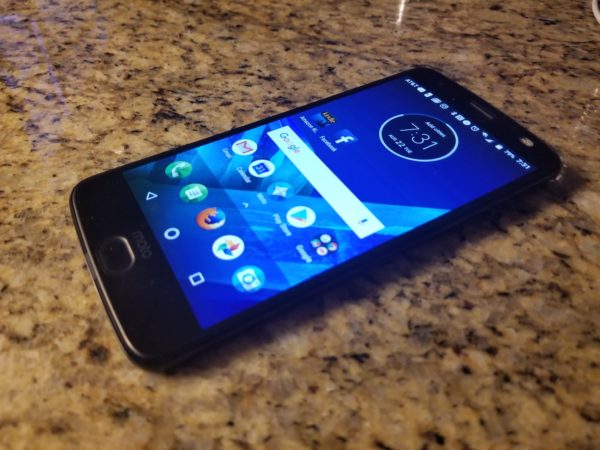 General Use
I've admittedly always loved Moto devices for the brand's simplistic software skin, useful features, and generally attractive and intuitive UI. It just can't be beat in my opinion. And when you merge Moto's minimal software features with Android 7.1.1, you get heaven. The app drawer accessibility takes a simple swipe, the camera can be opened with a simple shake or angular tipping motion, and Google Assistant is just a home button hold or, "Okay, Google" shout away.
The power and volume rocker both being on the left is nice, and the clicks are satisfying and nice. The light and wide build makes carrying it around supremely easy, but we would have preferred to try it with a Moto back (or Style Shell) to make the camera bump flush. Still, even if you owned this phone purely naked, there's nothing that bothersome about it.
Of course, then there's the screen. The super AMOLED, while very vibrant, is nowhere near as bright as a Samsung device, especially in daylight. You will struggle to see your screen in any direct sun, even at full brightness.
So what about the plastic screen? I really loved the Moto Z Droid Edition's shatterproof screen last year, however using Z2 Force is the first time I've experienced problems with it. We've heard rumors of screens getting dented, but for some reason this unit just accumulates scratches like crazy. And how? By simply being in your pocket with keys. And that's a terrible feature failure for a company hoping consumers will carry this device in their pockets and bags the next two years. We've heard similar things in other reviews, but it didn't seem as prominent with the first Moto Z models.
Nevertheless, playing games, watching Netflix, and scanning basic apps and newsfeeds was very satisfying on the Moto Z Force. Everything opens quickly and seamlessly, with no noticeable lag. And considering the specs, it's no wonder. Everything in Android Nougat is butter, and the way Lenovo/Motorola melds its software tweaks in is just a very satisfying experience. Also, like the Moto Z, the Z2 Force's fingerprint reader is absolutely snappy. It's almost like it's not even there.
As for Moto Mods, unfortunately we couldn't test any this time around, but we hear the GamePad, battery packs, and 360 camera mods are quite handy. Also, you can get the projector mod (which we tried out last year) free with a Moto Z2 Force from Lenovo free. Prices on those range from $39 to $300.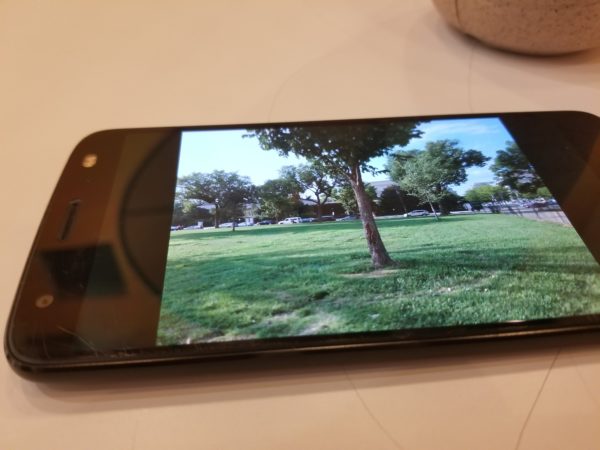 Battery
I really can't understand what Lenovo is doing with the Moto Z2 Force battery other than cost customers money. 2730 mAh of power is a joke for a supposedly top-tier flagship. Clearly they want to push the gimmick of adding Moto Mods, like the "moto turbo power pack," to this specific device. Meanwhile the Z2 Play and Z2 Force Droid Edition have 3,000 mAh and 3,500 mAh batteries with varied specs on memory and processors.
All that said, you'd be surprised how much juice the Z2 Force gets out of that 2730 mAh battery. Even without using power saving modes religiously, we were able to get 24-36 hours out of this phone with mild use. With heavy use, you can kill the Force in 12-18 hours no problem. Nevertheless, considering its size, that's an impressive feat. But knowing how lithium-ion batteries decline over time, this spells disaster and annoyance in the long run, even with fast charging capabilities.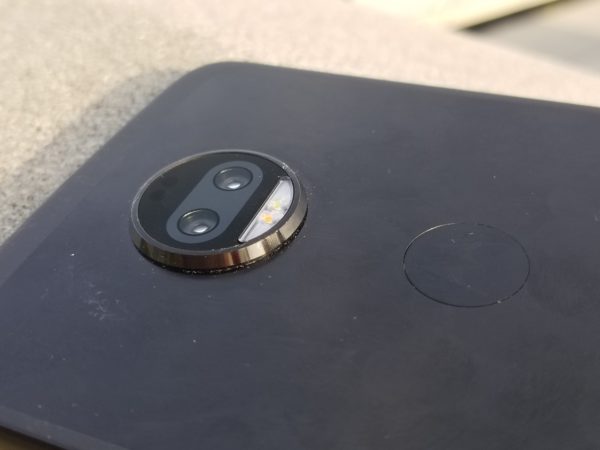 Camera
Moto devices have had cameras on the cusp of good since the beginning. And this year, with the Z2 Force's dual 12 megapixel shooter, I think it finally meets the competition. Photos pop, colors are gloriously saturated, and 9 out of 10 photos taken in fair lighting are exactly what I was looking for.
[slideshow_deploy id='10768′]
However, where it fails is in low light, which disappoints at bars and other dim locations. Still, the features includes are enough to make it fun. With a nice manual "Professional mode," "True B&W," and "Depth Enabled," experimenting with the Force is fun. Depth enabled is especially interesting because it allows you to edit the focus of a photo to something in the foreground or background after taking it. Bokeh effect, anyone? Some people say it looks manufactured, but it's still pretty fun for a smartphone camera, even if it's just created with software.
Slow motion videos are still here as is a good panorama. HDR shots turn out great, but I usually found myself turning it off to shoot faster. And while I say it's pretty competitive with other devices, the low-light failure is a small annoyance. The 5-megapixel front-facing camera is pretty decent for selfies with friends as well. Overall, there's minimal complaints in the age of 12 megapixel smartphone cameras.
Oh, and we can never get enough of Moto's unique ability to simply wiggle or shake a phone to open a camera. It just makes for one quick, easy, and satisfying move to take a spontaneous picture you can't get with other devices.
Overview
Lenovo and Motorola continue to impress with their hardware. They've created a great ecosystem of universal modular design, and it may pay off with this second iteration. The Z2 Force is an interesting phone that may well compete with Samsung and Apple in some aspects. However, that "shatterproof" plastic screen is most definitely not scratch-proof, and the smaller battery in this model (compared to the other Z2 versions), seems like an insult to customers shelling out $720 for a flagship design, especially when last year's model had an even larger one.
Nevertheless, there's something quite satisfying about using the Z2 Force, even without the mods. The software works like butter, the hardware is top-notch, and the dual 12-megapixel camera upgrade is arguably a milestone for Moto phones. You can pick one up for yourself at AT&T, other carriers, and directly from Lenovo/Moto's website.
8/10