Today NASA unveiled its brand new spacesuits made by Boeing for the CST-100 Starliner's future astronauts. The bright blue suits were announced on NASA's website this morning in a blog post, along with photos and a video of astronauts wearing the specialized clothing. The suits were engineered with modern features such as touchscreen-sensitive gloves, zippered entry, and boots worthy of cross training. 
According to Streven Siceloff of the Kennedy Space Center, these lighter spacesuits will be worn by astronauts aboard Boeing's Starliner spacecraft, which will eventually take astronauts to the International Space Station. NASA mentioned the following notable features in their design, which include nods to modern technology and fashion.
Lighter and more flexible through use of advanced materials and new joint patterns
Helmet and visor incorporated into the suit instead of detachable
Touchscreen-sensitive gloves
Vents that allow astronauts to be cooler, but can still pressurize the suit immediately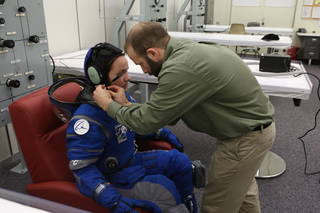 Impressively, the Boeing Starliner space suit only weights 20 pounds with all of its accessories included. And because of its simpler design, it is much more fail-safe, according to NASA. Of course, safety is the main concern, and astronauts will be required to train in these suits aboard their spacecrafts as shown in the below video. Flight tests will be done on Boeing's Starliner and SpaceX's Crew Dragon systems, beginning in 2018.
Source: NASA