Android smartphones have come an incredible distance since their origins in Verizon-exclusives, like the first "DROID" devices in 2009. From plastic, chunky, and cheap flip-out keyboards (Motorola DROID) and trackballs (HTC DROID Eris),  Android devices have evolved into polished art pieces made with aluminum and glass. And although Apple's attention to detail definitely inspired the emulation, it's difficult to argue the flattery of repeating such design concepts is a negative thing.
In fact, Google went great lengths to contribute its own design concepts for Android devices with the help of nearly all hardware manufacturers taking on their Nexus brand of devices (Lenovo/Motorola, HTC, LG, Samsung, and Huawei included). But now, for the first time, Google is looking to claim two phones of its own–the Pixel and the Pixel XL–where all the design features and branding point to Google (despite some HTC assistance), and its build quality screams, "2016 flagship." But will its brilliant design and software be lauded or written off as the next iteration in a war for faster chips and higher price points?
Below you'll find Tech Void's full review of the Pixel XL on Verizon Wireless.
Design
When I unboxed the Pixel XL, I pointed out that the body looks like every other flagship in existence. Well, there's a reason for that. HTC built this device, and Google, despite taking most of the credit, has seen the trend of the smartphone market–glass and aluminum rectangles are wonderfully lucrative products.
The Pixel XL looks almost exactly like most Samsung Galaxy phones, the HTC 10, and the iPhone 7 Plus. However, the phone is also a bit outrageous in size. With a 5.5″ display and forced symmetrical bezels, it's actually 6.09″ in height, larger than most flagships. The corners are rounded, Gorilla Glass IV is on the front and half the back (it's two-toned), and the rest of the body is rimmed with sturdy, cold aluminum.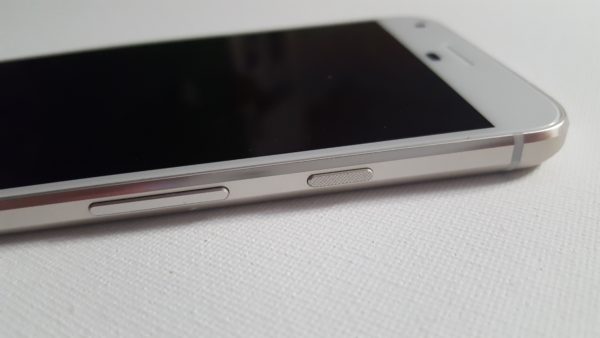 The 8 megapixel front-facing camera, antenna bands, speaker, headphone jack, and USB Type-C charging port are exactly where you would expect them. The volume rocker and power button (right side) are tactile and aluminum, but there is no fingerprint reader or home button on the front. In fact, Google did something fancy with their fingerprint reader–they put it on the back. It's a page out of LG's playbook, taking ugly features from the front and throwing them to your fingers.  Right where you'd put your index finger is a flat, smooth fingerprint reader that doubles as as a notification swipe. It's perfect placement, however for those with average-sized hands, it's a tad difficult to reach on the Pixel XL vs the Pixel, because it's 5.5″. And that large display is the exact same AMOLED as on the Samsung Galaxy S7 Edge, with 1440 x 2560 pixels and 534 ppi pixel density. It's vibrant, gorgeous, and its viewing angles are as perfect as we've seen before.
Lastly, you'll notice the rear 12.3 megapixel camera, flashlight, and microphone on the upper left of the back plate, and one prominent "G" logo near the bottom. The phone is a completely symmetrical, attractive, and rather sterile design. There are no sharp edges, and the aluminum/glass back feels terribly slippery in hand. I definitely recommend purchasing a skin or case for this issue.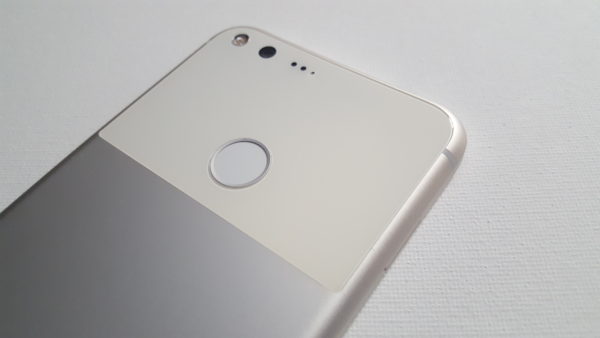 Hardware
Google packed this smartphone to the gills with state of the art hardware. It has two stupendous cameras, a no-nonsense 8 megapixel front-facing and a 12.3 megapixel rear cam with an f/2.0 aperture, phase detection, and laser autofocus. The rear's shooting abilities are so good, we've never seen them before on a phone without a camera bump.
The Pixel XL comes with a quad-core Snapdragon 821 CPU, Adreno 530 GPU, and 4GB of RAM As for internal storage, Google offers 32GB or 128GB models. Sorry, no MicroSD slot on this one. The battery is a decent 3450mAh and fast charging with the included USB Type-C charger. As for the XL's software, Google's most recent and gorgeous Android 7.1 Nougat is on board, and that means no bloatware, folks. Read: No annoying carrier apps and no Flipboard widget. It's just Google Now, Google Assistant, and other Google software apps and tools. It's a brave new world for Android lovers and a first for a Verizon review unit.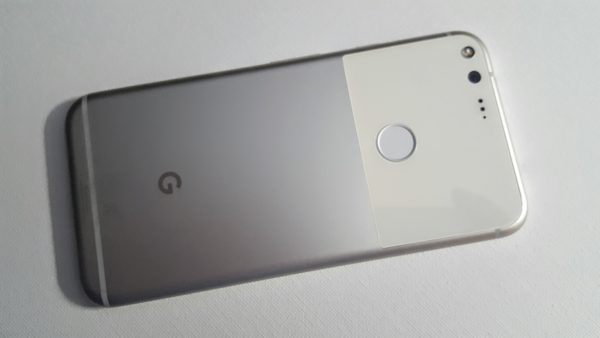 Battery Life
The Pixel XL's battery is actually smaller than some of our favorite longevity champions like the Samsung Galaxy S7 Edge.  Nevertheless, the  XL's 3450 mAh battery managed to last us between 12 and upwards of 36 hours depending on usage. Light use during the day will not kill it, and the thanks goes to Android's standby efficiency. Google claims it can actually get 456 hours of standby time. In any case, shooting a lot of video, playing with Google Assistant and keeping brightness and volume high will indeed kill the Pixel XL within 12-18 hours if you make a game of it. Compared to other reviews, it definitely felt less survivable than the the S7 Edge and the Droid Turbo lineup, which boast even larger batteries, so there isn't any surprise in these results. But there's absolutely no need to be concerned whether or not this battery lasts 36 hours when you can plug it in for 15-20 minutes and get a boost using the included fast charger.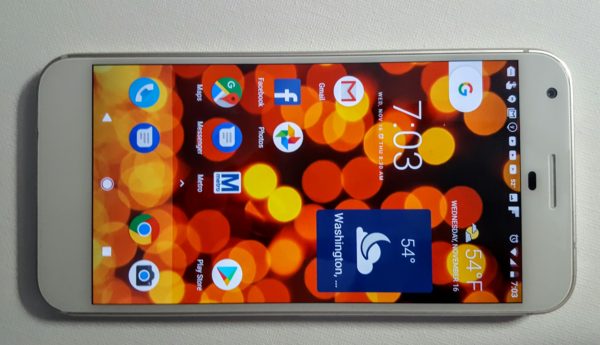 Google Assistant
There's two reasons to buy this phone, and Google Assistant might as well be the most impressive. This Pixel device exclusive (and for Google Home devices) software bumps Google Now up a few pegs by adding a Siri-like assistant to the mix. Google Assistant is damn smart, too. It can translate sentences into other languages on the fly, help you book dinner reservations, tell you how long to cook something, call/text friends and family, and respond to almost any colloquial comment or question you have. Surpassing Google Now, the Assistant can tell jokes and riddles, sing songs, and quip back to your questions about singularity or Cortana. It can even take a selfie of you with a 3-second timer on command. And beyond the basics, she's has some amazing artificial intelligence and machine learning inside.
I used her (her voice is feminine by default) to check election results on Nov. 8 with staggered results. Sometimes she would bring up news headlines, and other times she would bring up Google's live electoral map. While Google Assistant results seemed random at first, the more I used her, her trial and error would find a rhythm, getting to the root of what I was looking for. In that sense, Google Assistant actually becomes a better assistant the more you speak to it, and that's pretty awesome. Also, that might be the one drawback. You can't type to Google Assistant, only speak.
Of course, the linchpin of this tool is personalized data. If you want the most out of this software, giving her access to your phone calls, Google searches (duh), commuting schedule (location services), internet browsing and other activities is a given, and some may not appreciate that Big Brother feel. Do I really want Google to know I searched for anniversary presents last week? Or that I impulsively bought something embarrassing off Amazon again? These are clearly the important questions to ask yourself (and maybe not Google), especially if you consider how this tool could be used to help advertise and market to you, for better or worse.
Personally, I really loved how easy it was to ask stupid questions and get a concrete answer from someone that wasn't on a Yahoo forum. Heck, even just conversing with Google Assistant like SmarterChild (AOL Instant Messenger's famous chatbot) is fun when bored, which makes it all the more interesting and terrifying to use. Seriously, how far from an OS-based Scarlett Johansson love affair am I?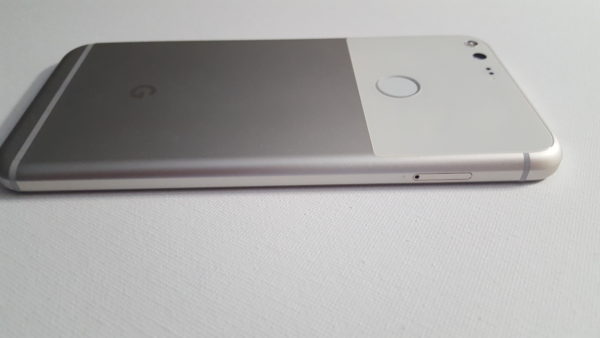 Camera
Listen to me when I say that the Pixel XL has the best smartphone camera you can buy right now. The Samsung Galaxy S7 Edge was the best flagship smartphone camera last spring, and this Google has stolen the title with this 12.3 megapixel rear camera with a f/2.0 lens, 1/2.3″ sensor, phase detection and laser autofocus. The impressive speed of shooting, sensitive and smart autofocus, and the software combined produce the most incredible digital photos we've seen taken by phone. And it doesn't even have a camera bump! Of course, it also defaults to auto-HDR, so shooting tends to combine multiples photos at once into one gorgeous product. Yet, it's instantaneous, which is incredible, as HDR has never felt swift on an Android Device.
Noise is a rare issue in dim settings, people look more attractive in almost all photographs, and it's clear this is because of Google's groundbreaking post-processing software. Color balance, sharpness, and shadows are perfect in 90% of the shots we took. Even your four-year-old could win a photography contest with the Pixel XL. A quick double tap of the power button is all that's needed to open the camera. It's a couple tenths of a second faster than any Samsung Galaxy model we've reviewed, and that's life-saving for on-the-fly shooting. And lastly, the 8 megapixel front-facing camera is one of the best selfie-takers we've seen, although that's likely because it tends to use a bit of an airbrushing effect. Take a look at some of our shots in the slideshow below.
[slideshow_deploy id='10177′]
Overview
Hands down, the Pixel XL is one of the top five smartphones we've ever reviewed. Google has taken note of what's been successful in the smartphone industry and built something that feels sturdy and reliable but also remains elegant enough to attract any smartphone consumer; its clean, friendly (i.e. Google Assistant) and intuitive software make it accessible to everyone. Google has clearly taken notice of Apple's success in this realm of user experience, and Android is finally something that feels more helpful than complicated.
Google Assistant, like Siri or Cortana, may sound like a gimmick, however its ever-evolving nature makes it a piece of software closer to HAL 9000 than we've ever seen. Even discounting that, the device's battery life, perfect display, intuitive stock Android software, and the most incredible smartphone camera we've reviewed makes this the latest and greatest smartphone you can buy. Its major sins? It's a bit larger and more slippery than we'd like, lacks waterproofing, and there's also that lack of expandable storage. But with Google offering unlimited photo storage on Google Drive to Pixel XL owners (for now), a fair compromise does seem to exist.
You can pick up your Google Pixel XL at Verizon for $769.99 with 32GB of storage. At press time, Verizon's 128GB models were sold out.
9.5/10