If you're looking for a cheap and spec-heavy Android tablet, there might be a new one for you. The Ellipsis 8 HD, now available exclusively through Verizon, could be a thrifty Christmas present. For $99.99 and a 2-year contract (or $10.41 for 24 months), Verizon is offering the decent 8″ device with various features and widgets of their own.
There's also a unique addition of a "free Tech Coach" for two years. We're not exactly sure what a Verizon Tech Coach offers to the average consumer, but like Amazon's on-camera customer assistants via Kindle Fire products, it probably aims to sell you more products and services and help your mom find the weather.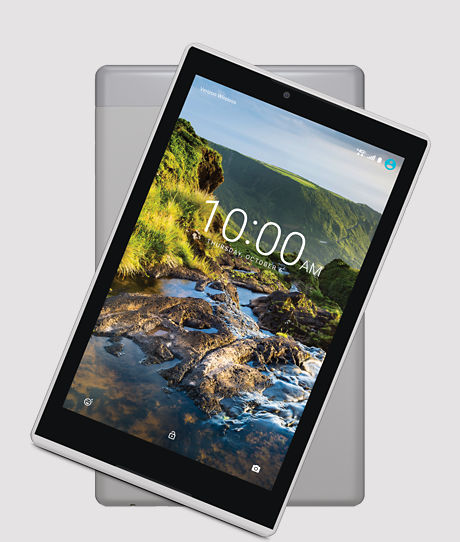 And while you may not be interested in glorified Skype calls with customer service agents, the tablet's octa-core processor and 3GB of RAM might. The screen is an 8″ IPS display with 1920 x 1200 resolution and 282 PPI (better than the 8″ Fire HD). The battery is a whopping 5100 mAh, and it comes with last year's Android Marshmallow 6.01. There's also 16GB of storage and a MicroSD slot ready for 128GB of expandable storage.  Full specs and the deal can be found here.
Think you'd take this tablet for a spin? Let us know what you think in the comments.
Verizon's full press release details are below:
An 8-inch vibrant, high resolution full HD display
A high-end Octa-Core processor and 3 GB RAM providing speed and performance to handle all your favorite apps, games and videos.
An 8-megapixel camera using F/2.0 lens, allowing more light through for capturing great photos in low light.
A selfie widget that lets you launch the camera in selfie mode to snap the perfect selfie using the selfie flash
 Smart amp sound technology complemented with dual front firing stereo speakers boosting more power and volume for louder and crisper sound.
Free Tech Coach for 2 years – The Ellipsis 8 HD is the first tablet to include two years of free unlimited and instant access to Verizon's Tech Coach so you have free access to personalized technical support for your tablet via online or voice chat with a U.S.-based tech coach representative. In addition, Tech Coach delivers personalized tips and content relevant to you, right to your Ellipsis 8 HD.* Tech Coach is available 24×7 and is free for 24 months when activated on a valid service plan. 
Source: Verizon