Google's new smartphone has finally been unveiled. After a series of leaks, Google has brought its new flagship devices to light, the Pixel and Pixel XL. Both devices are made by HTC and are being advertised with white and aluminum bodies almost identical to the iPhone 6 and 7. However, Google is keeping one feature Apple threw out–the headphone jack.
Both models come in a stunning variety of colors and 2.5D Gorilla Glass 4 on the front and back. The Pixel is a cool 5″and the Pixel XL is 5.5″. Despite their technically dated look and feel, the Pixel duo have an original trick up its sleeve, a feature known as the Pixel Imprint. This round fingerprint sensor is on the back of the phone and can be used to unlock and swipe to notifications. Google argues it's exactly where your finger wants to hold it, so it should be less cumbersome than current smartphone fingerprint readers.
Google's also harping on its fast-charging via USB Type-C up to 7 hours of battery in 15 minutes. This begs the question, how small is the battery? Answer: The Pixel comes with a 2,770mAh battery and the XL has a much larger 3,450mAh. Now we've been burned before with the Samsung Galaxy S6's tiny 2,550mAh pack, so it's worth noting this might be a nice way to hide minor disappointment. However, with Android 7.1 Nougat on board, it stands to reason that battery efficiency features have improved tremendously since 2015.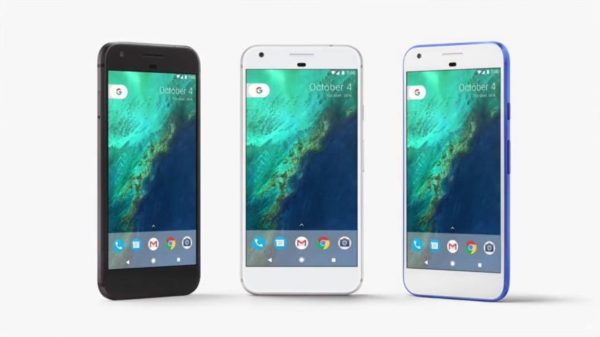 As for a camera, Google says the Pixel and Pixel XL come with a "12.3MP camera, featuring an f/2.0 aperture and big 1.55 micron pixels." This sensor lets in lots of light and also shoots 4K video. How does this compete with Apple and Samsung? Aside producing high-quality photos and video, Google is offering unlimited storage for Pixel and Pixel XL owners via Google Photos.
And that's where some may find the rub. Both devices come with 32GB or 128GB of internal storage, but there is no expandable microSD storage, which many Android manufacturers have brought back after Samsung offended many of its custmers by removing MicroSD expansion on its 2015 models. That said, 128GB of internal storage is a nice compromise if you don't want to put your digital life on the cloud for security concerns.
The Pixel and Pixel XL come in Very Silver, Quite Black and a limited edition for the U.S., Really Blue. According to Google, pre-order starts at $649 in the U.S./U.K./Canada/Germany/Australia today. India begins on October 13.  Verizon will be the first carrier for the Pixel, but Google will also sell them unlocked online.
For more, see Google's Blog on the Pixel unveiling. Will you be buying a Pixel? Let us know in the comments.
Source: Google