Despite Uber and Lyft running the corporate carpooling market in Washington, another player has entered the game. Last week, ride-sharing company, Via, extended its service to D.C, specifically in Columbia Heights and the surrounding area. The company currently has service in areas of Chicago and New York.
But the app may actually turn some heads. The startup has raised over $100 million in funding rounds this year thanks to investment firms in Israel and England. In D.C., Via trips only costs $2.15 and are tax free ($1 more per passenger), which is on average cheaper than both UberPool and Lyft Carpool services. The main difference? Via tells riders and drivers to meet at nearby intersections to speed up pickup and drop-off time. Suggested routes are also given, making this carpool service more like a close-quarters bus ride in your neighborhood than a cab.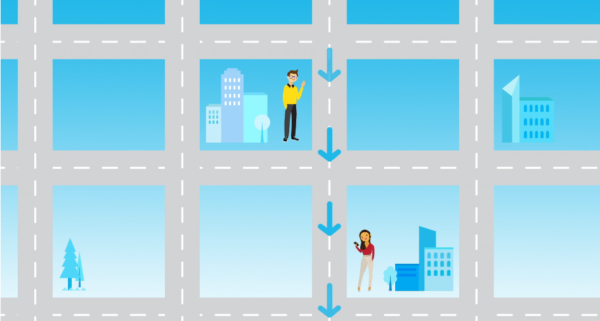 Competing with UberPool and Lyft Carpool is no easy task, however. While prices are lower, minimal locations are offered (Clevleland Park/Mt. Pleasant/Columbia Heights/National Mall and NoMa) and there are very specific hours of service–7-10 a.m. and 4-9 p.m. on weekdays. In addition, this discount pricing is temporary for consumers who use the service more than five times. Rides will go up $1 without purchasing rides with app-stored credit.
Meanwhile, service in NYC is more expensive but also offers trips to the airport. And with Uber and Lyft taking in a lot more cash from longer rides around the city (including to and from National Airport), it's clear Via is aiming for cracks, targeting commuters traveling shorter distances in concentrated areas.
But will it take off and attract drivers, let alone customers?
Drivers are required to own vehicles made in 2010 or later with specific colors or interior features such as leather seats. Rates are guaranteed to be hourly and not by the ride, and Via claims to offer competitive rates and good relationships with its drivers (telephone agents instead of email). Of course, the question is, who cares if commuters can just hop on the bus or take an UberPool from their doorstep?
For more information, check out their press release below. Thoughts of your own on Via? Let us know in the comments.
—
Earlier this week, Via, the on-demand ridesharing service, expanded its D.C. service area. The expansion, which will add Columbia Heights to Via's growing ride zone, was determined by Via's riders who requested that this be the first neighborhood they expand to.
Via's focus on expanding its services into high density commuter areas is driven by its rider's preferences and destinations. By determining expansion zones based on actual rider input, Via is not only geographically expanding its potential ridership, but making its current riders commute even better.
Already highly popular in New York and Chicago, Via enables passengers to seamlessly share their ride with others headed the same way. The service is the only mass transit system that utilizes fully-dynamic routing, allowing commuters to share rides for a low, flat fare. It is a convenient and comfortable alternative for city travel, complementing public busses and trains.
Please let me know if you would like to speak to a Via executive about how this service expansion will impact their current services and I would be happy to set up a call.
The new service map is included below.