The modular smartphone fad continues with Motorola's new Moto Z (fraternal twin of the Moto Z Force). Like LG, Project Aria, and others, Lenovo (recently bought Motorola) has decided to to incorporate add-on functionality to hardware to sell more devices, while keeping its pleasant Moto branding pristine, fun, and interesting. But does it succeed past the trend-setting gimmicks? Find out in our full review below of the Moto Z Droid Edition, on Verizon Wireless.
Design
The Moto Z is the most absurdly thin smartphone we've picked up. It's 5.19 mm, or .2" thick. With a 5.5" display and a longer body with its fingerprint reader at bottom, the Moto Z is a blade in the hand, almost uncomfortably so. But it's designed with purpose. On the back, you'll notice a large camera bump protruding above the rear 13 megapixel sensor. This metal piece also acts as a magnet. Near the bottom, there's also 16 gold-colored connectors above one line of metal.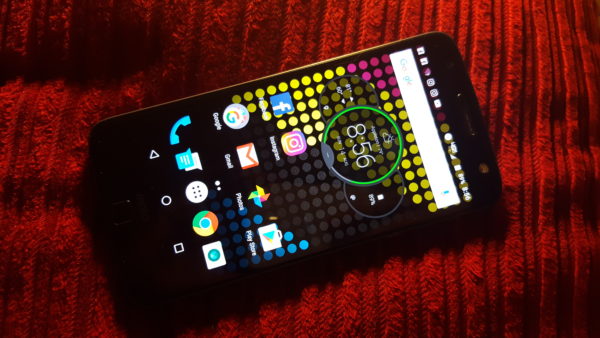 Here's where the Moto Mods come in. Whether it's a customized black plate, mobile projector, or a battery booster, Motorola can snap on different magnetic modules. These add-on pieces make the back of the device completely flush (like a faux-wood back plate), allowing that notable camera bump to disappear completely.
All of this is pretty clever, because those metal connectors allow power to flow from the Moto Z to these devices, all while attaching snugly with magnets. It's a unique method of adding modules to smartphones, and I definitely preferred over LG's pull-out battery situation. The power and volume buttons are all on the right side, and while almost identical, the power button has nice etching to designate the difference. They're hard, aluminum buttons with very satisfying click, much like any of Samsung's flagship phones.
[slideshow_deploy id='10005′]
I also have to note that this is one of the most premium Moto devices ever made. With rigid aluminum  wrapping the entire device edges and the black plate, this device feels industrial. It's a material improvement over most previous Moto X and G designs, which have usually used polycarbonate plastic.
Lastly, you'll definitely notice the biggest design innovations on the Moto Z–the addition of USB Type-C charging and the lack of a headphone jack. Motorola is taking a risk by forcing consumers to carry a USB-C dongle adapter for 3.5 mm headphones or use Bluetooth devices instead (or USB-C headphones). The trend is going to be continued with other new flagship devices in 2016, but time will tell how the world responds to this controversial feature elimination.
Hardware
Android OS, v6.0.1

32/64GB storage, microSD card slot

5.5″ 1440×2560 pixels AMOLED (535 ppi)

Quad-core Snapdragon 820 (2×2.15 GHz Kryo & 2×1.6 GHz Kryo)

4GB RAM

Adreno 530 GPU

microSD, up to 256 GB (dedicated slot)

Rear Camera 13MP 2160p

5 MP front-facing camera with LED flash

Qualcomm Quick Charging

2600 mAh battery

Fast fingerprint reader

Gorilla Glass 4

USB Type-C charging
The Moto Z's hardware is state of the art with a beautiful 5.5" AMOLED with 535 ppi and a heavyweight Snapdragon 820 with an Adreno 530 GPU. It's just as fast as any other flagship out there, including the most recent Samsung Galaxy S7, LG G5 (both have the 820), among others. The rear camera is 13MP, and the front-facing is 5MP, however it comes with a front flash. It's a unique hardware feature most smartphones never bother with. As noted, this device comes with USB Type-C charging as well as fast charging. However, there is no 3.5 mm headphone jack. Of course, there's also a fast fingerprint reader below the display. But unlike other hardware, you cannot use it secondarily as a home button.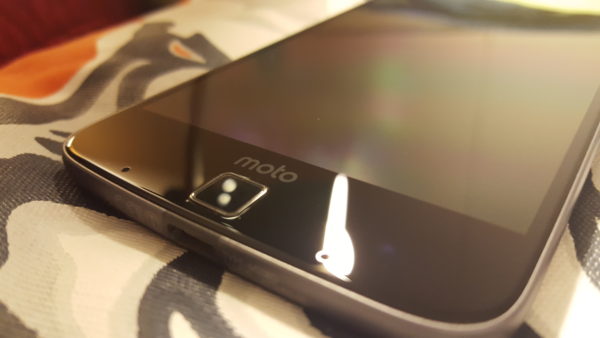 Software
Per usual, the Droid Edition is packed with Verizon bloatware and Droid emblems upon boot. But none of this slows down a phone with 4GB of RAM and a Snapdragon 820. Motorola's Moto tools and gestures are the more interesting part, allowing users to tangibly shake the camera application open, karate chop the flashlight on and off, and see time and "active notifications" with a quick proximity wave. Moto's software features are arguably gimmicky, but they remain my favorite of any Android skin features around. It's simply easier using a phone you don't click a button to interact with. Having touchscreen capacitive menu buttons always trump tactile ones in software speed. That's just fact.
This borders on hardware, but the fast fingerprint reader software is barely noticeable because it's simply too damn fast. Registering new prints is as simple as can be, and I have yet to see a fingerprint reader operate this quickly on a device. I was entirely impressed. Even a slight hover of your finger seems to unlock this device in 1/10 of a second. However, the chin this feature adds (and no use as a home button) make it more of an annoying addition in girth. It's close to half an inch taller than other flagships with this change, and I feel Moto could have integrated this better for form factor. Android 6.0.1 is intuitive, fast, and great on battery life. It's likely the Moto Z will also get Android 7.0 Nougat in the future.
Battery
Despite the battery being under 3,000 mAh (it's 2600 mAh), we had fairly good 12-18 hours of use from this device thanks to Android 6.0.1 and battery saver. Of course, with any new battery you can expect a more optimal performance. That said, with a fast charger included, 15-20 minutes can fill more than half the Moto Z's battery. And if you're really stretching, you can buy Motorola's Moto Z Force with a 3,500 mAh battery or an add-on battery pack that doesn't make the Moto Z that much fatter. Still, if you're a power user in the market for a new smartphone, we'd likely just recommend any device already included with 3,000 mAh or greater.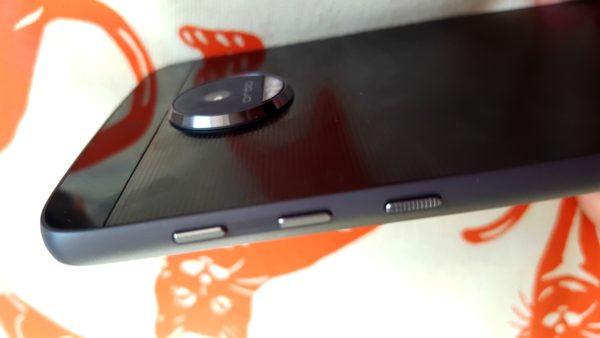 Camera
Using the Moto Z's camera is intuitive with a simple shake like all of Motorola's devices, and that's part of the attractiveness. It opens fast, and it snaps fast. Burst shots are almost too easy to take when holding down the shutter button. Unfortunately, HDR shots are on to start as AUTO to start, and you'll be annoyed with how long they take. Turning it back to normal takes much quicker snaps.
As for photo quality, post-processing felt minor and bland compared to the Samsung Galaxy S6, 7, or the S7 Edge. That's not to say the photographs are bad, nevertheless. Selfies and closeups turn out pretty great with the Moto Z's cameras, and the front flash is nice if you're in poor lighting situations with friends. That being said, during a Green Bay Packers pre-season game at Lambeau field, crowds looked like noise, and anything far away was less than appetizing. Low-light was also generally disappointing, and I wouldn't put it in the same caliber of other Android flagship cameras. Bottom line: If you're buying a smartphone for the camera, Apple and Samsung are still your best bets.
[slideshow_deploy id='9995′]
Overview
The Moto Z Droid Edition is a really beautiful device. The metal edges around the sides and back plate are elegant, industrial, and generally feel indestructible. Add in the fact the Moto Z is one of the thinnest Android devices ever made, and you have one artful piece of hardware. The chances Lenovo/Motorola is taking with modular design, USB Type-C, and removing the 3.5 mm are quite admirable. Plus, it comes with the most recent Android and Moto's beloved software skin features (active notifications and shaking open the camera).
However, with those chances are compromises. The smaller battery is not going to be loved by everyone, even if you offer users the ability to purchase a booster pack. That simply lacks consumer logic. Of course, that's probably why Lenovo is also selling its bigger brother, the Moto Z Force. Also, despite the large camera bump, the Moto Z's 13MP rear camera is nothing to write home about when compared to other flagship photography. And that fast fingerprint reader? While incredibly fast in function, it adds extra girth with no other benefits aside security (no home button use). And of course, Verizon's bloatware and Droid moniker don't do anything but pay George Lucas (or Disney) more dollars. So is the Moto Z Droid Edition worth your money? That all depends on your priorities.
Moto Mods are definitely an attractive idea too, but if you're looking to buy a phone in one piece, "modular" may simply mean more $$ in the long run after buying a $700+ piece of hardware. Do you want an improved camera module or a mobile projector? This is probably one of the better ways to do it, but this is all based on your own interests.
You can pick up a Moto Z Droid Edition at Verizon Wireless for $720 or $30/mo for 24 months.
8/10