You have to admit it; LG's smartphones are cool. They're robust, full of state of the art hardware, and have unique features that really set themselves apart from most other Android devices. Materials might look cheaper, but LG is a more interesting company in its innovation and gambling. For instance, the LG G Flex (a curved smartphone) was an incredibly stupid gimmick, and LG persisted to build two versions of it. LG also designed its smartphones with the home button and volume rocker (sometimes) on the back. It keeps them out of the way, and many people genuinely prefer it. But this year LG is trying something much more risky–a "modular" phone. Read on down for the full review of the modular LG G5 on AT&T.
Design
The LG G5 is a 5.3" smartphone with rounded corners, a less than impressive IPS display, minimal bezel around the display and capacitive menu buttons. The case is actually metal, but it feels like plastic because LG has painted/primed it to cover antennas and the like. In that way it actually feels cheap and less sturdy than it is. Like the G models before it, the power button is on the back, but the volume rocker is on the side.
On the rear you'll also find a brand new dual 16mp regular and 8mp wide angle camera setup with laser auto focus and optical image stabilization. It's actually a very clever. The camera lenses are recessed, which is a nice difference from the iPhone and Samsung models. However, this is merely used to disguise the large bump in the back plate of the device. Still, there's almost no wobbling this flat on a table, and the G5 is generally an attractive design.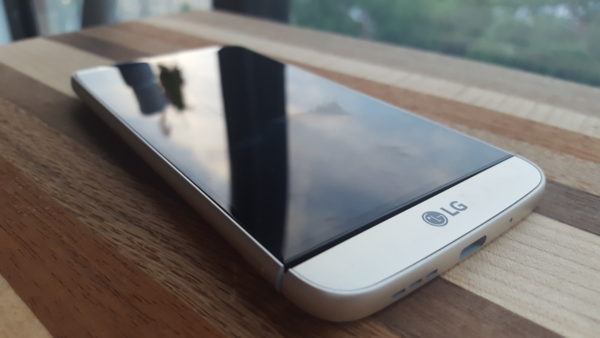 On the bottom of the device is a noticeable seam, and this is the major design change from previous G models. On the left side of the device is a small button used to release the bottom bezel at that seam to pull out the battery. This is where the "modular" design comes in, as LG has decided to play with the idea of swapping out parts for added benefit or features. Modules soon to be available include camera grips (for manual button controls), an LG VR device, a 360 degree camera, and hi-fi audio module. They don't come with the phone and will definitely cost a bit of cash. The battery is also removable/replaceable, which makes it handy for anyone without time to plug in on the go.
Hardware
The LG G5 comes with a 5.3in Quad HD IPS screen (1440×2560, 554ppi) which isn't as sharp as Samsung devices and leaves something to be desired in terms of HD during YouTube or Netflix viewing. That's pretty sad for a flagship, but that's not to say it's not pleasant to look at in general web browsing or gameplay. The processor included is Qualcomm's Quad-core Snapdragon 820. The G5 has 4GB of RAM, 32GB of storage and the bonus of a microSD slot capable of handling a 200GB card. 2016 phones are pretty sweet on storage.
As for the OS, Android 6.0 Marshmallow is onboard with LG's UX 5.0 software skin on top. As for the battery, it has been reduced in size from last year's to 2800 mAh. Nevertheless, it comes with Quick Charge 3.0, making it much quicker and more efficient during recharge over the included USB Type-C charge port. As previously noted, this device comes with a dual camera setup including a 16mp 78 degree and 8mp 135 degree. The front-facing camera is 8mp.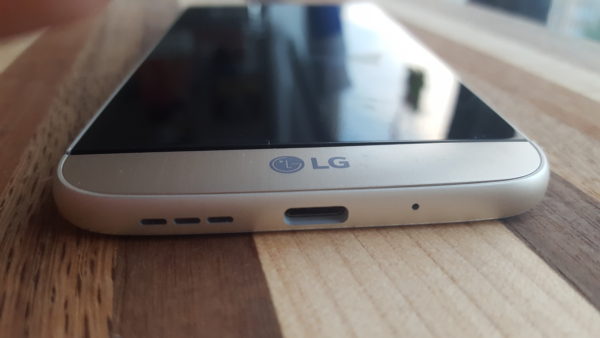 General Use
I genuinely liked using the LG G5 for its easy functionality, fairly slim size, and useful software additions. I also really love that LG put the volume rocker back in its proper place, which is more innate to use for audio control.
However, what I hated was its major flaw–it's attempt at a modular design. While this may be a problem with the particular review unit we received, the button that releases the bottom of the device did not work correctly. The module piece would come unhinged simply by unplugging it from a charge or carrying it around. This means I could easily pull down on the bottom and pull out the battery without intending to do so. I didn't even have to press the button for this to happen. That's one incredibly disastrous design flaw, and it didn't make me want to take it around town in fear of the G5 falling apart while using it.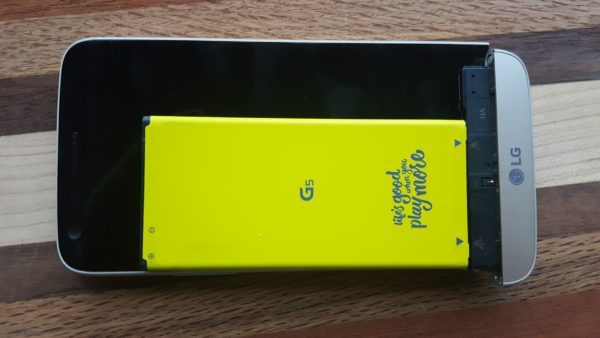 Secondly, modules for this device are extra dollars to add extra utility to a device that should already meet your needs. This isn't anything like Google's Project Ara which aims to replace different piece of hardware to improve a device to your liking. LG made this device with an intention of selling you additional products to plug into your device. And that's ironic, because most of these are also not available for purchase yet. They will also cost $70-100 a piece. If I wanted a more sophisticated smartphone camera, I could also just buy a point and shoot. The hi-fidelity module is nice, but that's definitely a very niche product as well.
Typing using LG's keyboard wasn't my favorite, but using Google's wasn't a hard fix. There's technically some bloat with LG's added software, UX 5.0, but much of the features can be easily turned off. Nevertheless, the home screen addition, Smart Bulletin, adds some utility by allowing you access to different LG functions including news aggregation, LG's TV remote app, and a calendar and music widget. Menu buttons can be arranged to your liking as well (back button on the right, please!), and useful and customizable quick settings are one swipe down away. Always on display is a lovely feature for checking the time and notifications, and adding in 360 degree live backgrounds is cool too. But both definitely kill battery life too.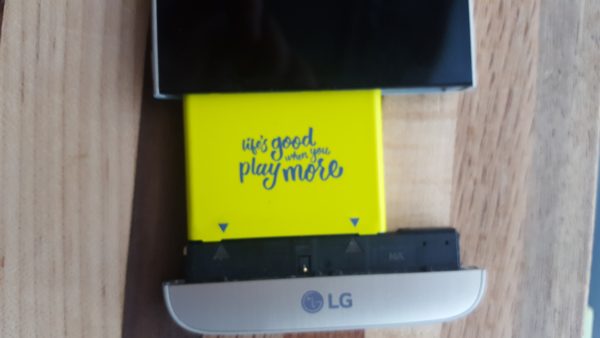 Battery Life
With 2800 mAh and Android 6.0, getting a day and a half out of this battery with moderate use is absolutely not a problem. While it is smaller than the G4's 3,000 mAh battery, the ability to charge quickly hasn't changed, and USB Type-C has made charging just that much more hassle free (no cord-flipping), save for needing to buy some new cables or adapters. You can definitely kill juice with a lot of YouTubing/shooting video in one day, but we never felt to terribly concerned after an average work day. Despite the always-on display, that's pretty good news. And, of course, you can always buy a replacement battery to swap at any time. The longevity is no competitor to the Samsung Galaxy S7's  battery life, but that's what happens when you reduce battery size for a modular design.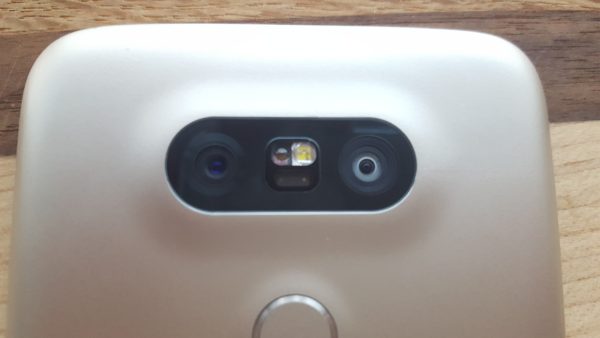 Camera
The LG G5 camera is stupendous. It runs circles around the HTC 10, and its post-processing leaves something to be desired for Samsung's recent Galaxy S6 and S6 Edge models. Almost every photo taken with the LG G5 comes out with perfect color balance, and the auto-focus is incredible. However, shooting with it can be a bit of a pain if you want to use the volume rocker as the buttons lack any height. It also tends to shoot slower in order to use both that 16 mp normal and 8 mp wide angle camera to produce one shot. Lowlight is generally great, and the images are so true to life, sometimes you forget whether or not you're looking at the world or the photograph.
[slideshow_deploy id='9828′]
Overview
LG took a risk with the the LG G5 and it's a large one. Modular design is a fun buzz word, but it isn't exactly the best way to describe this new gimmick. And that's because LG is selling a flagship that doesn't fulfill the needs of its targeted customers by itself. And that could be seen as slightly insulting with each additional module costing $70/pop. Sure, some of these modules are cool ideas, but chances are that person interested in hi-fidelity music or good digital photography already have HD music gadgets and DSLRs. In essence, LG might be milking customers more than this idea of adding actual functionality or improvement options to a device. Plus, if the device falls apart even without using modules (like our review unit), how can it be expected to be "modular" at all?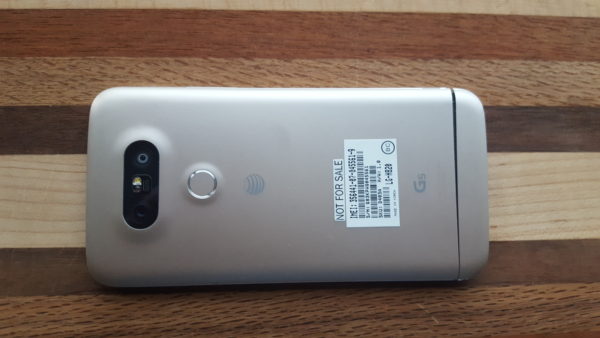 In short, LG's new phone is more attractive than the G4. It's more svelte and more modern in hardware, and the camera is one of the best we've used ranking close to the Samsung Galaxy S7 Edge. In spite of these positives, LG still leaves something to be desired in terms of display quality and premium feel. You can pick up an LG G5 at AT&T for $688.89 or $22.97/mo.

7.5/10