City dwellers love the idea of an electric bicycle, but not many of us want to drop $2,000-3,000 to purchase one. Thanks to some late-night engineering, the founders of GeoOrbital are bringing the convenience of a motorized bicycle to the masses for just $950 (okay, still a bit pricey) with a Kickstarter project. This aluminum, "aerospace-grade" unibody device houses a battery, brushless DC motor, and comes with a 26″ flat-proof tire. It locks right into any front wheel bike and is controlled by a thumb-throttle which is clipped to your bike's handlebars.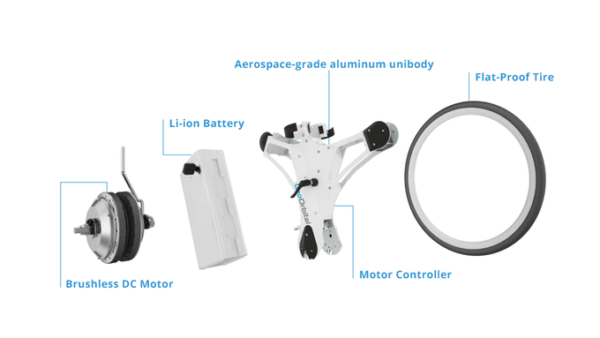 This isn't to say it's necessarily attractive or small, but the foam tire will never go flat, the battery will power the motor up to 50 miles, and you can install it in as little as 60 seconds. Oh, and can speed you to 20 mph in six seconds. It's no Tesla, but it sounds like the GeoOrbital Wheel can definitely pull you up 15th Street in DC.
The Wheel's battery is a Panasonic 36V removable Lithium-Ion battery which means you can replace or remove it at any time to charge. However, the real bonus  is the ability to plug in your USB cord to charge your devices. That includes Bluetooth speakers for DC Bike Party, or even something as simple as your high-powered bike light.
So is it too good to be true? As with most Kickstarter projects, bumps in the road should be expected, and the November 16 delivery date sounds a little too promising. Still, it's one great idea to keep an eye on.  At press time, GeoOrbital's Wheel had reached $383,152 above its $75,000 goal with 40 days left to fund it. Many of the backer deals are sold out, but $699 will still snag you a giant discount on one GeoOrbital wheel.
Thoughts of your own? Let us know in the comments.
Source: Kickstarter