Motorola has continued its long partnership with Verizon Wireless and the age-old Droid Moniker. The Droid Turbo 2 follows up its first generation model with an indestructible plastic screen known as ShatterShield, a larger 5.4" screen, yet featuring a svelter and sexier body in addition to other spec upgrades. These changes are testament to the changing market of consumer desires–larger screens, bigger batteries, and more rugged design features that still give a relatively nice feel in hand with elegant notes of style. Read on down for the full review on Verizon Wireless' Motorola Droid Turbo 2.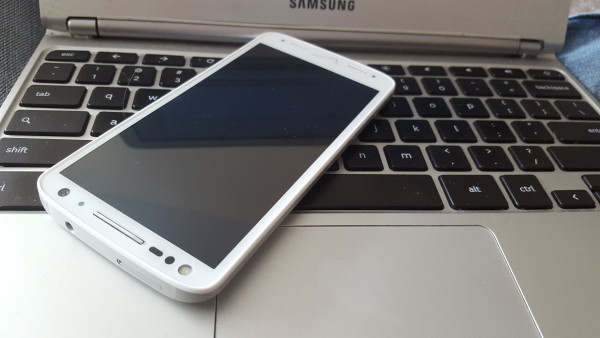 Design
If you read our review of the Droid Turbo in 2014, you might remember how ugly we thought it was. Sure, it had an aluminum rim and a big shiny display, but something about it just screamed big, ugly slab of hardware. It didn't feel ergonomic and had a very large chin. It was heavier than other phones, and it was just nothing to write home about in terms of style.
Fortunately, Motorola did something interesting with the Droid Turbo 2–they mimicked the Moto lineup. In fact, using the Droid Turbo 2 is very reminiscent of using the 2014 Moto X. Its design notes on back are customized and you can use Moto Maker to select a plethora of different materials, including ballistic nylon and pebbled leather.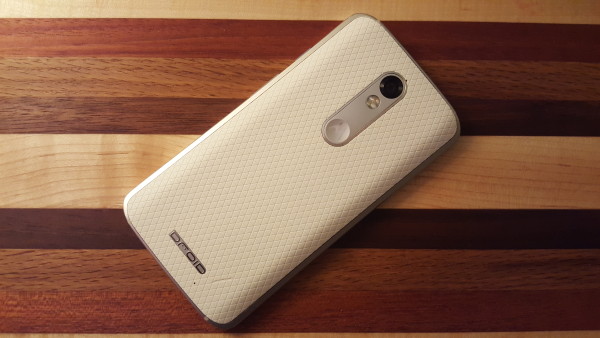 A slim aluminum rim still surrounds the device, but its faceplate looks nicer in white (our review unit), and the back is much more attractive, with a camera lens and Motorola's notorious finger indent bleeding into one another. The entire device feels more molded to your hand. It's rounder and manages to feels slimmer than the Droid Turbo despite it not being so. And while its larger and slightly thicker than the original, the 5.4" AMOLED display and upgraded hardware only make it weight 1 g heavier at 170g.
That makes the Turbo 2 slimmer than many of the larger 5.5"+ smartphones like the Galaxy Note 5, LG G5, and even the iPhone 6s Plus. All of this together makes for a familiar, attractive design that puts the original monolithic version easy to forget.
Hardware
The Droid Turbo 2 has a large 5.4″ Quad HD display (it's gorgeous), 3GB of RAM, and an internal 32 or 64GB of storage. A microSD slot offers an astounding additional external 200 GB (if you can afford the $100 microSD card).  The rear camera is 21 megapixels and the front-facing camera is 5 megapixels. The blazing processor is an octa-core Snapdragon 810 and the GPU is an Adreno 430. The battery is non-removable and 3760 mAh, down from 3900 mAh in the original Droid Turbo. All in all, this is yet another spec-hound that doesn't lag, stutter one bit.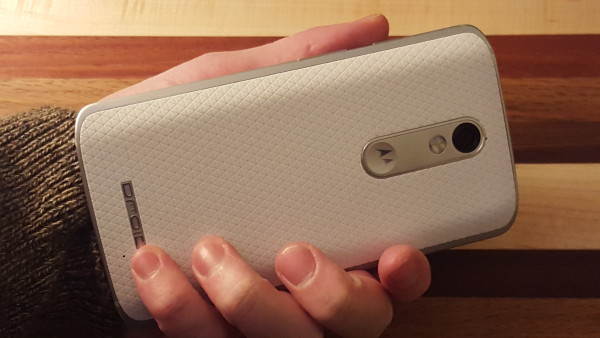 General Use
This Turbo 2 is awesome to use if you love Moto's software. Google Now voice control is baked in, and that's my favorite feature of any Android phone. This allows owners to say, "Okay, Google, Hey, Droid Turbo," or another custom phrase to ask Google to control your phone for you.
In addition, Motorola's gesture features are included, and they're splendidly useful.  Shaking the phone to open the camera is my all-time favorite Moto feature. It's just so innate and easy.  You can also wave over the proximity sensors to see notifications blips and time. And like all Moto devices, one finger touch upon will list those notifications from the lockscreen. You can also pull the phone from your pocket to your ear and Google Now Voice will listen for your command. You can also judo chop your phone to turn on the flashlight. It's definitely a gimmick, but it's a satisfying one.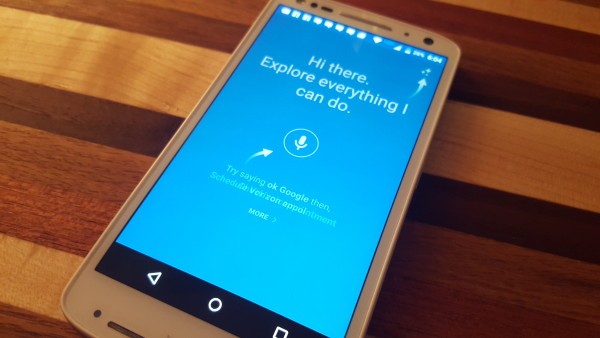 Unfortunately, responsiveness is not perfect, and gestures only worked 75% of the time during our review, which was quite annoying. That said, it's so helpful when these interactions work that it's almost worth the second shake, wave, or pocket draw.
The rest of the software experience is very close to stock Android (it comes with 5.1.1 Lollipop) so settings are obvious, text and colors pop, and the notification dropdown is easy. On-screen menu buttons, like all Moto devices, make every tap satisfyingly instant.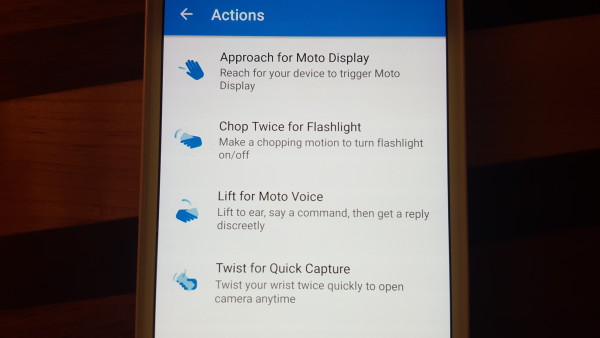 Texting, phone calls, and usual handling is fine, however the phone is a cumbersome hold and easy to drop. Thankfully Motorola has made the first indestructible smartphone with a specially designed five-layered ShatterShield screen. It's basically plastic but feels as smooth as any other glass screen. In our testing, dropping the phone around a dozen times (mostly on purpose), not a scratch or crack was seen. If you scan around the web, you can find videos where even hammers don't crack this plastic phone. It's rather remarkable engineering, and it's what makes the Turbo awesome, because you most definitely won't have to sully its appearance with a protection case.
Lastly, the display is as gorgeous as any other out there. Viewing angles are perfect, colors are vibrant, and I never had any complaint trying to read text, watch video, or play games.
Battery
The Droid Turbo 2 actually has a smaller battery than its older brother. Rather than 3900 mAh, this model has 3760 and still packs a punch of longevity. On average, this phone lasted two days with very light use. With heavy use taking lots of pictures and videos, we could manage 24 to 30 hours as well. And even if you managed to burn through it quicker, (and we didn't), it comes with fast charging. This means you can boosts the battery to 35-40% charge in just 20 minutes (using the included fast charger), which is pretty great considering how large the battery is. Of course, we never worried about plugging this device in during review. That's the nice thing about having this much battery power in the handset. We were also pleasantly surprised at this given that the 5.4" AMOLED is larger than the first Turbo's screen and has an even smaller battery. Another bonus? The Turbo comes with wireless charging compatibility with both Qi and PMA wireless charging standards. No complaints period.
[slideshow_deploy id='9421′]

Camera
I loved using the Droid Turbo 2's 21 megapixel camera. The software was impressively quick, especially with the "shake" gesture to open the camera. Taking tourist snaps and video on the go was always an enjoyable experience. The shots also come out nearly perfect every time. Focusing is noticeably better, faster, and easier than with Samsung smartphones, and we think it definitely rivals both the S6 and iPhone 6 for best smartphone camera. However, wielding this hefty phone can be a bit of a challenge one-handed, so this model is better suited for someone with larger hands or the patience to use both.
The video we shot with this device was rather mind-blowing. It's capable of shooting 4k, and we took some great film at the Baltimore Aquarium and in the District during "Snowzilla 2016." If there's  something to garner from this review, it's that this phone is perfect for media capture. I loved throwing these files on my home television and watching them as if I was reliving each moment.
As for the secondary 5mp front-facing camera, selfies are clear, bright, and vibrant. Weirdly, shots using Motorola's camera are very zoomed compared to others. It's not necessarily a negative, but for wider angle shots, you may want to try other apps.
Overview
The Droid Turbo 2 is a supremely fast, attractive, large, indestructible and useful device. There's honestly not a lot to dislike about the smartphone because it's an amalgamation of what most consumers want in an Android phone. It will keep up with current software trends (assuming it receives Marshmallow soon), has external microSD storage, responds to simple commands and waves, and is durable. With such fast-paced hardware, customized looks, and its very impressive ShatterShield, you could easily hold onto this device for more than the average two-year product cycle. That's an interesting prospect in a world of constantly shattered and replaced devices. Hell, even its battery refuses to die. But it's still a large device, and that's going to keep plenty buyers off the market. Still, with 6″ Android flagships budding and the majority of others hedging 5.5″, perhaps this 5.4″ Droid Turbo isn't such a large compromise. You can pick one up for yourself on Moto Maker and  at Verizon Wireless for $624 for the 32GB model or an additional $96 for the 64GB version.
9/10