HTC One flagship smartphones have steadily improved for the past three years on AT&T. The original One was one of the very first premium aluminum builds for an Android device. And the One Mini, M8, and M9 follow ups continued to evolve into sturdy, beautiful, and user-friendly devices. However, shortly after HTC's March 2015 reveal of the HTC One M9 came something very different–the HTC One A9. This 5.0" device ditched the manufacturer's famed BoomSound speakers and most of the HTC One-branded design features. Why? To mimic the iPhone 6 and Samsung Galaxy S6 in almost every way. But has it succeeded in doing so? Read on below for our full review of the HTC One A9 on AT&T.
Design
As noted, the HTC One A9 is a distant cousin from its One M9 counterpart. It was released in November with similar sizing but a closer resemblance to the two most popular flagship phones on the market, the S6 and iPhone 6/6S. With a small stature in the hand and incredible thinness (145.75 x 70.8 x 7.26mm), this device feels more like an iPhone 6 than an HTC One. The standard color scheme of dark gray and black antenna lines remain the same, but HTC's square camera lens, BoomSound speakers, and giant bezels have vanished for smoother, rounded edges and the addition of a physical home button.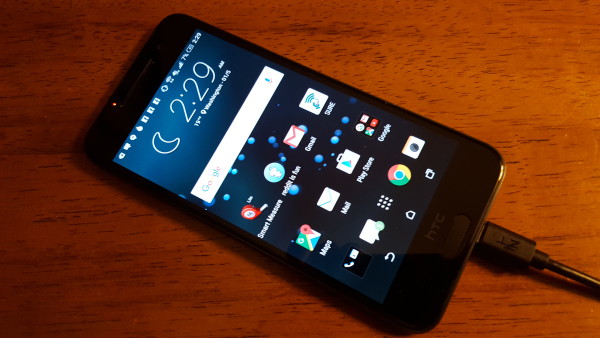 This home button is more like a touchpad, however. You don't click it. You tap it. Embedded is a fingerprint reader, but it also can be used as a tappable home button in addition to HTC's normal on-screen capacitive menu buttons. The back is hard aluminum, and the front panel is made with Gorilla Glass 4, so it's sleeky, sturdy, and cold. Unfortunately, this also means the A9 is incredibly slippery.
Like every other flagship, one stereo speaker, headphone jack, and micoUSB charging port are found at the bottom. The power button and volume rocker sit to the right side, and the slight etching into the power button makes for a nice tactile marker. A hidden sim and microSD slot can be found on the left. Overall, this is a well-designed, compact, and attractive handset. Colors include: Opal Silver, Topaz Gold, Deep Garnet and Carbon Grey (our review unit).
[slideshow_deploy id='9328′]
Hardware
The One A9 comes with some decently snappy hardware. The CPU is a Snapdragon 617 with two quad-core processors (1.5 GHz Cortex-A53 and 1.2 GHz Cortex-A53). The GPU is an Adreno 405. This means the device is technically slower than the One M9, but considering its slightly smaller stature and more power-efficient components, the difference is negligible. The phone comes with 16 or 32GB of internal storage and 3GB of RAM with the 32GB model. With an additional option to insert 200GB of extra storage via MicroSD, this phone has one potentially enormous multimedia hard drive available.
The 5" display is actually an AMOLED screen (more efficient) despite the One's previous LCD hardware. But the resolution remains at 1080 x 1920 with 441 ppi. The glass is made with Corning's tough-to-crack Gorilla Glass 4.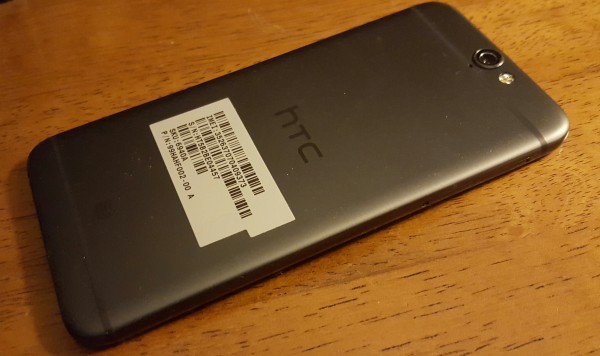 Software
The HTC One A9 comes with Android 6.0 Marshmallow and is overlaid with HTC's Sense 7. This makes for a rather splendid HTC experience. Much of the Sense's OS remains the same with with its somewhat confined navigation settings, homescreen widgets, and app drawers. Two-finger swipe to settings from the notification bar is handy and the inclusion of Blinkfeed  (the dedicated news aggregation app) is always welcomed.
But perhaps the coolest features are the improved motion launch gestures. "Double tap to wake" is perhaps the most wanted feature since LG came up with "Knock on" for its phones. How does this work? Holding the A9 upright will allow you to simply double-tap the screen to wake the device. Want to turn it off? Do it again. While this feature completely negates the need for the home button added to this device, it's the single-most useful function built into the software.  
Other functions like "Glove mode," swiping left to go to the home screen, "swipe right to launch Blinkfeed," and using the volume button to launch the camera are also unique and helpful. Of course, the camera can already be opened from the lockscreen, the fingerprint reader/home button can be tapped to wake the screen, and plenty of other redundancy exists, making some of this functionality completely unnecessary. Nevertheless, it's a great way to personalize a device and make it more attractive to customers.
Everything about this device is fluid, lagless, and fun. Not once did we have a problem using this phone, and it's so user friendly most of your non-tech parents would probably love it. Per usual, HTC has thrown in its Power saver and Extreme power saving modes to make your battery last as long as possible.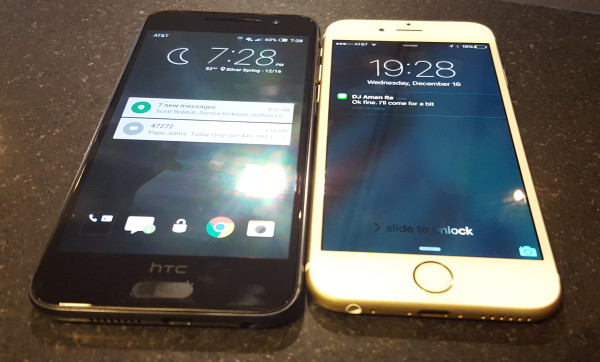 Battery
The HTC One A9 is a great phone to have. It has surprisingly good battery life considering its size. 2150 mAh is not a lot of juice to go on, and we were able to keep this device on standby up to 2.5 days with very minimal use, or 1-1.5 days with more average use. This included ample video playback, game playing, and photo/video taking. Of course, newer batteries are better, and being equipped with Quick Charge 2.0 (also compatible with 3.0 when it debuts) doesn't hurt either. However, HTC isn't shipping a fast charger with their device just yet. Charging with one I had on hand takes about an hour to full. HTC's switch to AMOLED from Super LCD likely helps this battery efficiency, but any battery under 2500 mAh can't have the world expected of it. And considering how little battery is under the hood, HTC's One A9 had some impressive results. Still, if you're looking for a real battery powerhouse, we definitely recommend something like the Droid Turbo 2, HTC One M9+, the Galaxy Note 5, or the G4 (G5 soon).
Camera
The A9 has a rather disappointing  13 megapixel camera despite its flashy software. Photographs come out overly sharpened, hyper-contrasted, and are generally quite inconsistent in quality. Granted, most of them are very pretty. Unfortunately, it all looks a little fake. As a handest size competitor to the Galaxy S6 and iPhone 6, its performance is simply incapable of standing up to them. Zoomed shots are excessively noisy and low light shots are pathetically terrible. You can shoot in 4k, nevertheless. We took some nice shots at the Mall of America over the holidays that made colors pop. Add in HTC's well-known Zoe Camera editing features, and you can make any photograph or video look amazing  (even if the initial camera sensor failed you).
[slideshow_deploy id='9337′]
The front-facing camera is HTC's 4 megapixel UltraPixel camera. It hasn't really changed since the One M8, and it tends to fail in taking great selfies compared to the Galaxy S6. Lighting is generally a smidgen off, and even with airbrushing features you will not look as nice as depicted on screen. If you're looking for a good smartphone shooter, HTC's One M9 is a better route to take, as it comes with a 20 megapixel rear camera.
Overview
The HTC One A9 is an iPhone 6 with Android software. That's the bottom line. HTC would hate to admit this, but between this and the Samsung Galaxy S6, HTC has taken Apple emulation to the furthest level yet. And that's not a bad thing. We loved reviewing this phone. It fits well in the hand, has a lovely UI, and with Android's newest 6.0 software it's just really nice to use.
Even HTC Sense doesn't slow this experience down despite years of annoyance. I especially loved HTC's improved gesture features, including double tapping the screen on and off. The new touchpad home button/fingerprint reader is also an interesting addition that removes the need for actual tactile button-pressing (think iPhone and Galaxy phones). And thank God it has fast charging with such a tiny battery powering it.
The drawbacks? This smartphone has a terribly inconsistent camera, a very slippery back (easily remedied with a case or skin), and a design that's getting quite tired.  You can pick up an HTC One A9 yourself for $99 and a new contract at AT&T. Full retail: $499.99.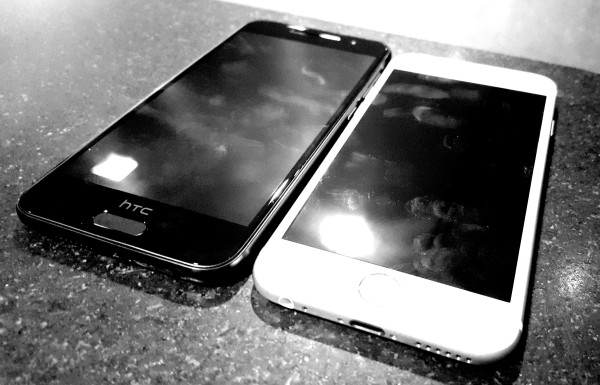 8.5/10