We've reviewed several  fitness trackers over the last few years. Many of them do the same sort of thing. They track your jogging pace, walking steps, and sleep patterns, all while syncing easily with your smartphone via Bluetooth. Some even wake you up in the morning with a gentle vibration. But the Moov Now is the first fitness tracker we've come across hoping to move its function away from a simple, fancy pedometer. And I mean this quite literally. Moov's slogan in its press materials is, "The world doesn't need another step tracker."
Instead, Moov Now works as an AI fitness coach dictating workouts with a Siri-esque voice. She suggests pace increases and analyzes your movements made in order to improve your workouts and help prevent injury. Seriously, the Moov coach even heckles you to stretch.
Even more innovative, Moov users can actually visualize workouts with in three dimensions via Moov's free smartphone app. Oh, and as for that step-tracking hate, Moov seriously avoids immediately showing how many steps you've taken, attempting to bury that information entirely deep within the app. Like Google Fit, Moov prefers to tell you how many minutes you were active.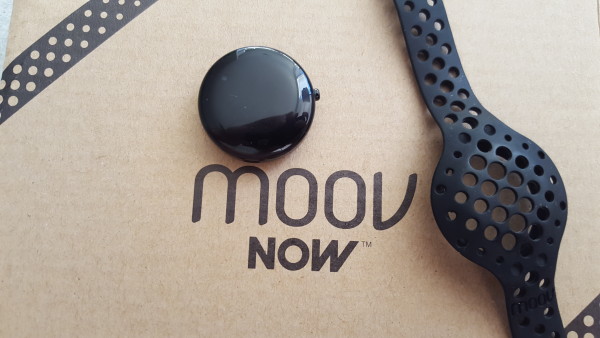 Hardware Design
The Moov Now, while unique, looks about the same as any other fitness tracker. It comes with a rubbery band which holds the fitness tracker's very small hardware. The "Stealth Black" Moov Now strap is rubbery, stretchy plastic with holes all over its body. The face of it cradles the actual tracker securely on your wrist or ankle. And while band is not the most attractive design, it's one that breathes sporty. That's something I can live with for a fitness tool.
The actual device is a round, pocket watch-like bead. It's larger than a Fitbit tracker but remains as light as air. Inside is an accelerometer, Bluetooth LE (low energy) chip, and a special gyroscope/magnetometer made by Moov known as the Omni Motion senior. This is what allows the Moov Now to track repetitions during sophisticated movements in workouts such as situps, lunges, jumping jacks, squats, or laps swimming.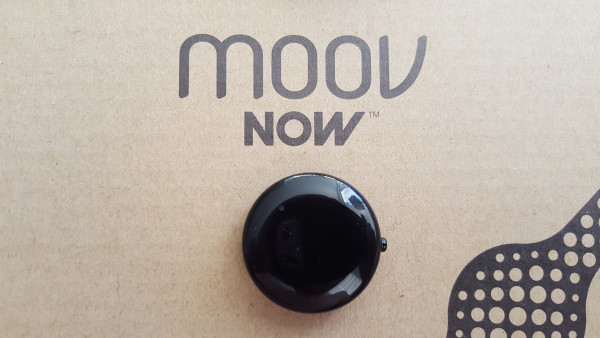 The tracking bead's exterior is glossy, black plastic. It's entirely water and airtight. One small nub sticks out like a watch winder. It's more of a facade, if not perhaps an antenna for better Bluetooth function. Pressing on the top of the device (like a button) triggers a red LED inside the tracker. This blinks upon click showing you that the Moov syncs with the smartphone application, much like the Fitbit, but much more obvious.
Lastly, the most impressive engineering of this device is the battery. The Moov Now eliminates all charging annoyance by simpling including a replaceable battery. It's said to last six entire months. In order to recharge, you simply buy a new one. How perfectly simple is that? With Bluetooth LE, clearly data tracking has its utmost energy efficiency.

Function and General Use
The Moov Now is basically a Wii Fit for your wrist (or ankle). Running, boxing, pushups, lunges, and jumping jacks are all tracked by the device. The Moov app offers 10 different programs with 200 levels of workouts. In this way, the Moov is indeed more than a fitness tracker. It's a $100 fitness game. And one that's difficult to beat, at that.
During the 7 minute bodyweight-only workout, I was very surprised at the intensity and number of exercises that could be tracked. And after a couple dozen lunges, jumping jacks, planks, pushups, and squats at level one, I was finding it difficult to imagine hitting level 20.
Much like the Wii or Playstation Move, Moov's hardware allows users to interact with software simply by moving in specified patterns. This is due to that Omni Motion sensor. In this way, your smartphone is required quite heavily in tracking exercise. For example, during squats, users are encouraged to raise and bend their arms 90 degrees at the end of their movement in order to count each rep.
During exercise, the Moov coach keeps rep count for you, tells you to keep your stance wider during squats, and to keep going at the end. "One more," chimed Moov, as I nearly died on the last crunch in the workout. Even during a goal-less jog, she (Siri-like voice) told me to speed up or take a 30-second rest for interval training. It was actually fairly encouraging, and these little interruptions never really annoyed me save for talking over my music.
Moov also suggests wearing the band around your ankle for tracking runs and cycling in order to better track pedal rpm and speed. Your smartphone's gps tracks distance and location for all of this. Despite the ankle option, Moov also claims its special gyroscope won't track non-activity such as typing, writing, or other common false readings most pedometers pick up. So if you want, you really can keep Moov on your wrist.
Moov is comfortable, light as air, and completely unobtrusive. It's also nice not to be just another Fitbit or Jawbone wearer. During my review, people tended to ask what it was or which fitness tracker I was wearing. Talking about its fitness coach capabilities was always a fun brag. Speaking of the Moov coach, Moov's workout summaries have loads of stats you want to share. Unfortunately, you can only directly share workout summaries from the Moov app. The only details here include pace, distance, time, or reps (workout exercises). Of course, once can always just take screenshots.
During this review, I was sad to find I still had to "start a workout" in order to track individual runs. While this is a staple of modern fitness tracking, I still wish fitness trackers were smart enough to mark intentional exercise. It seems like it should be obvious you're not simply jogging across the street for coffee. At the very least, Moov could have put in some tap commands. Jawbone and other competitors have added physical tapping functionality to start runs, set alarms, or be put into sleep mode. This is one slight feature drawback of the Moov Now.
Moov Now also passively tracks your sleep, showing your restorative hours and full sleep time. During shorter nights of sleep, I definitely saw less REM and normal patterns. It seemed fairly accurate, but I'm no sleep specialist either. While this is a fun feature, I would have preferred the ability to set an alarm like the Jawbone Up24. I figure if you're going to wear a fitness tracking wristwatch all day and night, it might as well serve some time-keeping utility.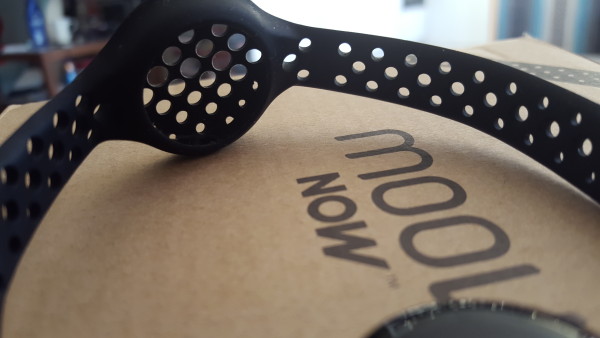 Overview
The Moov Now is easy to use and the best fitness "game," as I'm calling it, I have encountered. The app is intuitive and the fitness tracker is comfortable on the wrist. It's as light as air and its technology melds with the software almost flawlessly. The simple click-to-sync functionality makes it about the most thoughtless piece of tech you can wear. However, it does lack some of the features other pedometers have, like tapping patterns to start workouts or set alarms. While the Moov is indeed not just another "step tracker," it's also not doing users any additional hardware interaction. Nevertheless, the Moov Now offers more accurate data than the Fitbit, Jawbone, or even the Apple Watch. And throwing in the additional videogame interaction makes it arguably more bang for your buck than other fitness trackers on the market. Pick one up for yourself at Moov or any department store for $79.99.
8/10