Since 2014, wireless charging has been a watered-down gimmick. It's a good bet you've noticed your smartphone featuring Qi wireless charging recharges noticeably slower on a pad than when plugged in directly. And if speed isn't the problem, it's the range. Move your phone off the center of your charging platform for even a millisecond, and you're disconnected.
Enter Si-Ware Systems and Ossia–a new wireless charging competitor looking to change the game with a brand new wireless charging chip capable of a 30ft range. Si-Ware (of Cairo) worked as the chip designer for Ossia, a new wireless charging startup. Today Ossia is announcing their brand new transmitter/receiver chipset, the SWS1410 and 1420.
The "plug-and-play" chips are so small (looks about the size of a penny) they'll fit into anything you can dream up whether it's a wearable, smartphone, or even a laptop.  Si-Ware's chips come with integrated power management and a battery interface for manufacturers and are easily embedded into any hardware. The chips will be ready to ship in 2016.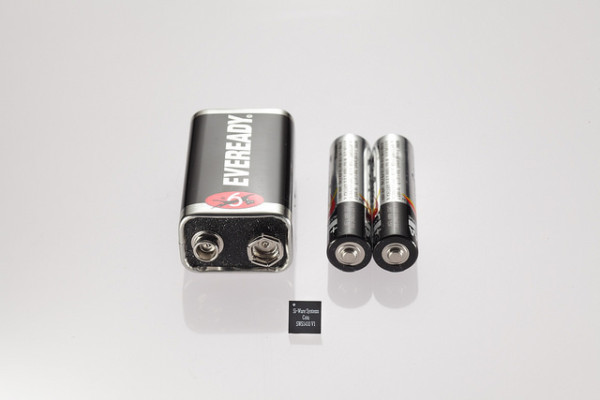 But more importantly, Si-Ware's claim of a 30ft radius of wireless charging with "no proximity, touch or fixed location" is quite the amazing selling point.  How does it work? Ossia says the new technology uses smart antennae to route the signal around obstacles in the home.
According Ossia, "SWS' charger chip (SWS1410) is being used to build the Cota Wireless Charger, which can deliver more than 10 watts of remote wireless power. The receiver chip (SWS1420), which will be embedded in portable devices and batteries, is capable of receiving up to 6 watts of power…"
The key points about this technology were noted in Ossia's press release:
A 30-foot radius is the longest range ever introduced for wi-fi style wireless charging
No proximity, touch, or fixed location is required
The chips are already a reality with volume sampling in Q1
The technology leapfrogs mobile device recharging pads and related charging standards
The receiver chips — for embedding in mobile devices, wearables, or IoT-enabled equipment  –are highly cost-effective and manufactured using standard CMOS processes
Smart antenna technology enables the signal to be routed around obstacles anywhere in the office or home
Live demonstrations of the first samples will be held at CES 2016 in Las Vegas by Ossia and Si-Ware reps in January. The new tech could offer a brave new world for cordless devices.
Thoughts of your own? Let us know in the comments.
Source: Ossia