LG has become a major competitor in the smartphone market over the past few years, and it's all due to the innovation and design which remains unique to their brand. It's a refreshing alternative to following Samsung and Apple into the feature fight. And while LG's new V10 isn't technically a flagship device, it's still one of the largest and most remarkable of its product lineup. Curious why? Read on below for our full review of the LG V10 on AT&T.
Design
To say the LG V10 is huge is a bit of an understatement. The device runs 6.28 x 3.12 x 0.34 inches and is larger than the Samsung Galaxy Note 5 and the LG's own G4. It's a phablet, and it's entirely unapologetic about it.
The standard jet black model is sexy, featuring bold, steel sides that feel clean and industrial. There are also large black bezels above and below the 5.7" screen and dual selfie cameras. The bezels are actually textured to feel warm and rubbery, a nice touch you would not notice until handling. It's simply black, shiny, and gorgeous.
[slideshow_deploy id='9045′]
The prize feature (or gimmick) in the V10's design is the addition of a 2.1" "second screen" LG has placed above the main display. It's used for viewing taskbar notifications, the time, and opening a few select apps when the screen is locked. This sliver of display is simply a backlit extension of the rest of the screen, and it glows dimly, naggingly, in the background.
On the back,  the cover is a removable textured piece of plastic, and thus so is the battery. This is a nice accessibility bonus considering many other manufacturers have eliminated removable backs altogether. In addition, like LG's G4, you can also use its MicroSD slot to add additional storage; in this case, up to an incredible 200GB. LG's famed backside home button and volume rocker make an appearance on this model as well. Like everyone other phone these days, the headphone jack, microUSB charging port, and speaker are found on the bottom.
Hardware and Display
The LG V10's specs are as huge as you might expect. It actually features the same exact hardware as the G4 with a Snapdragon 808, which pairs a quad-core 1.44 GHz Cortex-A53 processor with a dual-core 1.82 GHz Cortex-A57. The GPU is an Adreno 418. Translation? This phone is fast, instant, dependable, and lagless.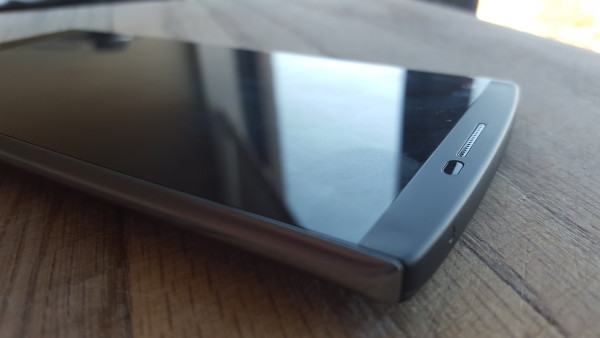 The V10 comes with a 5.7" Quad HD display which is basically the same as the G4's 5.5" with less pixel density at 515 ppi. It's gorgeous, vibrant, and luscious for viewing photographs and 4K video. Of course, it's still a bit difficult to see in sunlight. The V10 has 64GB of internal storage (more than G4), 4GB of memory, and that aforementioned addition of 200GB of external MicroSD storage. Unlike the G4, the V10 has no wireless charging option, but it does come with Quick Charge 2.0 and a fast charger, which allows you to charge half the hefty 3,000 mAh battery in just 40 minutes.
As for the cameras, the V10 features LG's 16 MP, 5312 x 2988 camera (also on the G4) and weirdly dual 5 mp selfie cameras on the front. For more on the camera, read on down.
Software
LG brings its beloved Knock On (double tap on/off) feature to the V10 along with their boxy Samsung Sense-esque Android skin. Features are sensible, not bloated. Overall, the interface is fairly enjoyable to use. It's perfect for people who like to personalize settings but not get overly complicated. Android Lollipop 5.1.1 comes stock, and there's no reason to feel sad about that for a fall 2015 phone.
The software functionality of the 2.1" second screen is worth noting here. The backlit display stays on at all times, nagging you to check on Instagram notifications or let you know battery saver is running. When locked, it's a great way to check the time and notifications in a jiff. It can also be use to get to some quick settings and apps (vibration/sound settings, wifi, flashlight, and camera) from the lockscreen. A soft swipe to the left will bring you to this menu. It's a pretty enjoyable feature to use, but it remained more gimmicky and annoying then helpful for me in the long run.
Battery
If you think 3,000 mAh of juice is going to fail you, you probably should be using a laptop for what you're working on. During this review, the V10 lasted us 1.5 days minimum, and two without breaking a sweat. Using LG's battery saver settings also adds on some hours in desperate situations. Even then, if necessary, you can thankfully replace the battery altogether with the removable back. Brilliant.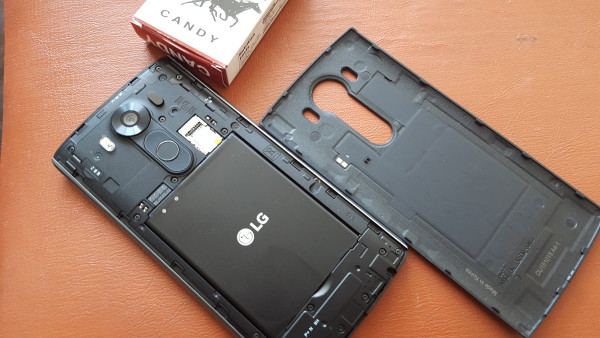 Camera
The 16 mp rear camera is wonderful with one slight caveat. It's generally bad in low-light settings. Of course, this is only an issue in LG's camera app on Auto. Using manual camera settings to adjust ISO and white balance is a quick fix, albeit one you shouldn't have to deal with. All that said, the V10 captures brilliant photos in any daylight setting with incredible detail. Our results competed hard with the Samsung Galaxy S6, but it does lack the same consistency.
As for those dual 5 mp selfie cameras, they turn out pretty awesome. It's a bit of an HDR effect, as the dual-lenses merges several photos together in one shot, enhancing clarity, detail, and general complexion. These selfies look true to life and the wide angle option is great for getting group shots in frame.
[slideshow_deploy id='9064′]
General Use
The V10 is huge. And despite its grippy, textured back plate, it's also really slippery. I blame the giant, glass display alongside the smartphone's steel edges. I felt like I was going to drop this monster every time I took it out of my pocket. That was strike one. This is most definitely a purse and briefcase gadget, and that's a detriment to its enjoyment in general use.
Software-wise, Knock On is always brilliantly helpful. Double-tapping the screen on and off just makes sense, and it's my favorite LG-specific feature. The phone's on-screen menu buttons made me equally happy, because they're so instantaneously responsive. Relying on a tactile home button is about the most obnoxious hardware hurdle left with touchscreen gadget. If you want proof, try finding the power and volume buttons on the back of the V10.  It's impossible. Reaching with your thumb is much more difficult than on the G4, especially with the extra bezel lengths above and below the 5.7" display.
LG's unique "second screen" is a cool feature, giving a snippet of information in a glance, but it makes no practical sense. The phone is already too large by most people's standards, and now you have an extra 2.1" display that's hard enough to reach and interact with as is. If anything, they should have copied Samsung's Edge with the extra vertical curved notification bar. Mind you, that gimmick also suffers major practical use issues. 
Other problems encountered with the V10 included its overly sensitive swype-type keyboard, which was terrible compared to Google's stock keyboard. While browsing the web and apps is fluid and painless, typing accurately on this device was a serious pain in the ass.
As for signal strength, AT&T's 4G network was always there for us, making surfing, streaming, and browsing social media apps splendidly quick. I never had any issues with AT&T's network around Washington, D.C. during this review, and clarity on calls was standard. The speaker is nothing to write home about, but neither are other smartphones'. 
Overview
The V10 is a well-stocked, high-caliber, beautiful device. Honestly, it's a great coffee table conversation piece by itself. And it's a fun phone executed with cool, useful software innovations. And yes, some hardware gimmicks. This smartphone is for someone who wants a ton of screen real estate, supreme battery life, excessive storage capacity, and a decent camera all without worrying how they tote it around. I say this because 192 grams of girth is simply more than most people want to handle. At 6.77 oz, this is likely the heaviest phone we have reviewed. It's heavier than the Motorola Droid Turbo which was as "fat as a cat."
You can pick up one of your own LG V10's at AT&T for $249.99 with a new contract. LG was also offering a deal of its own featuring a free 200GB MicroSD card and charger. As always, we suggest you shop around.
7/10