The Samsung Galaxy Note has gone through some evolution since its origin as a notoriously mocked "phablet." In fact, the Android smartphone's popularity has become so rampant that Samsung's most noted (pun intended) competitor has emulated it. Apple's 2014 revelation of the iPhone 6 Plus and, most recently, the September 2015 reveal of the Apple Pencil (a stylus built for the iPad Pro) proved that the Galaxy Note is a beast worth countering. Throw in LG's G phones and the Nexus 6, and you have a family of phablets looking to stick it to Samsung. So how does the Galaxy Note 5 stack up against its former iterations and current competitors? Read on below for the full review.

Design
Like many Notes before it, the Galaxy Note 5 is 5.7" stunner. But it's more svelte, shinier, and has an increased build quality that is easy to see in its carefully-shaped aluminum edges.  This is because the new device is actually .9 mm thinner (7.6mm) than the Note 4's (8.5 mm) body. As for the shine, the back of the Note 5 is no longer a textured plastic, but instead is made with Gorilla Glass 4 like the Samsung Galaxy S6 and S6 Edge before it. The Note 5's back plate is also not flat or removable. Its edges arc softly towards the aluminum rim (exactly like the S6 Edge) while the front display remains rigid. In this way, the Note 5 looks to be a larger hybrid of Samsung's two flagship devices, yet it remains smooth and grippable in even the smallest of hands.
[slideshow_deploy id='8881′]
In addition, Samsung's tactile home button and capacitive menu and back buttons have remained. The Note 5's speaker grill, cameras, heart rate monitor (moved to the right of the camera), and headphone jack have all evolved to match the S6 smartphone lineup as well. As expected, the Note 5 comes with an upgraded fancy and functional stylus. It actually pops and slides out of the phone upon clicking. Despite plenty of noted issues with putting the stylus pen in backwards, we never broke the Note 5 inserting the pen backwards. Use common sense.

Display
I've concluded this is the most gorgeous smartphone phablet screen Tech Void has reviewed yet, notwithstanding LG's G4 (though, we haven't just yet). The S6 certainly beats the Note 5 in pixel density, but the 5.7" of luscious eye-popping colors makes for brilliant YouTube viewing, game playing, and using it as a giant camera window. Brightness was never a concern with the Note's considerable battery life. Even when dimmed, the screen is perfectly viewable when not in direct sunlight. Icons and text pops of the display at any angle, and TouchWiz's parallax effect adds a fun three-dimensional illusion that helps that. It slightly adjusts items on your home screens when the Note 5 is rotated, keeping everything in plain, legible view.
Specs
First, let's talk about what's missing. Like the S6, the Note 5 has done away with the ability to insert a MicroSD card, causing resentment to many. Nevertheless, there are two of storage model variants of the device, a 32GB and 64GB option. As for processor, the Note 5 comes with Samsung's own impressively fast Quad-core Exynos 7420 octa-core processor (includes a Quad-core 1.5 GHz Cortex-A53 & Quad-core 2.1 GHz Cortex-A57) and a Mali-T760MP8 GPU. An accelerometer, gyroscope, Bluetooth, and GPS are included as always, in addition to a barometer and heart rate monitor. The rear camera is a 16mp camera capable of F1.9 and the front-facing camera is 5mp. For OS, Note 5 comes with Android Lollipop v5.1.1 and the most recent Samsung TouchWiz software skin overlay.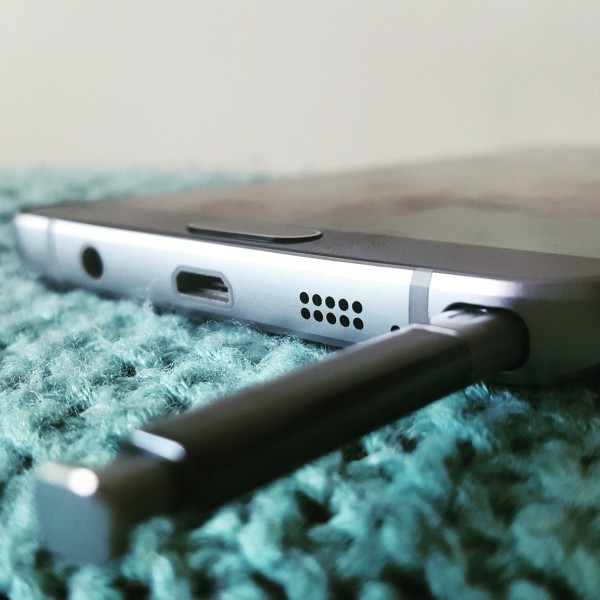 General Use
I carried this phone on a long Labor Day trip to NYC and back to Washington with no hiccups at all. Surprisingly, despite the Note 5's large size, it's not much more obtrusive than the Samsung Galaxy S6. The Note is certainly still an annoyance in your pocket, however its a rather comfortable device to hold in your hand without a case, even more so than the Note 4. Even with its rather slippery glass and metal looks, it sticks well to your hand and drops rarely occurred during our review period.
Personally, my favorite part was just how much easier it was to swipe through news, read email, and hold the device as close or far away as I wanted. The simple fact you have 5.7" of real estate to scan information is quite helpful, even with its heft. And the display being as just as brilliant as the S6's, and even better than the Note 4's before it, makes it an outrageously awesome experience. Viewing 4K videos and scanning pictures on Instagram is simply more enjoyable on the Note 5 compared to a smaller handset.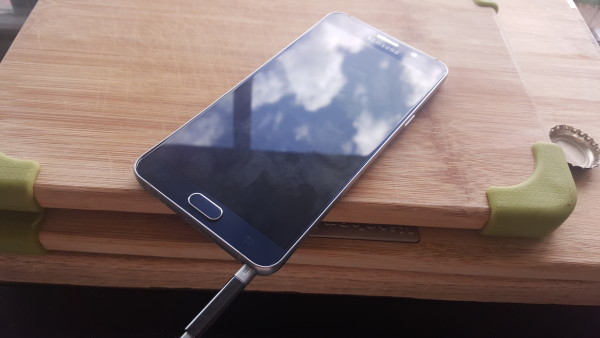 While thumb reach is a bit of an issue on any tablet, the fact the Note 5 is slightly slimmer than its previous model made it even less of an issue. In addition, the use of the stylus was sometimes helpful for more pinpoint accuracy in tapping icons or swiping through menus. Typing was much better for me than on my S6, and I felt more accurate and confident when using the trace/Swype method. The speed of this device is so fast, it's unnoticeable. The Note 5 switches apps on a dime and opens web pages instantly. The word "lag" never even enters the mind when using Note 5. Many times during this review, I found myself longing to look at the Note 5 over my personally-owned S6 for the large and luscious views, especially when using the camera.

Camera
While the 16mp rear camera on the Note 5 is exactly the same as that of the S6 with 5312 x 2988 pixels, F1.9 aperture, and the ability to shoot in 4K, there's something to be said for the enjoyment factor of shooting photos and video on the Note 5. Those luscious 5.7" of beautiful AMOLED make previewing shots and recording live video bring a beautiful and vibrant experience you just don't find with a 5.1" display.
[slideshow_deploy id='8885′]
Low-light shots can have some noise issues, but every other picture I took came out supremely vivid, bright, and beautiful. I especially had an awesome time taking photos of skyscrapers in NYC. Selfie shots are also great with Samsung's notable wide field of view, allowing you to get all of your friends in-shot. Just like the S6, it's almost impossible to take a bad photograph or shoot an ugly video with this camera. Also like the S6, double-tapping the home button opens up the camera, as well as swiping up from the lockscreen. This is an absolutely necessary feature, as it makes using this shooter completely effortless.
Battery
The battery is actually smaller than the Note 4's (3220 mAh) at 3,000mAh. Nevertheless, using the Samsung TouchWiz power saver settings, we often saw 48-72 hour of life depending on use. 1.5 days of longevity with fairly heavy use (watching lots of videos, taking pictures, browsing social media apps) was not an uncommon feat, and a day of taking photos and video in NYC only dropped it to 30% by the evening. Impressively, on standby I was once able to reach three days without a charge with battery life to spare.
The Note 5 also has a new feature–wireless charging. Of course, it's a much slower chore for such a large battery. Nevertheless, the Note 5 also comes with Qualcomm Quick Charge 2.0 technology and will fully charge in two hours using Samsung's provided fast charger. Or, in one hour from 50%. Battery life was actually so impressive with the Note 5 on Power Saving Mode, I never saw it as a concern.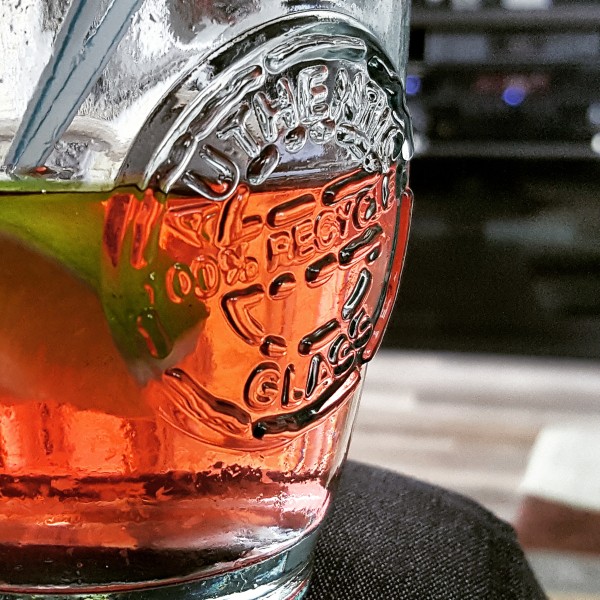 Overview
The Note 5 is the most incredible phablet we've reviewed for Tech Void. The sheer attractiveness of the device is enough to make you consider the option, even if you have smaller than average hands. The amped-up octa-core processing speeds, lusciously improved 5.7" Super AMOLED display, and the most incredible rear camera on an Android phone (same as the S6's) makes it a perfectly enjoyable piece of hardware to use. As for software, the pared down TouchWiz skin and upgrade to Android Lollipop 5.1.1 is an awesome treat.  This offers users less confusion by sacrificing unnecessary features while leaving a larger and more important focus on user experience. Add in a battery that can last up to 72 hours on standby, and you've built a device Android lovers have been longing for since the beginning of the smartphone era. Samsung has astounded us with this product among others, and we give it the strongest recommendation we've ever offered.
The Note 5 comes in Black Sapphire, Gold Platinum, Silver Titan, and White Pearl and can be purchased at AT&T for $249.99 on a two-year contract (32GB model) or the 64GB model for $100 more. Full retail for the device is $739.99 and $839.99. Color options and prices vary by carrier.
10/10