Update: Irving, Texas police has confirmed they will not be bringing charges against Ahmed Mohamed.
It's likely you've seen the headlines. 14-year-old freshman Ahmed Mohamed was arrested at MacArthur High School in Texas this week for bringing an invention to school–a clock. Despite his teachers knowing it was a clock and the student claiming as such, police hauled Ahmed to a juvenile detention facility without even allowing him to call his parents. The charge? Building a "hoax bomb."
Unsurprisingly, since the story surfaced, internet outrage has spread far and wide crying foul for discriminating against a Muslim boy for being inventive. And the story has grown so large, political and engineering mavens including President Obama, famed-astronaut Chris Hatfield, and Facebook CEO Mark Zuckerberg have sent Ahmed support on social media with the slogan "IStandWithAhmed."  In fact, Zuckerberg actually offered Ahmed a visit to Facebook's headquarters to meet him.
Cool clock, Ahmed. Want to bring it to the White House? We should inspire more kids like you to like science. It's what makes America great.

— President Obama (@POTUS) September 16, 2015
Hi @IStandWithAhmed ! I'd love you to join us for our science show Generator in Toronto on 28 Oct. There's a ticket waiting for you. — Chris Hadfield (@Cmdr_Hadfield) September 16, 2015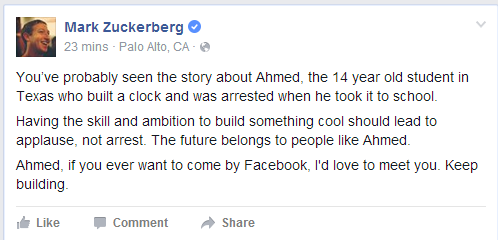 While pictures of the boy's invention have not surfaced, the hype surrounding the injustice to Ahmed is proving that innovation is something many believe should not be stifled or punished. Ahmed was also suspended by his high school after being arrested for the incident. Meanwhile, scientists, engineers, and the world's most well-known celebrities continue sending love and support.
#IStandWithAhmed cause I was once a brown kid in the south too. Plus sure he'll lead an amazing life & I'm trying to get in the bio pic game

— Aziz Ansari (@azizansari) September 16, 2015
Students should be allowed to tinker. #IStandWithAhmed see you at NASA one day, kid. 😊🚀pic.twitter.com/Ga0p61s58h — Emily Calandrelli (@TheSpaceGal) September 16, 2015
Have a take of your own? Let us know in the comments.Via: The Verge, Dallas Morning News Source: Twitter, Facebook