There's great news for children (and those who still are children at heart) this summer. A giant 10,000 sq. ft. ball pit dubbed "The BEACH" has been installed inside the National Building Museum in Washington, D.C.'s Judiciary Square. The best part? No sunscreen is required for this plastic-filled ocean, and it's open to the public for all your ball-diving needs.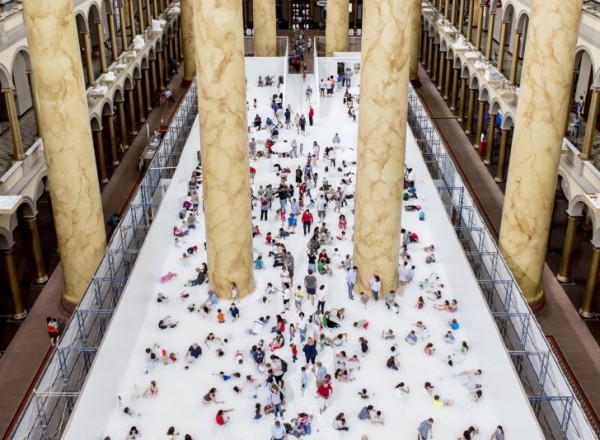 The BEACH ball pit takes up the entire main floor of the Museum and took an entire day of unboxing and building to complete. Construction materials also included wood panels, scaffolding, and mesh all in bright white. Thanks to the building's many sunlit windows and the addition of a mirrored wall, the entire exhibit lights up into an infinite translucent ocean of balls. There are also beach chairs and umbrellas on a 50 ft. faux-shoreline for sunbathing safely indoors.
For a fuller visual, NewsHour did a fun interview within "the ocean" with National Building Museum staff in the video below.
There are an estimated 700,000 to 1,000,000 balls in the pit, and people of all ages have the chance to enjoy The BEACH for all its worth until Sept. 7 for $5-16 per admission. Active duty military personnel can also attend free until Labor Day.
The BEACH was designed by the NYC firm Snarkitecture, and it follows up the Building Museum's last interactive exhibit known as the "The BIG Maze," designed by Bjarke Ingels Group. There are rules for The BEACH, however. For instance, throwing balls is not encouraged. For all those details and more, head over to the National Building Museum's website.
Via: PBS NewHour
Source: National Building Museum