There's great news for the perilously clumsy and Samsung Galaxy Active lovers. Samsung's newest addition to the indestructible "Active" smartphone lineup has finally debuted. The Samsung Galaxy S6 Active, a ruggedized version of the S6, is coming to AT&T on June 12. The new model sports the same hardware and amazing Quad HD 5.1″ 577 ppi Super AMOLED display as the S6 and S6 Edge, however it comes with a much larger 3500mAh battery, a iP68 water resistance-rated encasement, and Activity Zone features (compass, flashlight, stopwatch, etc.) that are accessed with its very own blue button (like the previous S5 Active). One slight drawback is that a mere 32 GB of internal storage is standard for the device compared to the largest maximum of 128GB for the S6.
In terms of its ruggedness, the S6 Active can withstand any torture you can put it through. It's resistant to dust, hard drops, temperature extremes, humidity, and even high altitude. It's also able to be submersed in 1.5m of water for half an hour giving its IP68 rating. Nevertheless, considering videos have shown the S6 and S6 Edge withstanding water dunkage for half an hour, it's likely the Active version could survive harsher environments.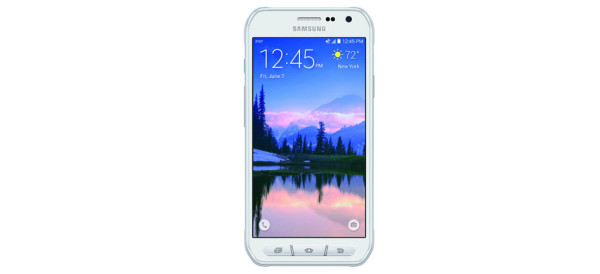 The AT&T (currently exclusive) phone will come in Camo Blue, White, or Gray and will go for $200 with a new two-year contract or $695 off. For more, read the full press release below or head on over to AT&T. Also, be sure to check out our full review of the Samsung Galaxy S6.
Best in Class Galaxy S6 Rugged Smartphone Available for $0 Down on the Nation's Most Reliable 4G LTE Network
DALLAS, June 8, 2015 – For the third summer in a row, AT&T is bringing its customers the toughest and most advanced member of the Galaxy S family. The Samsung Galaxy S6 active – available only at AT&T2 – is designed with your active lifestyle in mind. It gives you the durability you want while boasting a sleek, lightweight design and all of the innovation the Galaxy S 6 has to offer. Beginning on June 12, you can purchase the Galaxy S6 active on www.att.com/galaxys6active or at AT&T stores in Camo White, Camo Blue, or Gray.
Galaxy S6 active Pricing
Qualified customers can purchase the Samsung Galaxy S6 active for $0 down on AT&T Next for $23.17 with 30 device payments on Next SM 243, $28.96 per month at 24 payments on Next 18, or $34.75 per month at 20 payments on Next 12.
Galaxy S6 active Promotions
For a limited time, customers can also enjoy a pair of deals when they purchase the Galaxy S6 active:
Get the Samsung Galaxy Tab 4 8.0 for free with a two year agreement.4
The Samsung Wireless Charging Pad is available for 50 percent off with the purchase of the smartphone with Next or a two year agreement5
Galaxy S6 active Features
Built to withstand whatever everyday life throws its way, the Samsung Galaxy S 6 active has IP68 certified casing that is water resistant up to 1.5 meters for up to 30 minutes, shock resistant, and dust proof.6 Whether you're at the office working or outside exploring, the device's high-power performance and innovation keep you connected, productive and entertained. Additional key features include:
Display: The Galaxy S6 active has a 5.1-inch Quad HD Super AMOLED® display with 577ppi that automatically adapts to the content you're viewing – even outdoors.
·Camera: With a double-tap of the home button, the 16MP rear-facing and 5MP front-facing cameras launch faster than ever. Auto-Real time High Dynamic Range (HDR) captures clever shots in virtually any light, and the front camera's wide-angle lens allows you to take epic selfies.
Operating System: Android™ 5.0.2 (Lollipop).
Processor: The Samsung Galaxy S6 active comes with Octa-core 64-bit processor, Samsung's fastest and most powerful processor in a smartphone.
Storage: 32GB of internal memory7
Voice Calling: HD Voice capable.8
Battery Life: The Samsung Galaxy S6 active features a 3500mAh and embedded wireless charging technology that works with most wireless charging pads on the market, so there's no more looking for a cord or place to plug in.
Outdoor Features: Activity Zone is the ideal companion for outdoor adventures, and includes a quick launching compass, flashlight, stopwatch, and more.
Business Ready: Samsung KNOX provides security and protection right out of the box, along with support for MDM partners, making device management easy for IT administrators. 
Supporting Quote 
"As we've shown over the past three years as the exclusive provider of Samsung's Galaxy S active family, we feel that our customers shouldn't have to trade durability for best-in-class specs," said Jeff Bradley, senior vice president, Device Marketing and Developer Services, AT&T Mobility. "The Galaxy S6 active is the best Galaxy S6 in the market. It combines all the premium features of the Galaxy S6, but also is durable enough to handle wear and tear. You can't find this device – with its combination of performance, dependability, and 4G LTE reliability — with any other carrier. And on top of that, our customers will be able to choose between two cool new colors – camo white and camo blue."
"With the Galaxy S6 active, we're delivering consumers with high durability coupled with the powerful performance of Samsung's latest flagship smartphone," said Tim Baxter, President & COO & Mobile Division GM of Samsung Electronics America. "The result is a smartphone that brings ruggedized capabilities and water resistance coupled with the camera, battery and design features that empower our consumers and business users to do more."
Device Eco-rating
The Samsung Galaxy S6 active has earned five out of five stars on AT&T's Eco-Rating system. The system rates the environmental factors of AT&T branded handset devices. AT&T created the Eco-Rating system to empower consumers to make better informed decisions when selecting a device. For more information about this device's rating, AT&T's Eco-Rating System, and how you can join AT&T in making a difference, please visit http://att.com/ecospace.
Spartan Races
The Samsung Galaxy S 6 active will be featured and available for purchase in on-site shops at upcoming Reebok Spartan Race events. Reebok Spartan Race, the world's leading Obstacle Race, is an event designed to push your limits, test your strength and challenge your endurance. 
Join AT&T and Samsung at the races in Breckenridge, Colorado on June 13; Dallas, Texas on June 20; Midway, Utah on June 27; and Palmerton, Pennsylvania on July 11. For more information on the races, please visit www.spartan.com.
Source: ATT