Samsung has come a long way since its first Galaxy smartphones. The sixth iteration is a gorgeous device that has finally captured the beauty and class Apple has sought for its iPhones for years. Let's not beat around the bush here. Samsung has been emulating the iPhone since the beginning and there's plenty of lawsuits to prove it. And now, finally, Samsung has caught up with the i-giant building a new model, the Samsung Galaxy S6, out of premium materials that blows the iPhone out of the water. Still interested? Read on below for our full review.
Design
Samsung used stiff metal and glass all around the Samsung Galaxy S6 and S6 Edge. The aluminum rim wraps entirely around these devices while the front and back panels are covered with Gorilla Glass 4, which is a weird (and arguably stupid) throwback to the iPhone 4. The aluminum rim has curiously chamfered edges which make for an incredibly comfortable and sturdy feel when gripped and is reminiscent of the Samsung Galaxy Alpha.
Samsung has also worked hard to make the sheen of this device unique, allowing its phones to shine different colors depending where and how the light hits it. This can especially be noticed on its green and gold versions, which have not hit U.S. carriers just yet. The lack of color-availability is a major disappointment for early adopters, but with an Iron Man-themed version having just debuted in red and gold, it's likely more colors (aside from blue, black, and white), will hit Verizon, AT&T and other networks soon.
Like the Galaxy smartphones before it, the S6 has a tactile oval home button at the bottom. It's an almost annoying reminder that Samsung is still not leading the pack in design. The volume rocker is on the left side in an overly-high position for average-sized hands. The power button is found on the right side at middle height, and a speaker and headphone jack are at bottom. If you were to look at this device from the bottom side-by-side with the iPhone 6, you might think it was made by the same company.
On the back an absurd number of manufacturer and carrier logos stamp the device, along with a protruding 16-megapixel camera lens and heart rate monitor. If there's an eyesore on this device, it's definitely the entire back plate. Skinning of this phone, or use of an extremely thin case, is definitely recommended for aesthetic improvements and practical glass panel protection.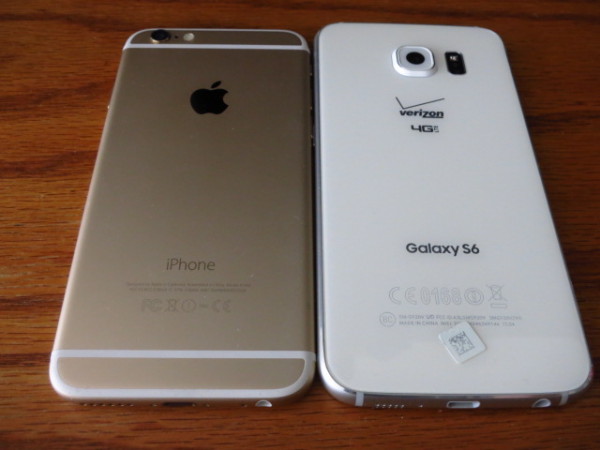 Display
It is difficult to put into words how incredible this smartphone display is. It's literally the most detailed, vibrant, colorful and pixel-packed smartphone screen on the market. This 5.1" Quad HD AMOLED 2560×1440 pixel display has 577 pixels per inch (ppi), which is about double the S5's and far superior to the iPhone 6's 326 ppi retina display. Viewing angles are perfect, and you couldn't make out a pixel if you tried. It's also incredibly bright, making it great in sunlight despite the Gorilla Glass 4's terrible glare. HD videos come through perfectly, and pictures look much better than they do on an average desktop monitor. There's honestly nothing negative you can say about this display other than it's an incredible power suck. I had to be sure to throttle it to conserve battery life during the day.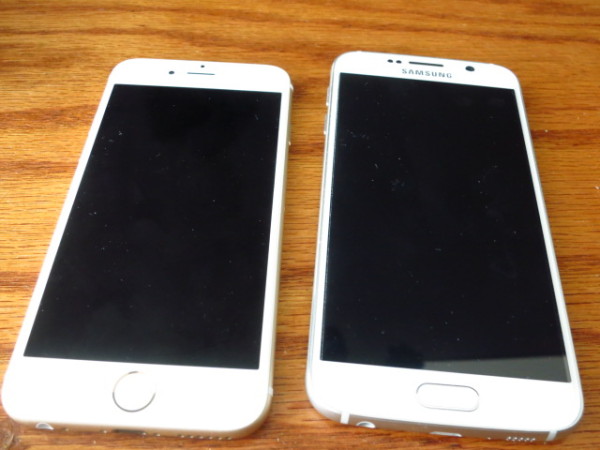 Hardware
The Samsung Galaxy S6 is almost a disappointment in specs compared to the Samsung Galaxy S5. While the processor, memory, and camera sensors have certainly been upped in game, the fact the battery is no longer removable and the micoSD port for external storage was phased out is incredibly disheartening.  The S6 carries a blazing quad-core 1.5 GHz Cortex-A53 processor from a Exynos chipset, unlike the Qualcomm Snapdragon processor used in the S5. The S6 also has an ARM GPU. There is 3GB of RAM and internal storage ranges by model between 32, 64, and 128GB. The S6's camera is a 16 mp camera with 2988 x 5312 resolution and has the ability to shoot in 2k. Weirdly, this resolution is about half of the available in the S5's rear camera. The battery is actually smaller than the S5's at 2550 mAh instead of 2800 mAh. Nevertheless, this phone comes with the ability of wireless charging and compatibility with Quick Charge 2.0 for supremely fast recharging.
Software and General Use
The S6 has Android Lollipop 5.02 and the brand new TouchWiz 7 (Samsung's Android skin), which has notoriously lagged smartphones in the past with excessive features, functions and menu items. The revamped Touchwiz has definitely changed for the better, but many of the eliminated features (such as a two-finger swipe settings menu), have actually irritated me more. And despite the attempt to reduce many needless features, the ones I hated the most now cannot be turned off.
Take the multi-window multitasking feature, for instance. This is something most of us would never use intentionally, and now Samsung has made it function by simply swiping down from the left-hand corner. In months of use, I've unintentionally multi-windowed dozens of times while simply scrolling through apps because the feature is now embedded in the software. It is one of the most unnerving additions I've ever experienced aside from lag (more on that below). Sure, I can adapt, but should a consumer have to? Grandparents will not get far using this feature-filled OS skin.
And speaking of lag, despite many glowing reviews of Samsung's improvements with Touchwiz response time, I have had one of the worst lag transitions to a new smartphone. Moving from buttons on screen (soft keys) on the Moto X to the lagging, tactile home button of the Samsung Galaxy S6 was a very difficult change. Perhaps this is perception bias, but clicking (rather than tapping) home button to exit an app adds a very noticeable several tenths of a second to response time. This seems incredibly stupid considering the capacitive "back" and "task manager" buttons to the sides of the home button work instantaneously with a light tap.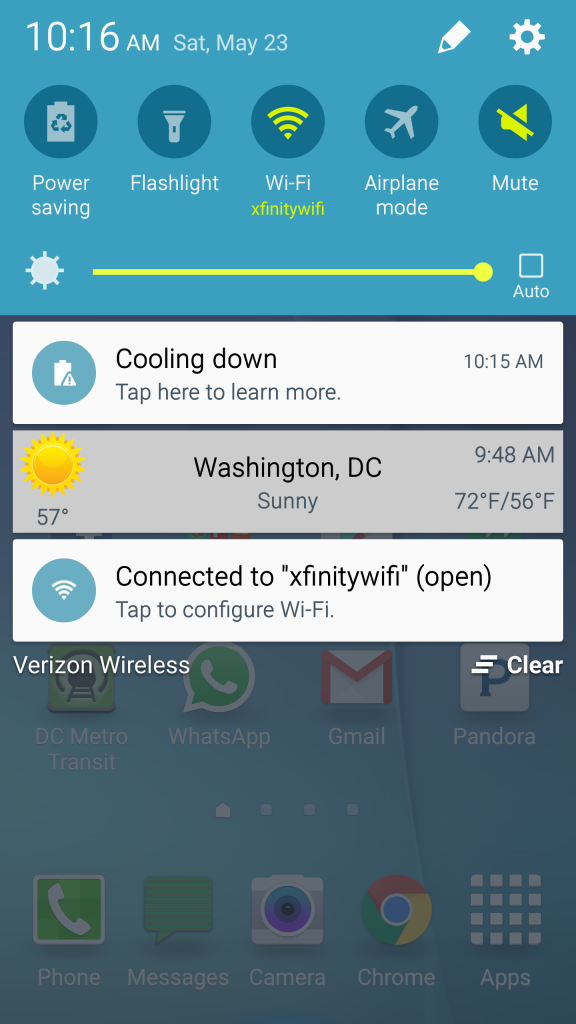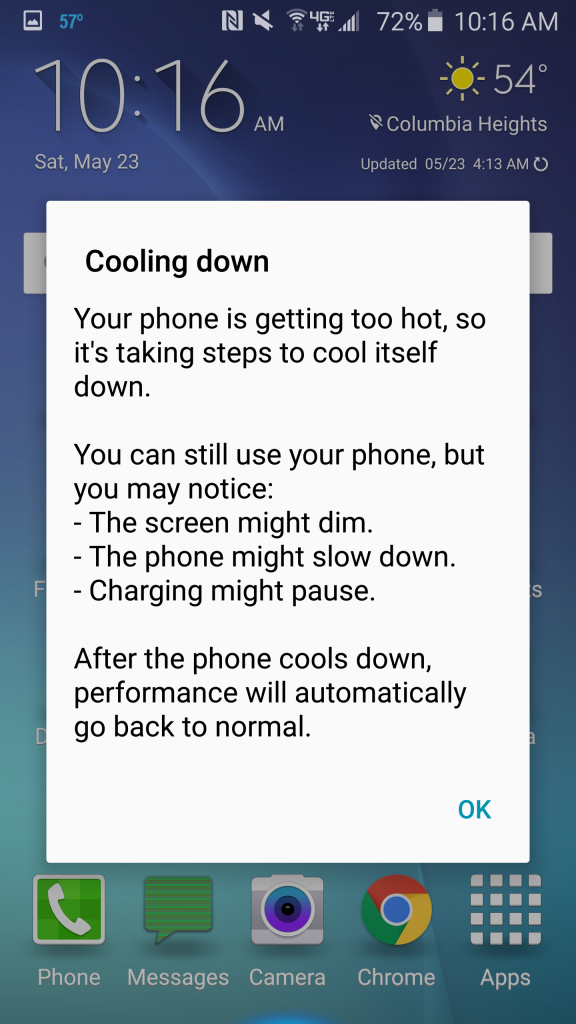 Part of this home button-lag is actually software-based. Because one of the optimal features of the S6 is "double tap home to open camera," the home button is always waiting for a second tap before initiating an exit command. And even if you are attempting to double-tap home, sometimes the camera get stucks, shows black, or takes its time exiting the phone's gallery app first. That's not very helpful when trying to get a quick snap of a passing surfer or sea gull.
In terms of conventional lag, whenever using Power Saving Mode (a battery-saving feature mentioned below), the S6's CPU slows to a halt while also making location services (GPS) crawl at an incomprehensible pace. But even in standard battery mode, I've experienced camera errors, phone overheating warnings (this forces applications to close), and general sluggishness in transitioning between windows. You can benchmark smartphones all you like, but when it comes to actual user experience, running 5-12 programs at one time while texting, trying to take a video of a passing surfer, or navigating to the Gaslamp District in San Diego via Google Maps, the S6 just doesn't cut it on CPU and memory management. (No, we didn't drext or drotograph during this review.)
Another weird problem experienced was with the Samsung keyboard. While Google Keyboard is offered, if you switch in and out of Ultra Power Saving mode, the S6 constantly switches back to Samsung's, which is not an ideal accuracy preference for many. These bubbly characters seem to make swype typing less accurate and more cumbersome. it's a slight nuisance, but one of top of many that make the new Touchwiz one of my least favorite Android skins.
Phone calls on the device worked generally fine with Verizon, but covering up the microphone on the bottom of the phone was very easy to do with your hand during conversations. And the speaker next to the microphone is definitely loud and clear enough for casual Pandora playing and speakerphone conversations.
In terms of other software, Samsung has included S Health which is great at tracking running, dieting, and other health information for you, and S Voice, which is nice, but still lacking in comparison to Google Now. Thankfully, you can choose between them. When unlocked, holding the home button will bring directly to Google Now, letting you ask questions at your leisure with "Okay, Google…"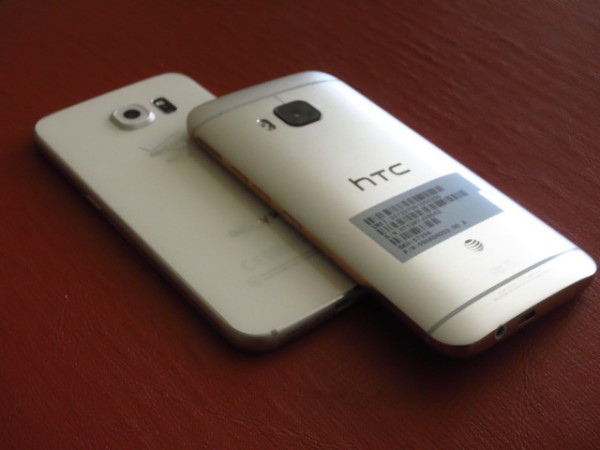 Battery
The 2550 mAh battery on the Samsung Galaxy S6 comes with a few bonus software features, but still tends to be a wild card when it comes to longevity. While 8-12 hours of use is a given with heavy use, anything longer requires careful concentration on battery-saving. In some aspects this is quite annoying, but thankfully Samsung offers to battery preservation modes to help solve any battery issues you may be solving.
Nevertheless, there's heavy drawbacks to the S6's battery-saving modes, notably in regard to accessibility and performance. Power Saving Mode, the lighter of the two options, adjusts CPU performance, screen-brightness (though not always, for some reason) and weirdly (though not stated) GPS/Location services usage. The problem is you'll likely keep it on most of the time for maximum battery preservation. The issue with that, however, is that you will forget it's even on. During the past few months of review, the S6 became noticeably slower, laggy, and absolutely frustrating to use in this mode. During my recent trip to San Diego, I noticed my GPS would disconnect more or simply stop navigating aloud. Turning it off solved the problem almost immediately.
While performance issues might be understandable in a battery-starving mode,  I don't believe this should affect user-experience in such a way it makes you want to throw the phone out your car window. This minor problem ended up being a heavy factor in my dislike for the S6 as a device.
The second battery saver is known as "Ultra Power Saving Mode," and like HTC's extreme power saving tactics, this limits the phone to six different applications of your choosing, puts the screen in grayscale, turning off wifi and Bluetooth, and it turns off mobile data when the screen is off. In our use, the last 20% of battery can make it as far as an extra 4-8 hours in this mode. That's of course assuming you aren't receiving a plethora of texts, Whatsapp messages, or playing with Facebook in grayscale for half an hour. 36 hours was the most I could muster in the best of circumstances using all of these features combined. And that's actually pretty good, considering the intense hardware inside.
Despite the hits to phone performance, the battery saver features are a necessary addition. Additionally, the ability to use the S6's fast charger to spare your battery in as little as 25 minutes, getting the S6's battery to an astounding 40-60%, is astounding. Qualcomm Quick Charge 2.0 compatibility is a must in 2015 for a flagship phones, so I was very happy to see it included with the S6. For once, carrying around a power cord didn't feel so much like a tether as it did an excuse for a coffee break. After filming and photographing some events in D.C., stopping at Starbucks for a quick juice-up was always a no-hassle experience.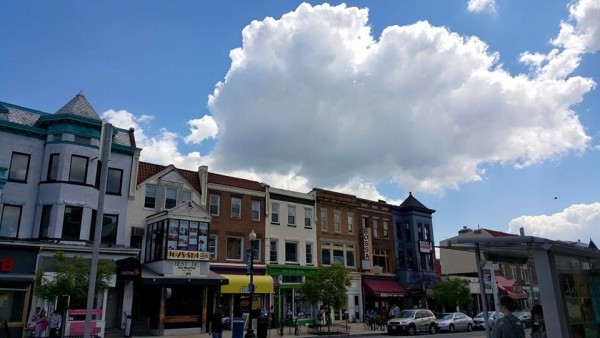 Camera
Hands down, the Samsung Galaxy S6 has the best smartphone camera to date for an Android device. Photos with this 16-megapixel shooter pick up an incredible amount of light, detail, color. Aside from the iPhone 6, the Nokia Lumia 1020 is the closest match in quality I've ever seen from a smartphone camera to the S6. It's also a bit disgusting how easy it is to take a nice photo. As someone who was always envious of the pictures taken by iPhones, it was a great feeling to casually shoot some friends or a roadside tulip and have an astounding photo to show the world without having to snap again. But this also takes away a lot of the work (blood, sweat, tears, and rewards).
All the post-processing software Samsung put into this camera brings out some brilliant photographs, even in darkness. I took some phenomenal shots from rooftops at night, beaches during gloomy weather, and other low-light conditions with wonderful results. In addition, the field of view is so wide capturing an entire scene is effortless. And truly, that should be the slogan for this wonderful smartphone camera–effortless.  Of course, users can still use Samsung's "Pro" mode, which allows you to adjust the ISO, white balance, used filters, etc. It's completely unnecessary, but for those interested in specific light metering and experimenting with subject focus, it's a fun way to bring DSLR features to a handheld device.
[slideshow_deploy id='8380′]
Shooting video with the rear camera is equally satisfying, and image stabilization mad for some nice surfing videos when visiting California. The S6 is capable of shooting 2k films in 30fps.
There are some problems with the 5mp front-facing camera is another story, however. The selfies on the S6 are pretty decent. Samsung will try to insist on you trying "Beauty" mode to airbrush you, but you can turn that off right quick. Light seems a bit subdued and everyone always turns out a bit smoother and more attractive than they are in real life with this camera (which is generally preferred). The field of view is also super-wide, so you can fit plenty of friends in at brunch. It's also a little weird because to get a close-up, you have to bring it abnormally close to one's face.
A few days after purchase, I noticed some purple dots showing up in these photographs. The problem? According to the interwebz, the sapphire crystal lens used in this camera must have some chips or dust particles inside. These purple spots don't show up in bright photographs, but in contrasted views more and more kept popping up. While this wasn't a big deal, it is an internal hardware issue that's happening in newer phones, and it's something to think about. Pro tip: When buying a new phone, back up everything relevant on your computer just in case you need to exchange for brand new model for hardware malfunctions in the first couple weeks. I chose to just deal with the problem rather than backup and re-upload all over again.
Overview
Samsung's new Galaxy S6 and S6 Edge flagships are gorgeous and and 2015-worthy smartphones. However, despite their best improvements, plenty of sacrifices were made when moving away from the S5's lovable hardware and feature-packed software. Without a removable battery and microSD card, the HTC One M9 makes for a more attractive pick over the S6. However, I can't stress enough how amazing the 16 mp camera and 5.1" AMOLED display are on this device. If it were for those two reasons alone, I'd still choose this over the LG and HTC in a heartbeat. These hardware changes simply can't be beat by another Android device (at present).
All this said, Touchwiz issues remain, and the incredible lag and constant errors experienced during this review period make M9 or even Samsung's previous S5 a better pick in terms of smooth operation. And, in earnest, I also recommended the iPhone 6 (save for its battery issues) over this device for its fewer software bugs and more comfortable handset size. The battery saving modes and quick charge abilities, with the additional option of wireless charging, are still a very great selling point of this phone. 1.5 days of battery life is nothing to shrug at with a phone as beautiful as this one.  At the end of it all, the S6 has a lot of pros and cons, making it a difficult smartphone to love unconditionally. But if you can learn to love its quirks, it will treat you right (or not at all). Plus, there's always hope for continued software updates in the future. Android M, anyone?
7.5/10