When the HTC One M8 came out in 2014, we fell immediately in love with its design, BoomSound speakers, incredible battery life, and its innovative UltraPixel camera which took decent photos without the obsession of megapixels seen on other flagships. And the 2015 HTC One M9 hasn't strayed far from that original mold while adding some much needed improvements. Read on below to see our full review of this new metallic beauty.
Design
The M9 looks fairly identical to the M8. The motto "If it ain't broke, don't fix it," certainly was considered here as the body shape, aluminum chassis, 5.0" screen size, and general sturdy feel was barely altered. Corners look a little more squared off, but it might be an illusion with an additional ledge surrounding the rim of the device. The buttons have also changed. The power button has moved to the right side below the volume keys, which now, instead of a rocker, are two separate buttons.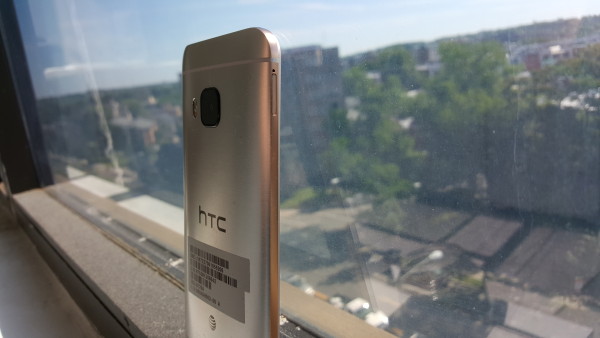 This actually can be a bit confusing. But for a phone this large, the power button is definitely now in a better position for reach. On the back of the device, the antennas and camera positioning are identical to the M8, but the M9 does not have a second lens above it which was part of the UltraPixel sensor used previously. The new M9 camera window is now squared rather than rounded. As for color, The M9 still has plenty of options including gunmetal gray, amber gold, and some other variations with gold and pink. The model we received had a chrome/gold edge around the rim and simple brushed aluminum on the back and front plates. If I were to buy one, I'd definitely consider one with gold accents. On the front you'll find the well-known BoomSound speakers at top and bottom, and the front-facing 4 mp camera. The microUSB port and headphone jack are both at the bottom of the device.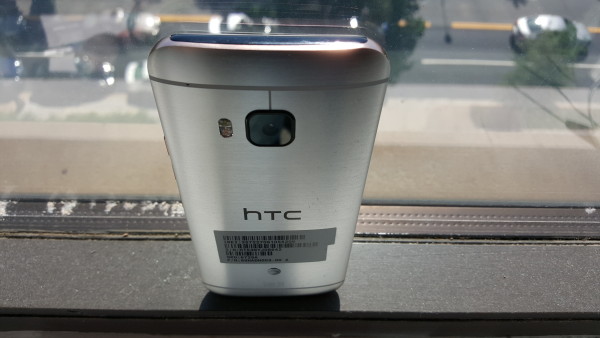 Hardware
The M9 has stepped up this year with 3GB of RAM, Gorilla Glass 4, a minimum standard of 32GB of internal storage, and an upgraded processor–the quad-core Snapdragon 810 processor (M8 had the 801) and Adreno 430. HTC thankfully left the microSD slot (side-access only) capable of adding on 128Gb of external storage without use of the cloud. Rather than the dual-lens UltraPixel camera sensor, HTC threw in a 20 mp camera capable of 5376 x 3752 resolution on the rear. Weirdly, they put a 4 mp UltraPixel camera on the front instead (the M8 had 5mp front-facing camera).
As for other upgrades, the non-removable battery is a larger 2,840mAh (previously 2,600mAh), and the M9 comes compatible with Qualcomm's QuickCharge 2.0. Using a fast charger, this allows consumers to charge the M9's battery to 60% in just 30 minutes just like the new Droid Turbo, Moto X, and Samsung Galaxy S6 flagships.
The display on the M9 has not upgraded at all. Just like the M8, this model has a 5.0" Super LCD3 capticitive touchscreen with 1080p x 1920 resolution and 441 ppi. This isn't necessarily a bad thing either. While it is quite glossy not the most incredibly bright in direct sunlight, it still remains quite crisp, contrasted, and beautiful in most everyday scenarios. You just won't see it besting the Samsung Galaxy S6 or Apple's iPhone 6.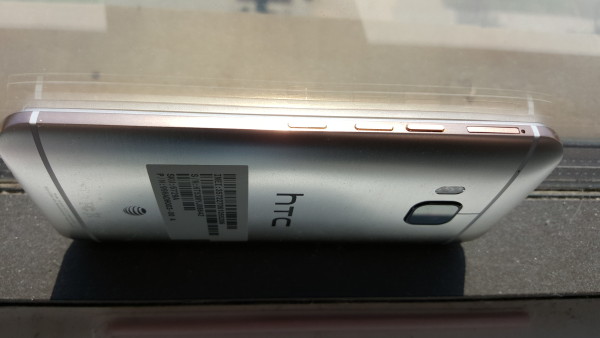 Battery
As noted, the battery in the M9 is now 2,840mAh, slightly larger than the M8's 2,600mAh. It comes with HTC's always-impressive Power Saver and Extreme Power Saving modes. These features reduce screen brightness, processing speeds, and general data usage. In particular, using the Extreme Power Saving mode also limits the number of apps you can access while turning the screen completely gray-scale. These modes are tremendously handy for long days away from home. It works so well, I managed close to 48 hours with this device several times during this review, weighing heavily on standby and the the extreme mode.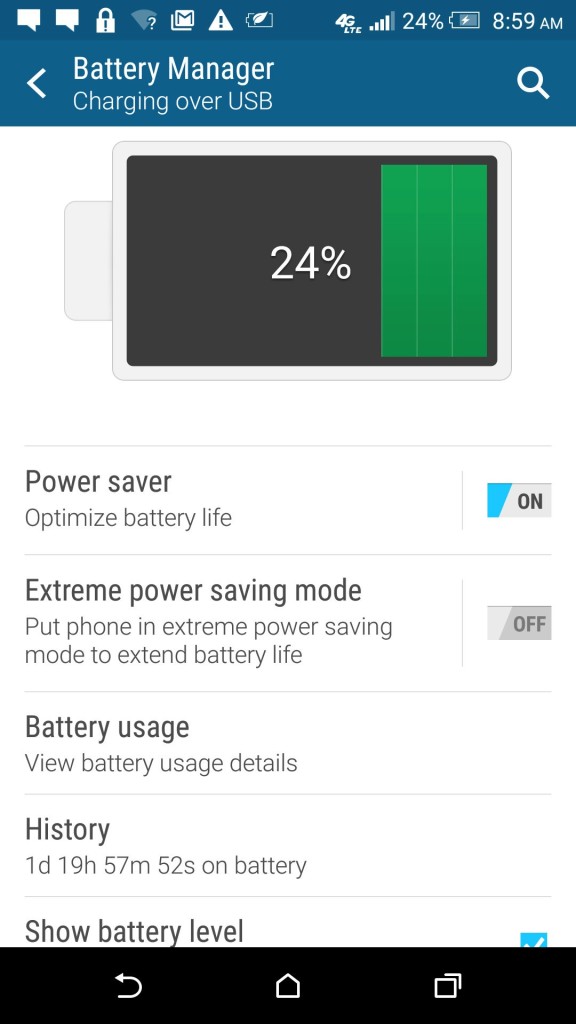 It's incredibly impressive and won't disappoint unless you're an extremely heavy media user. This is likely due to HTC actually not upgrading its LCD from the previous model. Add in the addition of fast-charging with Qualcomm's QuickCharge 2.0 compatibility, and you have a smartphone that will keep you connected at all times, even with only 20-30 minutes of time to charge. In fact, it also beats out the Samsung Galaxy S6, which has a real consistency problem when it comes to battery use. Overall, you can trust the M9 to last you a day and a half with light use and, and a full 12-18 hours with average use.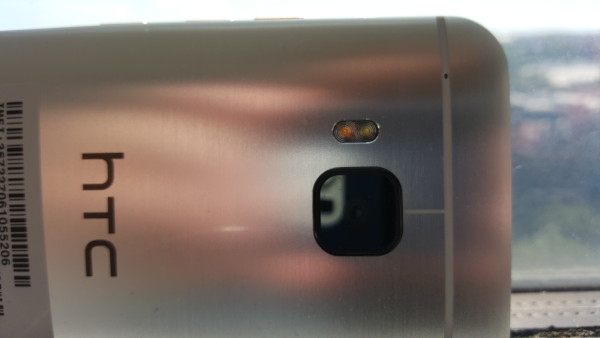 Camera
This is a surprisingly bad camera for it being HTC's new flagship. It can't stand next to an S6 or iPhone to save its life. Only ⅕ of the shots we took turn out the way you had hoped, and definition and contrast just simply disappoints. I wanted to love this camera after reading such awful reviews, but the only part that was even likable was its ability to shoot insanely fast. Also, the electronic shutter sound HTC includes is the most satisfying thing in this world. I'd love to reproduce it all my other electronic cameras.
[slideshow_deploy id='8309′]
Many of our photos were colorful in focus areas and washed out elsewhere. Even in the bright sunlight, details would be diminished or photos would simply turn out bland. Focusing on subjects was an issue at times too. Considering how much we liked photographs taken in 2014 with the 4mp UltraPixel, it's sad to see HTC eliminate it for something that just does not cut it in comparison to other flagships. I'd argue the original Moto X even resulted better photographs (post-software updates). It's likely HTC can work on its own software to fix some of these issues, but time will tell.
As for video, this also was a big meh. The only thing that shined here was the microphone, which picked up sound very well in even absurdly loud situations without distortion. Still, if you're going to shoot in 2K, your content should definitely turn out better.
Software
HTC's beloved BlinkFeed is still here a swipe to the left. This is a great feature unless you hate Flipboard-esque apps. But the real story here is Android 5.0 Lollipop, HTC Sense 7.0, and how gestures have been integrated into the phone. While the icons and basic functionality including the notifications bar are indeed Android 5.0 Lollipop, the app launcher, settings menus, and additional features are strictly HTC's Sense. And that's not a bad thing.
HTC took pages from the Motorola and LG playbooks with new gesture features this time around. For instance, there is now a double tap gesture to unlock the screen, a "swipe right" to open BlinkFeed (when locked), and an incredibly quick way to launch the camera–just tilt the phone in landscape and press a volume key. That last one is absolutely handy for getting a shot of a passing duck. As for the BlinkFeed gesture, while gimmicky, it's a cool way make your urban commute more functional for catching up on news. All of them are quite intuitive after a short time of use.
The M9 also comes with helpful features to change or replace on-screen navigation buttons and completely change the theme and layout of your home screens. But in the end, Sense 7.0's simplicity that makes it blend well with Lollipop. There is also no lag. And with touch keys rather than a home button, I'd argue this is an even faster experience than the S6, even with its pared down version of Touchwiz.
Of course, there's plenty of AT&T bloat apps on this model, and HTC has included its own voice recorder, scribble pad, and Zoe app, which may be useful for some. Nevertheless, you can always remove them from home screens and stowed in the app drawer for the rest of eternity.
General Use
Using the One M9 the last few weeks was actually really satisfying. Its aluminum back sticks to your hand well but doesn't stick to your pocket. The 5.0" screen is much easier to handle than other phones reaching as large at 5.5" these days. It's even more finger-friendly than the new Samsung Galaxy S6 which is only .1" larger. Typing on this phone was a breeze. HTC Sense 7.0 gestures were absurdly helpful as well. The double tap screen feature became my life line to quick updates. And as someone who loves on-screen soft keys, I became quit partial to how HTC's phones offer easy and fast accessibility.
Swiping, shooting pictures, and opening applications is simply instant. Everything just seem to work, and error messages were few and far between. While photos didn't turn out well most of the time, this was still a nice tool to take them with. Battery life was also just a godsend, as its Extreme Power Saving mode spared me on several late nights out in D.C. lively bar scene, where Android chargers are virtually non-existent.
Phone calls, while pretty few and far-between these days, worked just fine on AT&T's 4G network in Washington. However, with the BoomSound speakers, speakerphone calls definitely sound clearer than most models we test. Speaking of these speakers, listening to Pandora and Spotify worked great with these for full and balanced stereo sound. The only issue with them is during outdoor listening, where the maximum volume level leaves much to be desired.
As for the screen, the pixel density and screen has not changed since the M8 and it could have been slightly brighter, especially for outdoor/sunlight use. Glare was a consistent problem when walking around during lunchtime, which definitely was nagging a annoyance.
Overview
The HTC M9 is a wonderfully attractive, durable, functional, and speedy smartphone. With the addition of new gesture features, it's very comparable to LG's G3/G4 and all of Motorola's recent models. However, the M9's new 20mp camera is incredibly disappointing, even compared to its predecessor. We're hoping software kinks can work that out. At present, it will not fulfill the needs of any amateur smartphone photographer. In addition, the BoomSound speakers–while lovely–lack volume and still have the disadvantage of only being heard from when face up. Battery life is incredible, and the M9 is likely the longest-lasting smartphone on the market aside from the Note 4 and Droid Turbo. Lastly, HTC's Uh Oh Protection program that allows owners to receive a full One M9 replacement for one year after purchase (whether you cracked or drowned your smartphone) is an absolutely great deal you won't find elsewhere without an extra fee. If you're still interested, you can pick one up from AT&T for $199.99 with a new two-year contract. As always, we suggest shopping around.
8.5/10