There was a time when BlackBerry was still relevant. It was probably six years ago when BlackBerry smartphones were more prevalent to businesses, and the iPhone was still in its early development. "Apps" were new and Research in Motion was adapting to the new market with capacitive touchscreens and the introduction of BlackBerry App World, the company's first app store. But the company did this all the while holding staunch to keeping its design–a beloved tactile QWERTY-style keyboard below a squared-display in a well-designed package. Believe it or not, they're still here. Despite previous market woes for Research in Motion forcing the rebranding from RIMM to BBRY on NASDAQ, BlackBerry is still around pumping out new smartphones with a unique feature in 2015. As you might guess, it's those same old tactile QWERTY keyboards. Below you'll find our full review of one of these new age artifact, the BlackBerry Classic Q20 on AT&T. It's definitely no Passport, and it will definitely fit in your pocket.
Design
The BlackBerry Classic Q20 came out last winter. It's basically another iteration of 2013's Q10, because it has the almost exactly same specs. However, it's a slightly rounder, heavier, and larger device altogether with almost exactly the same look and feel.
That said, the Classic looks more like the BlackBerry Bold models of yesterday. They're just much taller. It has that aluminum rim around the entire device, a comfortable rubberized back with geometric grip, and four tactile buttons below the screen. These buttons are in addition the small trackpad/cursor button–a feature BlackBerry has also been known for in its history of business devices. It reminds me of the finger cursor controllers on IBM's original ThinkPads.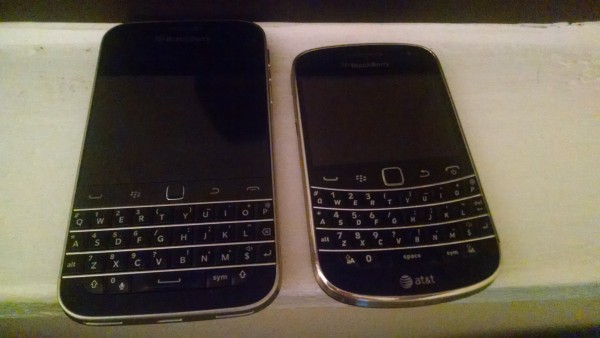 Since the device is much smaller than traditional smartphones today, the BlackBerry Classic feels quite lovely in your hand. At the bottom you'll find two grilled-stereo speakers. On the righthand side are a volume rocker and mute button. On top is a lock/power button and the headphone jack. On the left is a hidden slot with a microSD card slot and the sim card. Unlike BlackBerry models of the past, the back is not removable, and thus the battery isn't either. Lastly, the Classic has BlackBerry's red and green anxiety-inducing notification light, which has nagged government employees and contractors of washington for over a decade.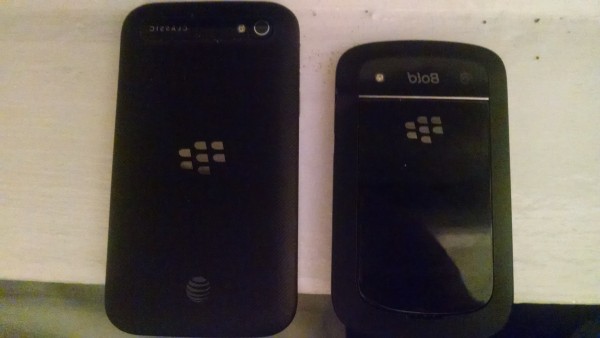 Hardware
As said, the Classic, or Q20 is almost no different than the 2013 Q10 model. Sure, its shape is different its screen is bigger by half an inch, but its 16GB of internal storage, 2GB of RAM, and Snapdragon S4 processor have not changed one bit. Not even the 8 mp rear and 2 mp front cameras changed on this device (save for the ability to shoot in 30 fps, the addition of touch-to-focus, and the inclusion of geotagging options). However, there is a slightly larger 2515 mAh battery (up from 2100 mAh) and an upgrade in supported external storage (up to 128GB instead of 32 GB). This is much more reasonable for a time where apps like Candy Crush are 50-100MB, HD movies are 1-2 GB a piece, and pictures range from 2-5MB, filling 16GB phones in no time at all.  As for that display,  its 3.5" AMOLED has a paltry 291 ppi screen (even less than the Q10) with 720×720 resolution, making it hardly relevant in beauty when compared to monster flagships or even BlackBerry's own 4.5" Passport which has 453 ppi. The colors are vibrant enough, and text is clear, but it won't hold water to anything you've seen elsewhere.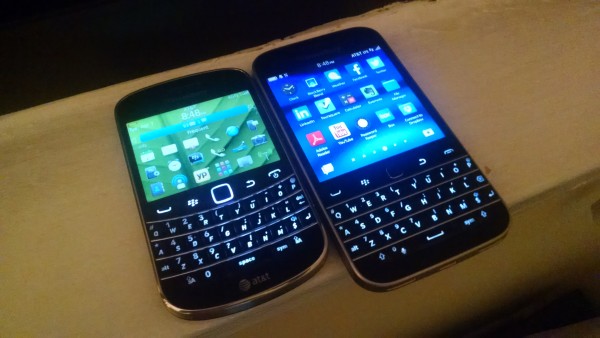 Camera
The 8 megapixel shooter has an aperture of F2.2 and gets decent shots in daylight conditions. We took it out during peak bloom of the Cherry Blossoms Festival in Washington, D.C. and found it picked out sharp details very well, but colors did appear to be slightly over-saturated and contrasted. In essence, shots came out pretty beautiful, but the extreme sharpness made for a rather odd construct in photographs, especially with thousands of blooming flowers coming out as harsh as brushstrokes. Low light is basically a disaster for noise, and this camera is obviously not one of the most important features to a BlackBerry owner. But it can shoot in 1080p without much of a hiccup at 30 FPS, though image stabilization is a problem.
[slideshow_deploy id='8092′]
Personally, I found the best feature is the ability to snap a photo by simply tapping the camera icon at the bottom right of the screen. After unlocking the device, getting the shot is incredibly quick and easy. It's just  like Samsung and Apple's new quick-to-cam features. This is a necessity in today's smartphone camera climate, and one I find heavenly to use in all smartphone reviews.  And despite the shots being imperfect, it's actually a joy to shoot with. Why? Because one-handed operation is so completely natural. Due to the square display, you don't actually have to rotate the BlackBerry Classic to take a shot. This was especially great while touring on a bike or shooting out a bus window. (No, we don't suggest you operate any vehicles while using a smartphone). You can also tap to focus, unlike the Q10. Shooting speed is nothing great, nevertheless.
As for the 720p-capable 2 mp front-facing camera , it is surprisingly decent considering it's a BlackBerry. For quick blemish checks and a nice Snapchat (third party version) smile to your friends, it's not a bad tool. There's also less white balance alteration and post-processing compared to the iPhones and Samsungs of today, so they turn out more bright and arguably more accurate. But we've also been trained to hate "real" photos, so if you're looking for a great selfie-shooter, you're barking up the wrong brand. This is a business phone with the additional social functions we've all grown to love. It will work for Skype.
Software
Speaking  of function, BlackBerry OS 10.3 is incredibly easy to use if you have a history with Research In Motion's original models. Operation is almost identical with home screens filled with applications, and using tactile menu keys for more options in any window. Unlocking the phone is done with an actual swipe up from above the keyboard, and this is definitely a nice feature. However, in actual use it often failed, taking 2-3 swipes to unlock the device, and I found myself hitting "U" and "Enter" to unlock instead much of the time. This is a bit of a capacitive blunder to otherwise usable software.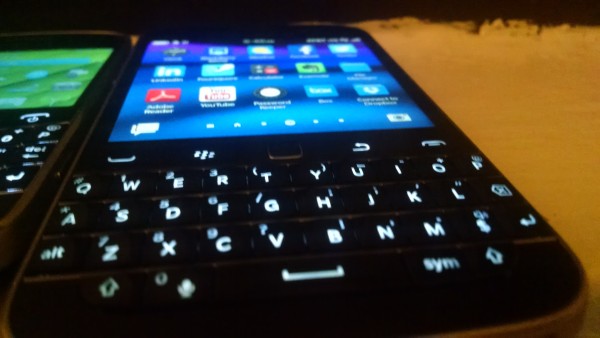 The best part of BlackBerry OS is the BlackBerry Hub, where you will find one inbox for all of your notifications. Every single notification from an application, emails, phone calls, and texts can be seen here. It can also be filtered to suit your needs. While some may find it cumbersome to have everything in one place, I personally found it absolutely sensible. Plus, you can always turn off notifications from specific applications if they're ever a bother.
BlackBerry has also thrown in in its own reminder app, Remember, which is just lovely. It holds memos with text, pictures, and voice recordings just like Evernote and Google Keep does.
Then we meet BlackBerry World, an app store that has almost nothing you're familiar with if you're under that age of 35. There are third party version apps galore in this app store, as Instagram, Snapchat, and many other applications people tend to frequent do not have their own official BlackBerry software yet, or maybe ever. This makes owning a new BlackBerry like using Windows Phone two years ago–there's simply not enough mainstream content unless it's via third party access. It's a slightly annoying problem, but it's a good reminder that this phone wasn't built for the mainstream in the first place. The BlackBerry Classic was built for the sentimental businessman; the proverbial mom and dad of the business world who were always more focused on work than the play, but now want Pandora and an occasional selfie-taker on their person. Hillary Clinton knows what we're talking about.
Finally, the newest addition to BlackBerry 10 is its first personal assistant. BlackBerry Assistant is activated by the center trackpad and does exactly what you'd expect it to do–open apps, search for recipes, tell you the weather, send texts, emails, and even make phone calls. In my tests, voice dictation was on part with Google Now, which is pretty incredible. It's handy at setting reminders, alarms, and turning your phone on silent.  It also learns more about you the more us use it. In this way, it's more of a Google Now doppelganger, constantly keeping track of your habits to better predict your needs. In addition to this, you'll find your far-left home screen tracks your last web searches, open apps, and other activities. Like the Hub, It's a brilliant way to visualize everything you're doing in one glance and interact with it in a tap.
Phone calls
Of course, one of the most important things to a BlackBerry is taking actual phone calls. The Classic performs great on AT&T's network for phone calls, and the stereo speakers work just fine for the use of speakerphone. It's much better sound than previous models too, which had a lot of problems with speaker distortion and horrendous conference call echos. We didn't have any signal trouble either, but 4G's general quality makes this measurement slightly moot. Cell signals are simply better than ten years ago. In addition, BlackBerry does provide some nice ear buds with the device. They look just like Apples, but they have a rubber insert that actually anchors to the inside of your ear. Jogging with these or hustling to the Metro is an absolute dream. They just might be uncomfortable for some.
Battery Life
The battery life on here is going to disappoint compared to any BlackBerry Bold of yesterday, but getting 12-18 hours was not uncommon during this review. However, while taking lots of pictures, texting, and using third party applications, I was able to kill it fairly quickly. Nevertheless, there are useful battery saving mode options here that can be designated to begin at certain thresholds of battery life (or death). They limit CPU, brightness, and will turn off certain advanced interactions and applications such as BlackBerry Assistant. I could manage a day and a half if on standby for much of it. BlackBerry actually claims you can manage up to 15 days on standby (much longer than our review period), but we have yet to see evidence that even light use can get your more than a day and a half. I should also note the 2515 mAh battery is what makes this phone incredibly heavy compared to other smartphones. It feels like a rock. That being said, it's still likely indestructible. I dropped it chasing a bus and it bounced off its rubberized back just fine.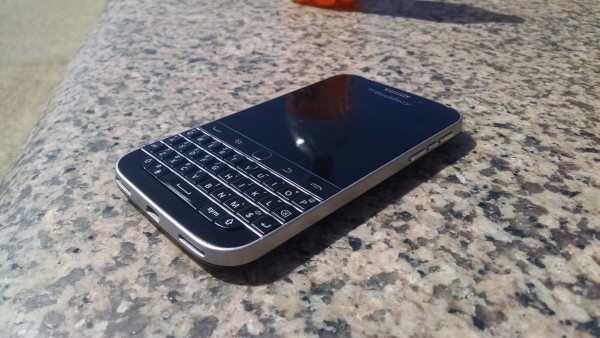 Overview
Sure, Blackberry now has better cameras, Pandora, and Facebook. But using this like an average social smartphone is just not the most logical of purposes. BlackBerry has always been aimed at the professional, and this nod to the past with tactile keys and an identical design to the original Bold makes that obvious. It's also more friendly-looking compared to the Passport and fits nice in your pocket and hand. But it's almost no different than the Q10 in hardware, and software upgrades aren't all that necessary for someone who isn't that tech savvy and still wants to tote around a business phone for nostalgia-sake or simply being stubborn
This is a niche market. If you don't mind a touchscreen interface, you're not going to want a phone with a tactile keyboard. And if you don't have a huge focus on making phone calls, the Classic might seem even more useless to you. Nevertheless, there's something to be said for how great BlackBerry is making its OS. It's downright intuitive and has added some great features that could please most anyone. BlackBerry Assistant and swipe-unlocking puts this phone in 2015, and the Hub is a brilliant idea to manage all of your communication and notifications in one place.
While the design isn't inspiring like the Passport, at least it still fits in your pocket and makes for great one-handed photos, business calls, and extremely accurate typing. Still, the market share for BlackBerry is small and so is the availability of mainstream content in its app store. This makes it difficult for an average consumer buy. But if you add in the ability to put in your own SD card, it sports a feature not all flagships advertise. My final thought? The BlackBerry Classic is a wonderful phone. It's just more relevant to those of us still worried about making actual phone calls. You can pick one up for yourself at AT&T.
6.5/10