To preface, let me just say that virtual reality is not a gimmick. It's not going anywhere. And it could change your life for better or worse. Tomorrow. Imagine for a moment that you own a private island. And you can go to it whenever you like in an instant. Or perhaps a tea room in a bamboo forest, where you can meditate while five of your children destroy your suburban household.That fantasy is a present option of the Samsung Gear VR, the future of wireless virtual reality technology. We took the new Innovator Edition powered by Oculus for a spin and had the most intensely original technology experience Tech Void has encountered. Still interested? Read on below for our full review of the Samsung Gear VR Innovator Edition with the Samsung Galaxy Note 4G from AT&T.
Design
The Samsung Gear VR is the first consumer VR device (aside from Google Cardboard) to put smartphone computing power into stereoscopic-goggled headset. And because of that, the Gear is indeed wireless. You aren't strapped to a cord, and you can't technically even tether the Gear VR to a computer (but can stream to Chromecast). There's no battery included and almost no internal hardware. The Note 4 acts as the entire powerhouse to the Gear while plugged into the provided microUSB port.
The Gear VR looks like a Tron-themed headset. It's white and black, made of hard plastic, and it resembles technology you've only seen in science fiction. All considering, it's probably one of the more attractive VR devices to debut in the past year. It's less cyborg-looking than the HTC/Steam Vive, and despite its simple smartphone setup, it looks less cheap and obvious compared to (now Facebook's) Oculus Rift DK2. Microsoft's HoloLens might have the edge on visual appearance and functionality (you can see out with it), but the 96 degree field of view and Note 4's Quad HD AMOLED is currently the best VR available for the consumer market.
Inside the VR, you'll find two glass stereoscopic lenses, which focus with an adjustable knob atop the device. This allows anyone to view VR content, no matter their near/farsightedness. Considering you can't wear glasses while donning this device, it's a brilliant addition to an obvious problem. On the right side of the headset is a volume rocker, a small touchpad, and a back button.
The touchpad works well for swiping through Oculus and Samsung VR content, as well as general functionality. The volume and back buttons work as stated. The Note 4 latches into the Gear with a nice snap, fitting perfectly flat onto the lenses for a stereoscopic 3D-viewing experience. It's all very well designed and comes with a nice carrying case so you can bring it along with you anywhere, obviously to show off to your friends.
[slideshow_deploy id='7860′]
Specs
You can't look at specs in the same manner with the Gear VR since the Note carries all of the hardware. The Gear comes with the following: stereoscopic lenses, buttons, the microUSB port for the Note 4, and an internal gyroscope, proximity sensor and accelerometer. In essence, it's the basic shell for the 3D experience.
The Note 4's splendid hardware does all of the work for this device. As noted, with its 5.7" Quad HD Super AMOLED display and the Gear's 96-degree field of view, the experience is pretty spectacular.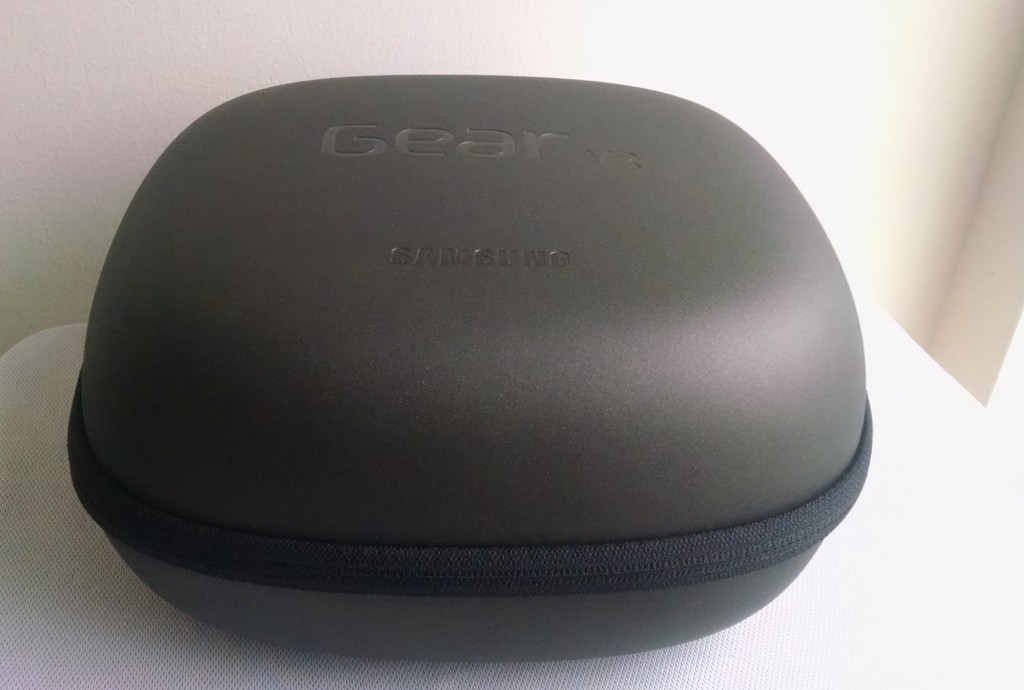 General Use
From the moment I opened up the Gear, I was beyond excited. Aside from the fact I'd been waiting my entire life to have my own consumer VR headset, I really had no idea what to expect or how immersive it would be.
As it turns out, I was ***ing blown away. The first five minutes of wearing the Samsung Gear VR would have looked absolutely bizarre to anyone who hadn't seen someone engage it before. I started spinning in circles, looking up, down, and backwards, all the while yelling "WOAH; Oh my God!" and laughing out of joy. I started scanning through the software and 360-degree pictures of landscapes, architectural wonders, along with demo videos shot from helicopters flying over Manhattan and other cityscapes. One includes a chase of racing wild horses through prairies.
All of it took my breath (and a bit of my balance) away from me. The headtracking is most amazing part of it all, because the Oculus and Samsung apps are so accurately tracking your movement, you actually feel like you're immersed in any scene presented. It's extremely enjoyable. On top of that, the nausea-factor almost goes out the window entirely because the latency is non-existent. I do admit to feeling a little dizzy after the first few times of use. But it's no different than taking a ferry. You adjust.
Once snapping in the Note 4, the Gear VR will beep and load up. Load screens feature a beatiful blue gradient that allows you to look in all directions with noticeable depth. Controlling the VR is done by looking at menus, sometimes with a cross-hair. You can select items with the Gear's touchpad and swipe through lists of them as well. The main menu features a grid of application options. To see more, you go to the "Library." It's incredibly intuitive, and mind-bogglingly awesome the first time you see it. Its functionality just makes so much sense. When held down, the back button offers options such as the "passthrough camera," and the ability to reorient your screen, which is especially helpful when you're spinning or looking around an environment lose sight of the focal point. This happens often, and is perhaps the most used setting in the software.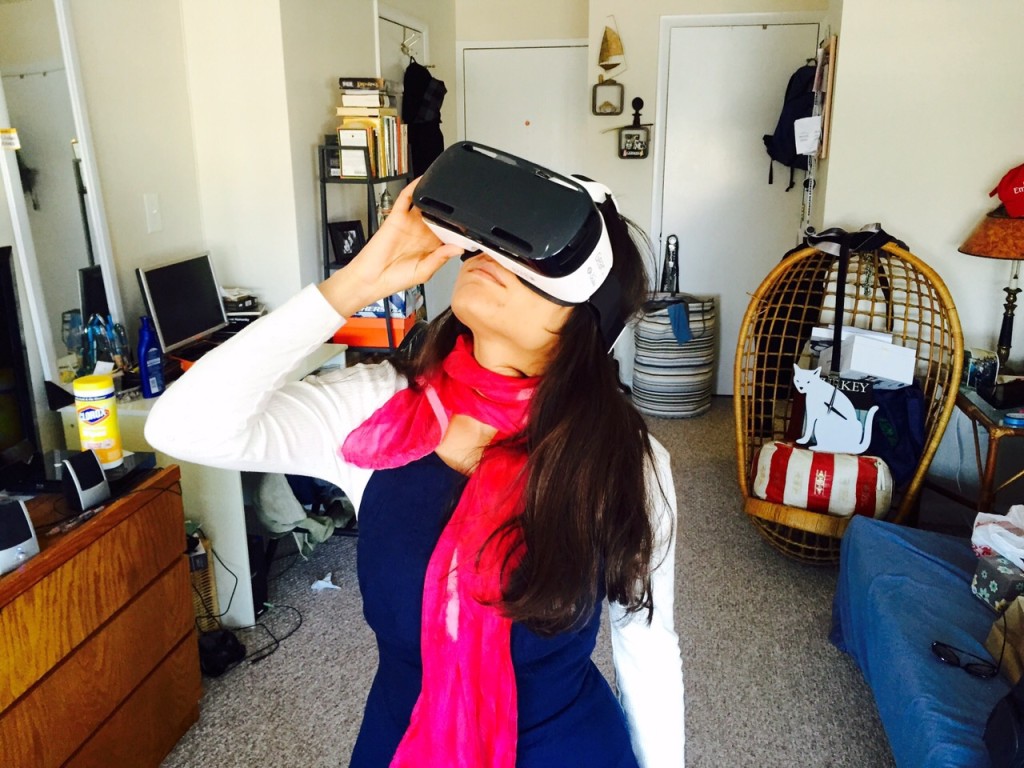 After showing the Gear to a few friends and family, they had the same extremely enjoyable experience. They were instantly hooked. Here you are at your desk desk, or inside an apartment. Yet you're seemingly sitting atop the Grand Canyon, walking around Mars within actual photos taken from the Curiosity Mars rover, or viewing Wonders of the World in person from 200 feet in the sky. It's an experience so powerful, its difficult to even describe. For a moment you really feel like you're somewhere else. For most, that's something technology has never fully captured for them. And that's what makes the Gear VR a gateway to another world.
Of course, the Note 4 is also known to overheat during intense gaming sessions while using the Gear VR. We actually never had this problem while using our model from AT&T, so it was all fairly smooth sailing. Lag did occur once in a great while, but usually only traversing between menus and applications.
As for battery life, I found an hour to an hour and a half of heavy use could be had with a 50% charge, and Samsung claims it can last up to three hours at full. While this is likely the case, it's good to point out if you're using the Note as your phone (and why wouldn't you?), using the Gear VR is really a detriment to your communication situation as you can wasted a two-day battery in less than three hours.
Accessibility
The Samsung Gear VR Innovator Edition is named to suggest developers may still benefit from it over consumers. In terms of accessibility, this means you can actually tinker a bit via the Note's MicroSD port. This allows you to throw on your own files, videos, images, and applications under development. This makes the device a little more accessible for developers or consumers who just want to play around with the device and other software.
Being the Gear is also connected to a smartphone, it's able to show you when notifications have arrived. small blips of emails, Google Hangouts messages, and other pop-up notifications will occasionally pop on screen during a VR experience. These cannot be interacted with, but it's a good indicator that keeps you in touch with the rest of your digital world.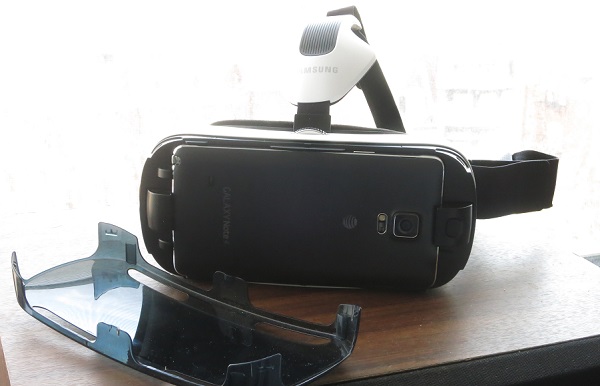 Software
"Powered by Oculus" means what you think. Samsung worked with Oculus to integrate some of its apps specifically for the Gear VR. This means there's customized app store filled with Android and Gear VR-specific content. Games, Experiences, and other simulations are offered here by Oculus and Samsung in separate tabs.
Unfortunately, the list is currently pretty sparse. You can play several first person shooters, Temple Run 2 (in the most frightening and awesomely immersive environment you can imagine), and even driving and flying games. One great "experience" is Blue VR, which puts users in an animated ocean tour with whale sharks, belugas, and narwhals swimming all around you and as you go deeper and deeper into the ocean. Despite it being animated, it's an extraordinarily interesting environment. And a similar app actually puts you in a shark cage while a great white rams the bars.
Another application called Milk VR allows you to watch 360 degree videos shot by users from around the world. It's a bit like YouTube for virtual videos. Of course, you need really fast wifi or to an incredible amount of data to download these videos to play in full immersive quality. Streaming is horrible, but it's a great peek at would the future of streaming video entertainment could become. I'm picturing House of Cards 3 or Avatar sequel in a fully 360-degree environment. Get to it, Jame Cameron and Netflix.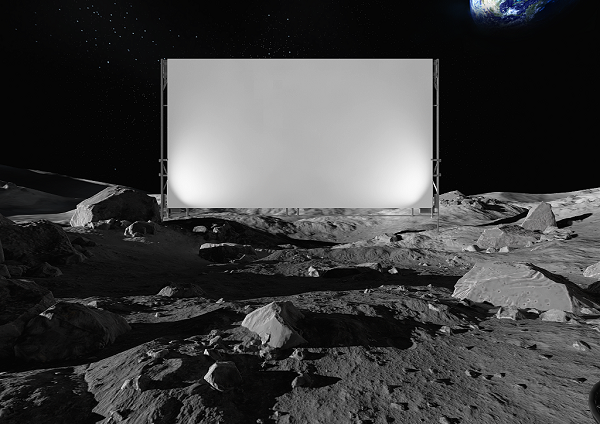 Perhaps the best included software is the Oculus Cinema app, where you can watch any film you like in 2D or 3D format. The exciting piece of this is the way Oculus Cinema literally puts you in a digital cinema. We're talking seats and popcorn, overhead lights, and a screen that towers over you like an actual movie theater. You can also pick the home theater, for a smaller lounge environment like that of Hollywood home. Then there's the "Moon" theater. Yes, you can watch a 3D movie on the moon next to the Lunar Lander and a box of popcorn. The Earth will appear in the upper right corner, farther away than you've ever seen it. As ridiculous as all of this sounds, the immersion is so absolutely phenomenal and so incredibly original you'll simply be thinking, "Wow."
Overview
A practical escape is what the future is looking like for VR. Throw together a beach hologram, a water-spraying fan and some Jimmy Buffet, and you're on vacation in your very own living room. The possibilities are honestly endless and Samsung is giving the world its very first view of what's next.
The Samsung Gear VR is the best entry-level buy into virtual reality experiences for consumers. If you don't want to dig deep into figuring out half-baked developer software, this product is the one for you. The Samsung and Oculus app store allows for user-friendly setup for anyone familiar with smartphones. It's simply intuitive. It's also untethered, something no decent version of VR has offered yet (unless you think of Google Cardboard as decent).
Of course, if you don't already own a Galaxy Note 4, pricing could be considered a barrier. Meanwhile, the Vive, HoloLens and consumer version of the Oculus Rift are still months away from consumer debut, so other tangible options are few and far between. But at the end of the day, the hardware costs for VR look to be around $1,000, no matter who you're buying from. The Note is still a $699.99 device off contract through AT&T, and that doesn't include the $199.99 Samsung Gear VR Innovator Edition. Will you wait or buy in? Personally, it depends on my tax return. And while this current sparse offering of software may seem like a negative, it's honestly just a preview of the future of immersive media to come.
Thoughts of your own? Let us know below.
9/10