Before I went to sleep last night, I accepted the installation of the newest update to Apple's iOS 8.2. When I woke up this morning to check it, I had a new app installed—the Apple Watch App.
The app opens to the "My Watch" tab to pair the Apple Watch with your iPhone (if you've got the cash to buy one). The next tab, "Explore," shows you fancy videos of how cool your new Apple Watch is going to be, once they actually start shipping next month. The last tab is the App Store, which has a placeholder image of an Apple Watch and the exhortation that apps "built just for Apple Watch" are coming soon.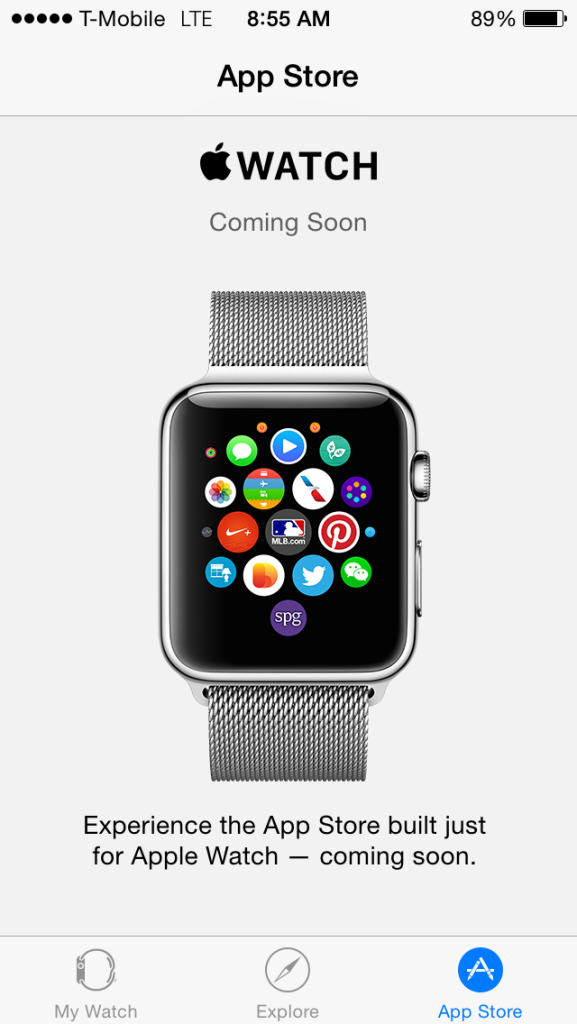 Unfortunately for those of us who are not flush enough to afford one, the Apple Watch app cannot be deleted, although I was able to tuck it away into a folder where I put all of the other Apple-made apps that can't be deleted like Stocks, Calendar (I use the new Google Calendar iPhone App – which came out March 10th), and Contacts.
This uninvited app installation calls to mind the similar incident in which Apple decided to push U2's new album on everyone who updated their iTunes app. Here's to hoping the backlash on this number will be strong enough that they will relent and allow people like me—who can't, or won't, buy an Apple Watch, to delete the App and go on with their lives.