Over the past several years, electronic manufacturers have been dueling it out to penetrate the bluetooth speaker market. One of them, namely Logitech, built one of the highest-rated among those devices under its 2008-acquired Ultimate Ears product line. It was called the UE Boom–a stylish and compact speaker with 360 degrees of sound designed to fill an entire room. Following this 2013 consumer technology success,  Logitech has moved on to building an equally attractive booming speaker. This one is much larger (8″) and debuted at CES 2015 in January. It's called the UE Megaboom, and you can read our full review below.
Design
The UE Megaboom might be the UE Boom's younger brother, but it's definitely the larger and more boisterous of the two at a taller 8 inches. Nevertheless, the design is tantamount. The speaker grill goes nearly all the way around the Megaboom for 360 degrees of sound (more like 330 if we're being serious), and it comes in four loud colors including black, blue, red, and purple.
The small piece of real estate without speaker grill is a nice rubberized strip where you'll find these large, lusciously colored + and – notations. Reading this, you'll be able to figure out I'm referring to the volume rocker for the device, but to passerby it looks more like an astounding emblem. It's a rather impressive feat of branding done by Logitech too. By putting it in vibrant and neon colors (much like Jawbone's Jambox products), people might even think it is a Jambox. In addition, the only actual branding is a small tag, which says "UE." This is also etched into the top of the speaker.
[slideshow_deploy id='7695′]
The power button is atop the device, and alongside it is a glowing, white LED to show when its in use.  There's also a light below this to signal when Megaboom is scanning or synced to bluetooth device. On the bottom, underneath a rubber cap you'll find the auxiliary port (should you lack bluetooth) and a MicroUSB port for charging. That rubber cap helps with UE's IPX7 waterproofing, so the splashes from beach goers and your hot tub won't drown this device. Seriously, this is supposed to last in one meter of water for half an hour.
The UE Megaboom comes with a neon yellow charging cable and adapter, and all of this comes packaged together inside an incredibly round and hard plastic carrying case you can take anywhere. It's a nice premium addition, and it likely makes owners feel like the $299 investment was a fair one.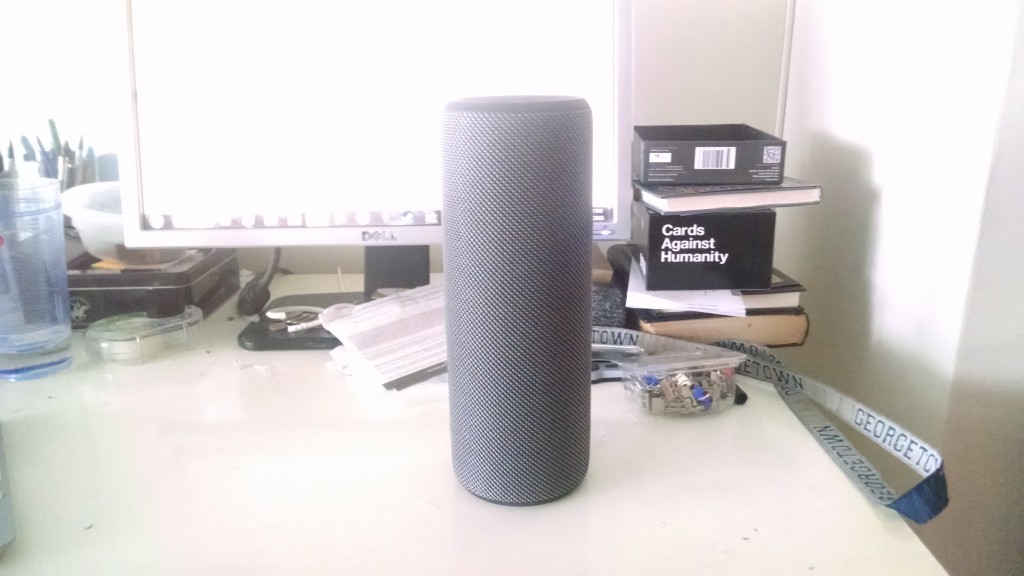 Battery
The UE Megaboom comes with a lithium ion battery that lasts 20 hours. During our short review period, we only managed to play it for 8-10 hours, and during that time it was always between 30-40% charge, even when blasting at earth-shaking levels intermittently.  Still, a full day of sound is nothing to sneeze at when at the beach or hosting a dinner party. Plus, you can always plug it in with the cord provided. Just keep it away from the water when you do. A full charge will take 2.5 hours.
General Use
Turning on and off the UE Megaboom is one of the most satisfying parts aside from its gorgeous design. A nice introduction and farewell bongo drum sound chimes as soon as you hit the button. It's a nice touch to let you know Megaboom is ready and waiting to sync up and play all your favorite music.
And oh can it play. The speaker's sound is crisp, full, and great for all genres. Even if you find it lacking bass or missing the subtleties of an acoustic John Mayer track, Logitech has provided a UE Megaboom smartphone app to adjust the EQ to your likely. This app has some other useful functionalities too. You can adjust the volume, check the battery power, and even turn it off altogether. There's also a feature to set an alarm clock with the app. But unless you've left the Megaboom on all night, it's fairly useless aside from setting a grill timer during your spontaneous dance number.
There is one other great feature you can use this app for, and it's the best one. Despite this speaker being quite stellar, it would be even better coming in a pair of Megabooms to sync full stereo sound. And you can do just that with the UE Megaboom app by pressing "Double Up."  "Brilliant" is all that comes to mind.
Controlling the volume and checking the battery can also be done physically with the speaker's volume rocker. In order to get a battery notification, you simply press the + and – buttons at the same time. "40% charge," a woman's voice will interrupt. It's a necessary tangible feature for any product, but especially when your phone or laptop is out of reach.
What's makes this speaker really great is how loud it actually can go without distorting music. Blaring podcasts, hip-hop, EDM, or even light french ballads all result in lovely sound, no matter the volume. Its 360 degrees of sound claim holds up pretty well too, at least in a studio apartment. Considering sound bounces off walls as is, you can feasibly place this speaker in any indoor or outdoor space in any direction without noise confusion. Megaboom is also a fitting name, because I was most definitely able to disturb neighbors with this device at full volume.
Logitech says you can control the Megaboom from 100 ft away. While we can't vouch for that claim, in other models I've tried, that's pretty standard for bluetooth speakers. I was able to control the Megaboom 30 ft away without any delay, and that's pretty satisfying.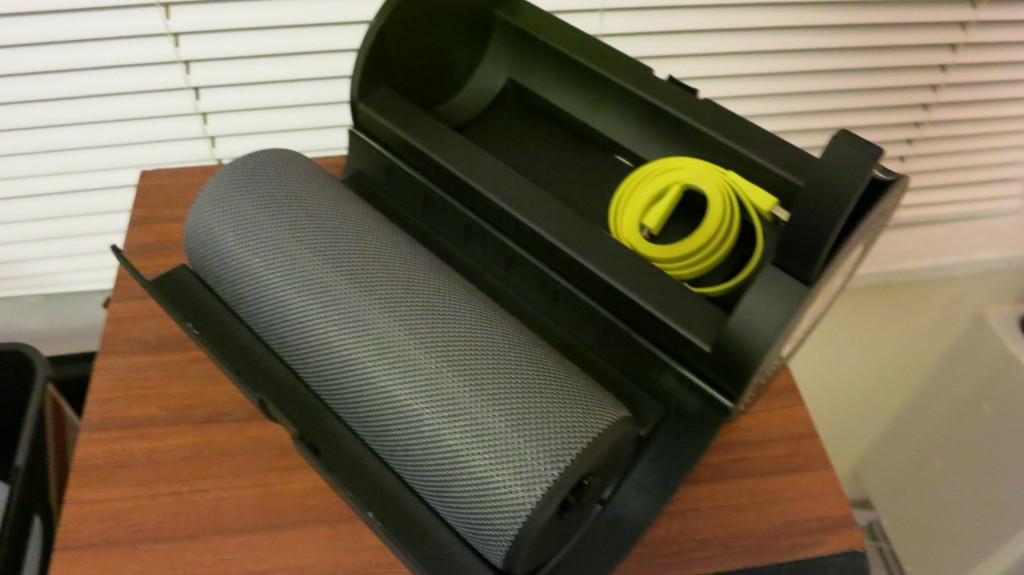 Overview
I never even thought I wanted a bluetooth speaker before reviewing the UE Megaboom. Logitech and Ultimate Ears have outdone themselves with this product, and I'm inclined to say I'm considering buying one, if not simply it older (smaller) brother. The ability to just play music at the drop of a hat from your smartphone, laptop, or any other bluetooth enabled device is a great luxury. But it's the UE Megaboom's sound quality and battery life that really sold me. 20 hours is a great amount of time for wireless music played, especially in a manner that could satisfy audiophiles. And waterpoofing makes this great for any wet summer activities you may encounter. Of course, it still a tad pricy depending on how you value quality wireless music. You can pick up one for yourself at Verizon Wireless for $299.99 or any other online retailer.
9/10