Alongside its booming Bluetooth speakers and smartphone headsets, Jawbone has managed to the plunge deep into the fitness tracker market competing against Fitbit and others with several models of its own. One of these is known as the Up24. While this is a 2014 model, you shouldn't knock it for its age. The Up24 is still a heavily accurate and useful fitness tracker. And thanks to an upgrade to Bluetooth 4.0, it has also eliminated Jawbone's need for tethered data uploading (via headphone jack). Jawbone put together an all-new smartphone app for this model, aptly named Up, which assists in tracking daily fitness goals, workouts, and even your sleep, all to keep you entirely conscious of you how spend your active and inactive time. Still interested? Read on below for the full review.
Design
The Jawbone Up24 isn't any different looking than previous models. It's a black, rubberized wristband that curls around you like a snake. There's no clasp, and it half joins at the ends, making for a rather appealing geometrical enigma. It's fun to look at, and despite it being "normal" to see these on the street, every time I spot one I find myself analyzing it. If you're not into sports jewelry, you might hate it. At the end of the day, it's just a fitness tracker, and one with a statement in mind–you're trying to be active/healthy/hip/busy. And that's not a bad thing. The Up24 comes in six colors, some louder than others, and three different sizes. The Up24's packaging actually puts a wrist measure on the back, so you can decide which size suits you.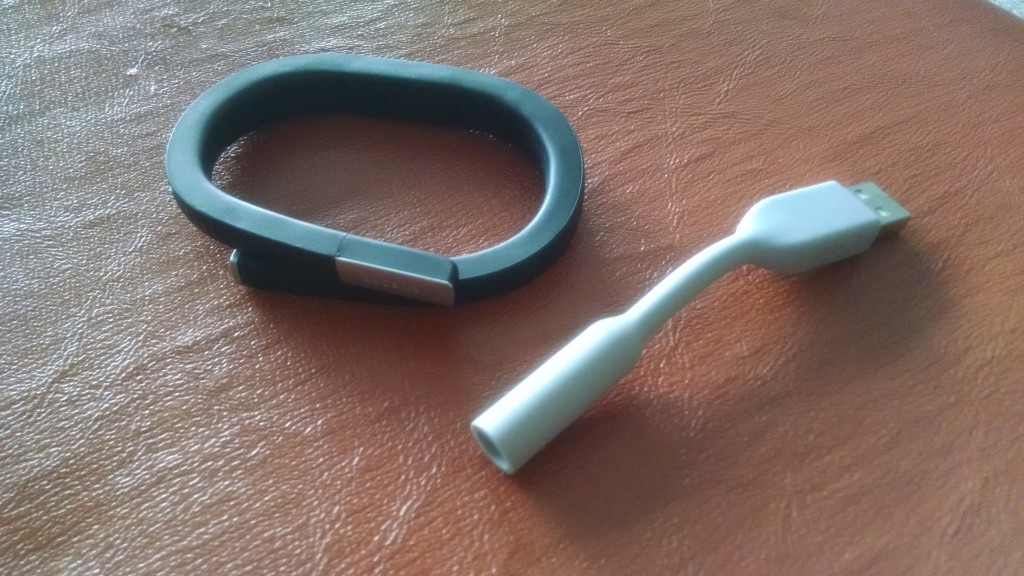 UP24 BAND DIMENSIONS & WEIGHT
Small

52 mm W × 35 mm H (inner)
66 mm W × 50 mm H (outer)
19 g

Medium

63 mm W × 40 mm H (inner)
76 mm W × 54 mm H (outer)
22 g

Large

69 mm W × 43 mm H (inner)
81 mm W × 56 mm H (outer)
23 g
Hardware
The internals of the Up24 are minimal, but you can see what they look like in the below Jawbone diagram. Alongside the aforementioned Bluetooth 4.0, the Up24 has a tri-axis accelerometer, two LEDs, and a vibrating motor for alarms and mode functions. There's also a button with a grey tip, which is used to switch between fitness modes (active/sleeping/workout stopwatch) indicated by sun and moon icons. It is also armed with a 32 mAh battery for power. The charging port, a male stereo jack, is hidden underneath the other end end of the Jawbone, under a removable cap. The Up24 comes with an adapter plug with a male USB-end you can plug into any capable USB charger. Unfortunately, there is no heart rate monitor unlike Jawbone's more recent Up3. But that premium unit is still a bit of a feat for consumer fitness tracking, as it's of the first wearables with the technology in a fitness band. If you want the additional feature, you'll have to spend $70 more at $199.99.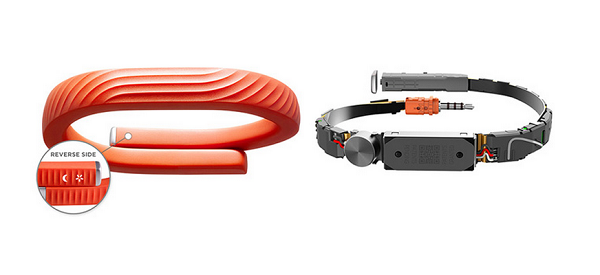 Battery
This topic is almost unneeded. What battery? Isn't this powered on oxygen? If you bought the Up24 in 2014, you know 7 amazing days is what you'll get out of the Jawbone. I averaged about 5-6, but whose counting? That's still really amazing. You simply don't have to think about charging this thanks to the low-powered Bluetooth. By the time it died during this review, I was honestly just surprised. Also, the Up24 only takes 60-80 minutes to charge it in full. It's literally the last thing that on your mind with a Jawbone fitness tracker. Yet, even more cooly, Jawbone has recently released an update making the Up24 even more efficient. With the latest firmware, the Up24 will last you an astounding 14 days of power, about the entire length of our review periods. Incredible, to say the least.
The App
The Up app works for all of Jawbone's newest trackers, so you won't feel left behind. I used an Android phone on AT&T to sync with the review unit. Unfortunately, some of the menus on the appliation really lack intuitiveness. For instance, finding a timeline of your day requires a swipe down that is vaguely suggested. I actually had to ask a friend where to find some things. Also, switching between Awake, Sleeping, Power Nap, and Stopwatch modes in settings requires pressing on icon depicting a Jawbone wristband rather than a traditional round gear. These small annoyances make the Up app a bit of a learning curve. Confusion aside, syncing is simple and frequent (can be changed) and daily activity and sleep is tracked and visualized well within the app.
One other major problem I had with Up (and this is only for Android users), is that social media functionality is virtually nonexistent. While you can connect your Facebook, you can only upload daily summaries created by Up's app, which lack most of the data people would want to share in the first place. Considering the iPhone does not have this limitation issue (they can share whatever they like), this type of bias towards Android made me dislike the Up24 that much more. If you're into sharing your daily workouts, total steps,  sleep tracking and everything else, you will have to build your own IFTTT equation, or connect another third party app. For the less social (online), this small gripe meaningless, but for me it made me really hate the app. Honestly, why build an app and encourage users to use third party software to fill in the gaps? Some call it freedom. I call it lazy.
 General Use
The greatest thing about the Jawbone is that it's just a bracelet. You rarely remember it's there unless you're playing with it. Nevertheless, I'll admit it's still little uncomfortable at times. Despite the rubberized and flexible band, the Up24 can lose its grip on you, sliding up and down your arm despite its intention to fit tightly around your wrist. Running around with something that isn't secure is bothersome as is, so the message here is to make sure you get an Up24 that fits you properly. As noted before, Jawbone's fitness tracker packaging allows you to check your wrist size, so make sure you get the best fit.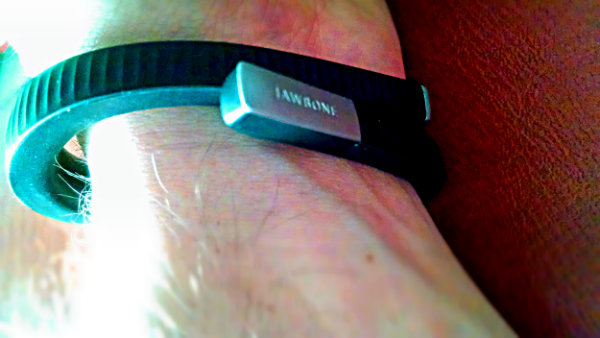 The Up24 comes with four modes. Awake, Sleep, Stopwatch, and Power Nap modes. Switching between modes directly from the wristband  is done via the end button (the top bracelet end in this picture). Just hold it down to switch between Awake and Sleep. And if you want to record a workout/start a stop watch, you simply tap the button (only Awake mode) and tap and hold the second time to start a stopwatch. In the app you can actually decide what activity you were doing later (i.e. basketball, jogging, tennis). Three taps will put the Up24 in Power Nap mode, a great features for those quick naps between classes or during a lunch break.
Of course, memorizing these commands takes a little bit of work. I'm not much of a runner, so I forgot to do the Stopwatch setting most times I attempted. This can be frustrating, because the band cannot track individual workouts unless noted by the app or the wristband commands.
The Up24's sleep tracking was the most interesting feature for me. Once in Sleep Mode, it tracks your movements and tallies wakeups, hours in deep and light sleep, and gives you a nice detailed graph of highs and lows. The Smart Alarm is the coolest part of this. It intends to startle you awake at the ends of sleep cycles to help you avoid grogginess caused by waking in the middle of REM sleep. So basically, it shoots for 90 minute sleep sessions and wants to wake you up between them. If you set your alarm 7, it may start vibrating at 6:50am instead depending on when you started your sleep. And in my short review period, I felt it did help me wake up feeling more refreshed, but it's hard to gauge after only a two-week review period.
The Up24's vibrating alarm is nice in that it doesn't wake the rest of the household. It's an interesting sensation be awoken by too. It's a bit more like being shaken by your household cat or bed mate. It's startling at first, but you get used to it, and I actually preferred it to the annoyance of sound alarms.
 Overview
We got our Up24 review unit from AT&T, but you can pick up your own to use on any carrier with any Android or iPhone smartphone. I actually recommend this device for iPhone users more simply because the Up application is so limited in social media functionality for Android. Either way, this is is a great fitness tracker without all the bells and whistles you'll find on the higher-end units (like a display that shows time and battery life). Sleep tracking and the Smart Alarm is really the coolest addition to this model, along with its Bluetooth addition (no plug needed to sync). Also, the recent firmware update literally doubles the battery life. Seriously, who would complain about 14 days of battery life? Jawbone sells its Up24 for $129 retail, but you best shop around. As it's a 2014 model, Best Buy is already selling it for as low as $69.99 and Amazon for $69.65.
8/10