HTC has sprung several leaks on the upcoming HTC One M9 smartphone, just days before its debut at Mobile World Congress. And surprisingly, it looks almost no different than 2014's One M8.  The Germans over at MobileGeeks.de have published HTC press shots of the 5″ device and an @Upleak Tweet has released several HTC One M9 tutorial videos.
The new HTC flagship is boasting a 1920 x 1080 resolution, a Qualcomm 2.0 GHz Snapdragon 810 octa-core processor (yes, eight cores), 3 GB of RAM and 32 GB of internal storage, not to mention the 128 GB of external available via a MicroSD slot. The new rear camera is 20-megapixels with auto-focus and a BSI sensor. The front-facing is HTC's well-known 4-megapixel ultra-pixel camera. The video leaks of the device include tutorials of software features (BlinkFeed and the new 20 mp camera, for instance) have surfaced, most without audio.
The M9 also appears to come in two color options, gunmetal grey and silver.  The elegant antenna lines look identical to the M8, along with the rounded all-aluminum body.  The main visual change is the camera, which now has a square lens that sticks out, somewhat like the iPhone 6. Boom Sound speakers are of course still included, but what's really noticeably different is the software. The M9 will come with the newest HTC Sense 7 UI along with an upgrade to Android 5.0 Lollipop underneath. Sell date is a guess of April 2015 with a price point at 749 Euro. This has yet to be confirmed by HTC itself, but considering the number of credible leaks from HTC in years past, it's likely an accurate picture.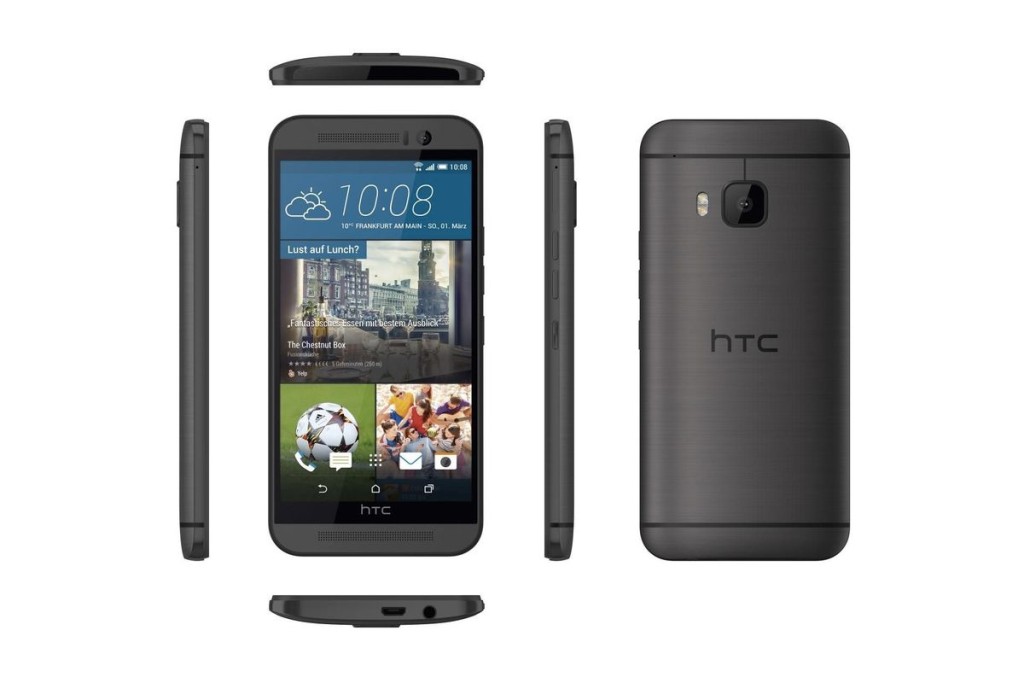 Personally, we're just glad HTC didn't alter the screen size, as the M8's tall (BoomSound speakers) and wide 5″ frame was already pushing users' hand-breadth for a comfortable grip. "If it's not broken, don't fix it" seems to be the mantra here, and HTC's customers are sure to appreciate that when it debuts later this week.

Source: MobileGeeks, Twitter