Better late than never they say, but the Moto X from 2014 is still a legitimate 2015 smartphone pick. A much larger improvement upon the original Moto X, this new model comes in 5.2" (rather than 4.7"), has a more premium design, upped specs, cameras, and a gorgeous color-popping AMOLED display with improved resolution. Still curious? Head down below for our full review of the new Motorola flagship.
Display
When we received our review unit, the Moto X immediately received an upgrade notification to the amazingly eye-catching colors and icons of Android 5.0 Lollipop. While visual and menu alterations are obvious from 4.4 KitKat, there's more to be said for how bright and gorgeous the phone's 1080 x 1920 (424ppi pixel density) AMOLED display is. Using the camera and scrolling through Facebook and Instagram is a visceral experience full of vibrant images, clear text, and just an overall fluid and shiny experience. Netflix and YouTube are purely stunning on this screen.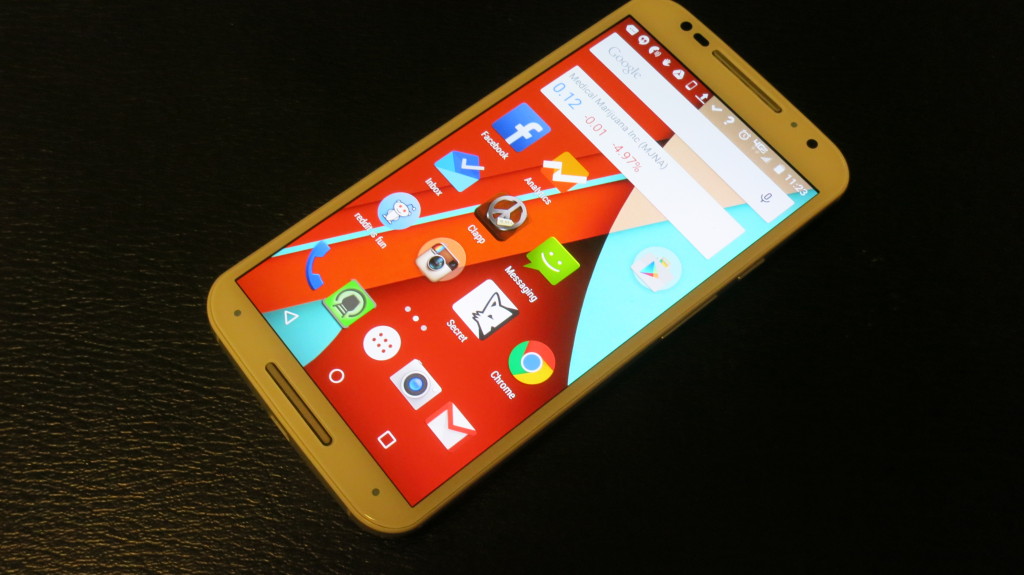 Hardware
The brand new Moto X on Verizon Wireless comes with a splendidly speedy Qualcomm Snapdragon 801 processor, a Quad core 2.5 GHz Krait 400 CPU with an Adreno 330 GPU, and 2GB of RAM. Internal storage runs between 16, 32, and 64GB for at various price points. It runs games, apps, videos and streams Snapchat without so much as a hiccup, and it dazzled in responsiveness in comparison to the original Moto X's year-old specs.
[slideshow_deploy id='7253′]
Look and Feel
As a proud Moto X (2013) owner, I was excited to see how the second version stacked up. The most obvious change is the size, one that upset many (including me) seeing as the 4.7" screen on the original was perfect for anyone. In fact, the size is so perfect that Apple finally gave in and made a 4.7" phone of their own. Thankfully, the 5.2" model is not as much of a burden as I thought it would be. It's only .1" wider than the Samsung Galaxy S5 and remains svelte enough to hold with its hand-fitted body. But it's still that much more cumbersome to pull out of a pocket, and in a way, its premium aluminum rim made me feel like I had to treat it even more delicately.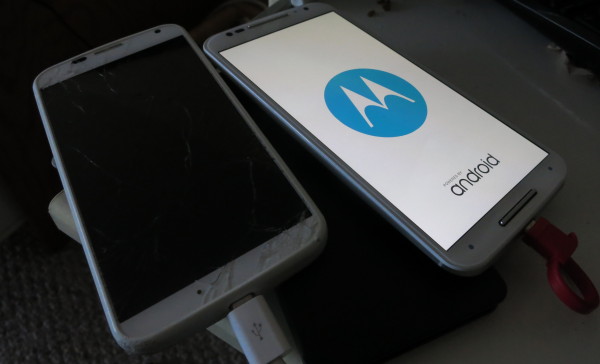 The model we received came with a beautiful wooden back plate and white trim on the front. Moto Maker allows you to customize Moto phones in almost any way you can think of. Trim, speaker grills, back plate, and even the front can be customized along with its internal storage, ranging from 16 – 64GB. You can also engrave something on the back for that extra touch of luxury.
Software
The second reason people buy the Moto X is for the unique software features. They're less gimmicky and made for legitimate utility in one's daily life. Moto Voice paired with Google Now is still here along with the ability to literally shake to open the camera. Active Notifications and Touchless Control are still major Moto X software components.
Moto Voice was perhaps the first software to fully utilize Google Now, allowing smartphone owners to open apps, ask for directions, and even dictate texts, emails, and call friends and family by simply saying "Okay Google." Motorola has sought to improve this since the first time around. In its newest version, the pass phrase "OK Google" can be customized to your liking. "Hey Moto X, or "Okay Moto X," are a few suggested pass phrases. Much like the Droid Turbo, it loves for its name to be called. Whatever the case, new additions to the software also allow you to ask Google Now to take pictures and selfies, which the original model does not. Gimmick? That depends upon the person.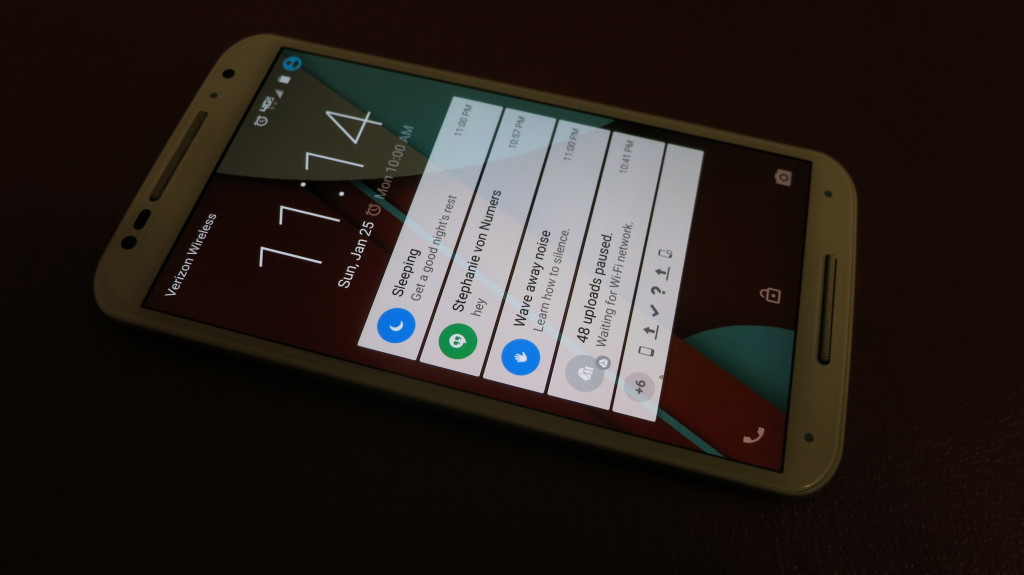 Another new feature of note are the three proximity sensors underneath the Gorilla Glass panel. These allow Moto X owners to simply wave over the phone to wake it up. This offers quick access to the Active notifications, which show owners the time in a quick glance, as well as give the gist of any current notifications on your phone. These "Active notifications flash app logos or even display pieces of emails and texts depending on your designated settings while only lighting the pixels needed to view them (the rest of the screen is black). One finger hold will display these notifications in full (pictures above), further allowing you to interact with them or unlock your phone to view your new email/text/app notification.
This ability to hover to view Active Notifications is a slick addition, as only the gyroscope was used to show the time previously (it required a touch or shake). However, it's also completely unnecessary. In fact, we found the new Moto X woke up twice as frequently from proximate motion than the original. Considering this feature is meant for display and light pixel use, its actually wasting more battery.
Battery
The major downfall for the second-gen Moto X is its lame 2300 mAh battery. And for many, it might even be a deal breaker. This was already an issue with the original Moto X (my favorite phone of 2013). A full day is what you're going to muster with the Moto X, and that's assuming you have a charger with you. If you go light on the app play or turn it on Airplane mode at work, you will fare better. But why should you have to bother? There's something about that 5.2" energy-sucking display and those vibrating shake functions just kills this thing. A day and a half is the maximum we ever fared during this review.
If you buy the $34.99 Motorola Turbo Charger available with the Moto X, you can charge eight hours of battery within 15 minutes at 1.6 amps. But in an age of phones carrying upwards of 3,000 mAh batteries, there's no reason you have to suffer this hiccup considering Samsung, HTC, and Apple's iPhones have no issue outlasting this device (Okay, even Apple's new iPhone 6 is a battery disappointment). While the new X does last longer than my ancient Moto X, it's still nothing to be very proud of. Battery Saver helps, of course.
Camera
Despite numerous reviews lancing the Moto X camera after its debut, there have been very decent improvements to this flagship shooter. Both the front (2 mp) and rear (13 mp) cameras have improved incredibly since 2013's model (2 and 10 mp). And while lag during shots was the most problematic and annoying drawback of the original, the 2014 Moto X, has incredibly improved in software thanks to the upgrade to Android Lollipop and general Moto camera software improvements.
[slideshow_deploy id='7258′]
Say goodbye to lag, because you can capture shots in an instant with a simple tap. That's right; there are no more awful "kill me" delays when that bald eagle or that attractive celebrity flies by. Oh, and that goes for the front and rear camera. But are they up to snuff?
Shots compare well to the Samsung Galaxy S5 and HTC's One M8. No, this is still no iPhone 6, but can you honestly tell? Selfies have great white balance and color reproduction compared to the first Moto X, but most of that is software driven improvement. My friends and I still never felt as universally attractive as when using an iPhone, but perhaps reality isn't so bad for vanity-driven photography after all.
I used this camera to shoot the Collaborate Conference in Washington, D.C. last week along with the 2015 Washington Auto Show (You can view above, just click HD for quality for a look). Not a bad shot or a miserable video was taken. You can shoot 1080p with both the front and rear cams, with the bonus of UHD 4K on the rear camera. Of course, this hyper-resolution is going to kill your internal storage and murder your data plan when uploading to YouTube off wifi (trust me). I also still don't see a purpose for 4K filming when most of us barely have internet speeds to handle streaming video in 1080p.
Overview
This is an amazing 2014 phone for any Android or hands-free gadget lover. Motorola has kept its software and hardware pristine, fun, and absolutely useful. One can't chime enough about how beautiful this phone is either. Whatever customization you choose from Moto Maker, or even what's available at a carrier store, the Moto X is going to please your eyes for years (I still have my 2013 model and think she's gorgeous). And despite the slightly heftier size, this is still a phone that's fun to pull out for a quick glance at the time, notifications, or for a quick snap with the intrepid 13 megapixel shooter.
I loved carrying this phone around mostly because of its svelte, unobtrusive design (check the hideous Droid Turbo) and the absolutely bright and gorgeous display. You can compare resolutions all you want, but viewing videos, playing games, and even swiping through Instagram on the Moto X is a lovely color-popping experience.
Of course, the one defeating drawback here is the non-replaceable battery. If it were not for the fact the Moto X still cannot break two days on a charge, this smartphone would be an absolute 10. Unfortunately, its lackluster longevity after even 12 hours with heavy use causes the battery to be a real detriment. Still, the compatible Motorola Turbo Charger using Qualcomm's Quick Charge 2.0 technology make the Moto X still feasible to charge quickly when in a bind. Unfortunately, Motorola has yet to ship this standard, unlike the Droid Turbo.
Want a Moto X of your own? Off contract, the 16GB version of the Moto X only runs $399.99. Various carriers including Verizon Wireless are offering it for $99.99 with a new two-year contract, but you can find discounts at even $0 with Amazon Wireless and other seasonal deals.
9/10