Snapchat has added a Discover feature, adding some familiar brands to the app. Similar to Instagram, Snapchat's Discover allows you to find new content ranging from its own editorial staff to Comedy Central to CNN. Media groups are jumping on the Discover bandwagon, posting short, unique content for the average Snapchat user.
What will these partners post on Discover?
First, users are given a short Snap for the content chosen from one of Discover's partners. If it interests you, swipe up for more about the Snap. The content, just like Stories, can range from short 10-second video clips, images with text, or even concise articles. It's not any different from Casey Neistat's or your best friend's Stories, except that they'll still be available on Snapchat after 24 hours. Instead of erasing the content available on Discover, Snapchat will update once a day while allowing you to swipe left to view any content you've missed in the meantime. The partners for Snapchat's Discover include: Cosmopolitan, National Geographic, Food Network, and ESPN.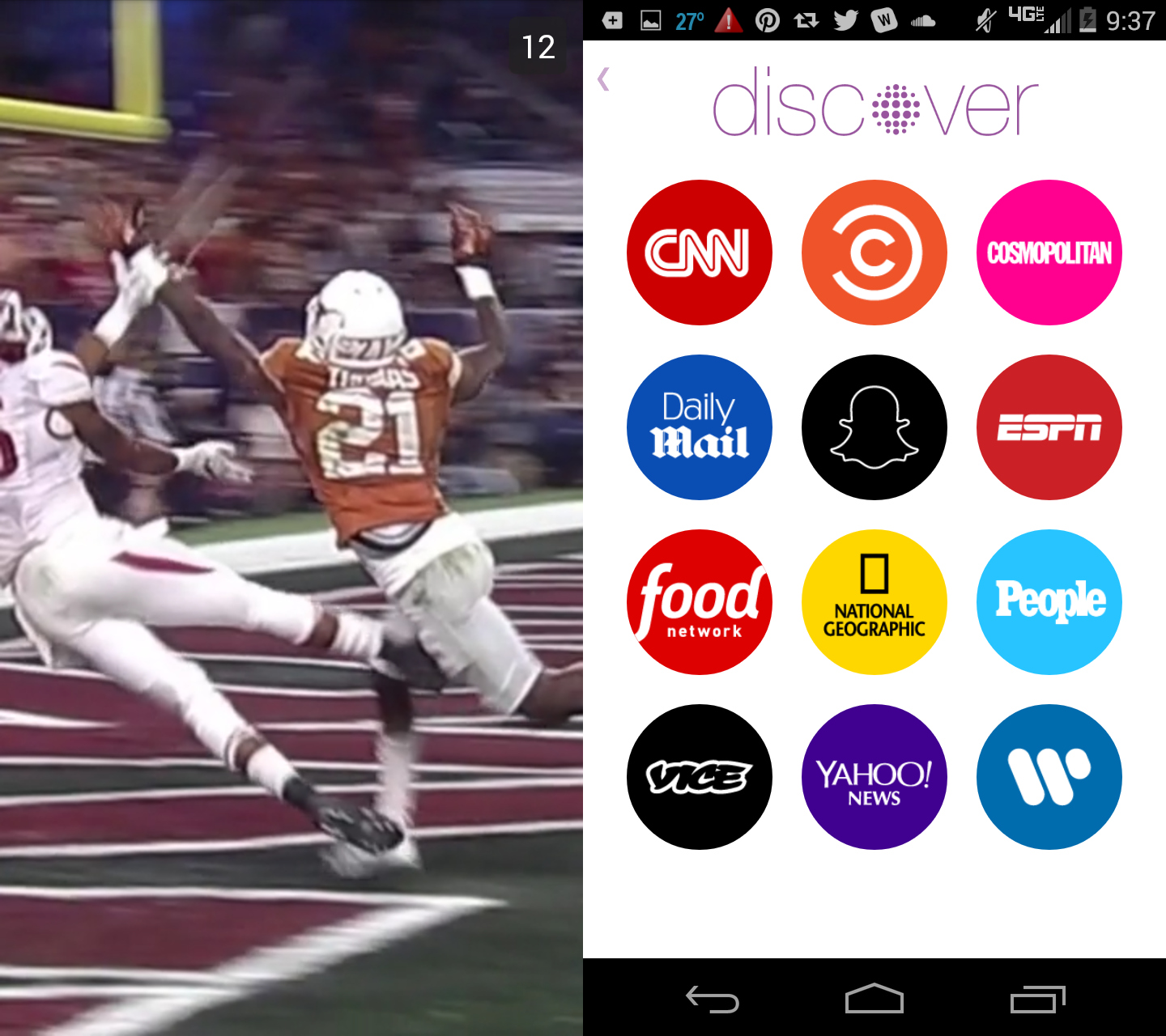 But what does that mean for the future of Snapchat?
Right now, it means that Snapchat will finally be rolling in the dough from advertisers. However, Discover is also making these partners more accessible to a younger audience. National Geographic and Cosmopolitan are becoming more relevant to a tech-savvy audience, which may lead to an increase in sales and subscriptions. If they're successful, it'll lead to more brands joining Snapchat. If Discover becomes open to common users, we might see the same phenomenon occurring on YouTube: stars paid by advertisers to allow ads on their Stories.
Users with a large following and number of views on Snapchat already receive sponsorships, and the changeover to Discover could lead to more views and followers. Maybe the Snapcash feature will play a role in Discover, but that might become more relevant in the NSFW category. Carriers will also love Discover. With the amount of data Snapchat already uses, Discover will be forcing you to increase your data plan or pay the fee for crossing your limit. Just be wary about your data usage as you swipe through Discover. It may end up costing you without wifi. In the long run, Discover is a great step for Snapchat. It's adding a new level of entertainment for its users while cashing in on the advertising. Discover seems like a win-win for everyone, except your data plan.
Source: Snapchat