An incredible discount for international flights is something almost any Washington Metro Area traveler can hope for. And soon enough, there will be more airline competition hitting BWI. WOW Air, a discount Icelandic carrier, is now spreading its wings to the US after adding over 20 destinations within Europe and Iceland.
BWI will be added to WOW's destination list on May 8, with round-trip service four days a week and five days a week starting on June 4. These flights will start at $99, but we imagine, much like Spirit Air, fees for checking bags and carry-ons will likely be incurred as well. Still, any trip to Europe for less than $600 is a steal for any traveler. Reviews of WOW suggest one bag is free (56 x 45 x 25cm and 10 kg/22 lbs) to carry-on, but all others will have fees attributed.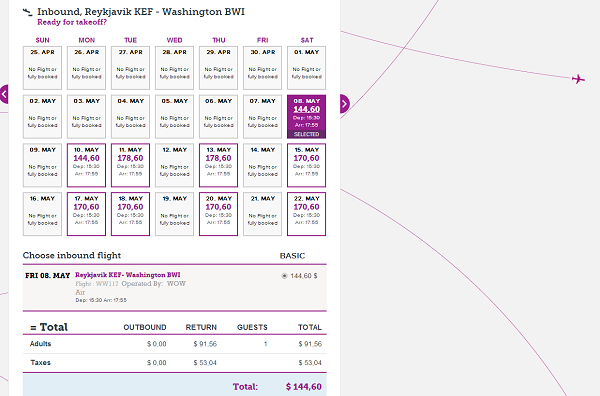 Of course, in our own search, we found round trips ranging closer between $300-600 ($145-300 each way), which isn't to say it's a bad deal; it's just not quite $99 either. As for comfort, reviews of WOW on TripAdvisor and other sites are surprisingly great. Comfortable seats, attractive/nice/attentive flight attendants, and even decent food are frequently-noted. Sounds too good to be true for the fare, doesn't it?
WOW Air started in 2012 with only around 100k passengers and has steadily grown to to over 450,000 since last summer. Will you be booking a flight? Let us know what you think of the new deal. You can book yourself now on their website.
Via: CapitalGazette
Source: WowAir