CES 2015 came to a close on Friday, but we're still pumped about some exciting new gadgets. Yes, Mercedes revealed the F015 while Misfit and Swarovski created a blingy fitness tracker, but you may have missed a couple things from the explosion of coverage. Check out some of the off-beat tech to satisfy your CES 2015 withdrawal below:
KiDCASE
Got a toddler addicted to your iPad? What a 2015 thing to say, right? KiDCASE is a smart case for tablets that monitors the usage of your child. It automatically disables the tablet when the time limit is reached blocks time windows, like after bedtime, just in case. All you have to do is put the case on the tablet, download the KiDCASE companion app, and relax.
Picobrew's Zymatic® Machine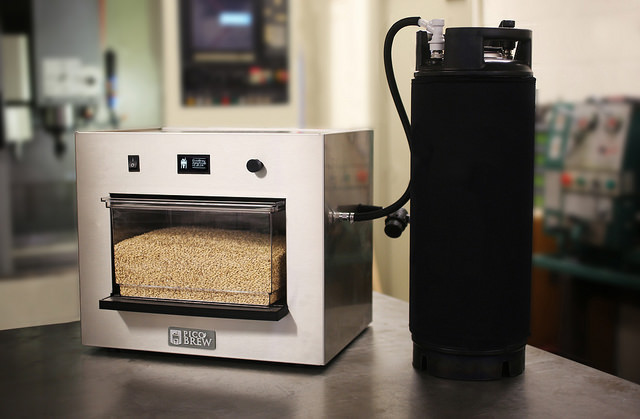 If you're into the microbrew craze, then PicoBrew's Zymatic® Machine is the perfect companion for you. With the press of a button, you can brew your favorite beers and even craft your own. The Zymatic can make up to 2.5 gallons of beer per batch and four different hops additions. PicoBrew's website sells ingredient pre-packs for beginners, if you're not sure of your beer chemistry needs just yet.
Air 2 Floating Speaker
What's next in the realm of music? That's right, floating speakers. Axxess CE's Air 2 uses two magnets–one in the base and the other in the speaker–to repel each other when turned on. The speaker then floats above the base for some cool party entertainment, or just for your own hovering amusement. If the floating is too much, you can always stick the speaker onto the fridge instead. Need to pick up a phone call while jamming out to Taylor Swift's "Blank Space?" Have no fear, the Air 2's Bluetooth capability will let you answer your phone while still playing your music.
Quell™
Made by NeuroMetrix, Quell™ is a leg cuff designed to relieve chronic pain caused by diabetes and other diseases. It's lightweight and can be worn during the day and at night, without a prescription. With your smartphone, you can track and personalize your pain therapy if the normal settings are too much (or too little). However, Quell won't be available until the second quarter of this year.
Cosmos 90GT
Inspired by the television show Cosmos, Celestron has made its first wi-fi powered telescope for amateur astronomy, Cosmos 90GT. Download the Cosmos Celestron Navigator app to control the telescope and steer the lens perfectly to view thousands of celestial bodies in the app's database. With the 90mm refractor and coated glass optics, you'll have no trouble seeing what's up in the Cosmos.
Source: CES 2015