Nokia is now a part of Microsoft, and their smartphone division is still pumping out clean and sturdy hardware with Windows Phone software. But remarkably, nothing has notably changed on these devices. Case in point: the Nokia Lumia 830 which was released in September 2014, shortly after Microsoft announced completing all acquisition changes. Below you'll find Tech Void's full review of the Nokia Lumia 830 on AT&T.
Design
The Lumia 830 is basically no different any of its Lumia siblings. This aluminum-rimmed rectangle is a 5" device encased in thick, hard aluminum with painfully sharp and rigid corners. Nokia's well-known bold color accents and smooth plastic backing are initially cold and hard to the touch, making it more of a tool than a device. This model comes in a neon green or black.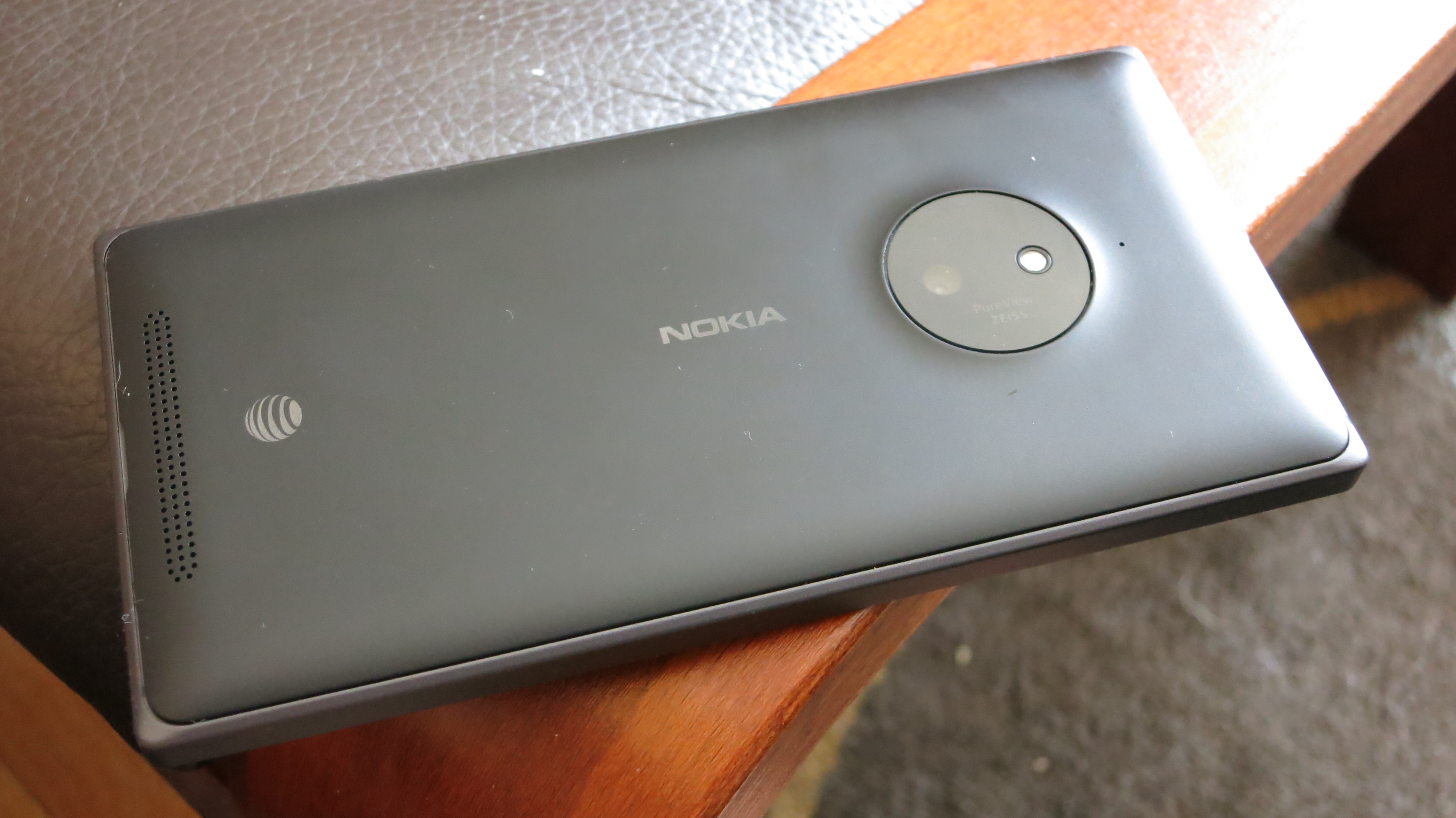 Of course, Nokia's entire intention behind the Lumia line-up has fit that intrepid feel. Popping colors, rigid (and sometimes rounded) rectangles, with a big focus on simplistic, intuitive software (Windows Phone 8.1 in this case) are all part of the brand appeal. And despite Microsoft's acquisition of the hardware manufacturer, the design has not strayed one bit. Though, it's not so surprising when Microsoft put Nokia's former CEO in charge of their smartphone division.
On the 830, you'll find a headphone jack up top along with the micro-USB charging port. It's a weird but welcome innovation that makes plugging the phone in much less cumbersome and even easier to use when charging. By all accounts, this device is really attractive in black and looks great compared to many Android devices floating around the city. Unfortunately, the stiff, rigid and cold aspect to this device makes it fairly uncomfortable to hold.
The flush back plate comes off, which means picking up replacement colors is easy and the 2200 mAh battery is ultimately replaceable. There is one stereo speaker on the back along with Nokia's 10-megapixel PureView Carl Zeiss camera. On front of the 5″ IPS display, there are three capacitive menu buttons below the screen under Gorilla Glass 3. And on the right side, you'll find the power button, volume rocker, and dedicated camera shutter button.
Display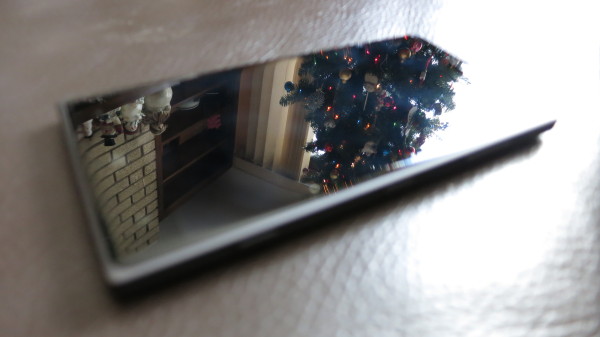 The 5" IPS display on the Lumia 830 is bright, vibrant, and great for reviewing shots of your friends on social media. However, the resolution at 720 x 1280 pixels with 294 ppi is nothing compared to current smartphone flagships to date or even its older brother, the Lumia 930, which has an AMOLED display with 1080 x 1920 resolution.  Video with the 830 is fluid and lag-less, but pixel distortion and noise is seen when playing to an upsetting degree. Still, viewing angles are great and when the brightness is set right, sunlight isn't a problem.
Hardware
The Lumia 830 is a unfortunately very last year with its specs. It has a Cortec-A7 1.2 GHz chip based on the Qualcomm Snapdragon 400 chipset and an Adreno 305. The device comes with 16GB of internal storage, 1GB of RAM, and a microSD slot that can support up to 128GB of external space. That last part is slick, actually. Add the SD storage its removable 2200 mAh battery, QI-enabled wireless charging, and you have a pretty fun and capable Windows phone on your hands. As for the cameras, the front-facing is a .9 megapixel HD cam and the rear is 10 megapixels with its Carl Zeiss Optics.
General Use
In my weeks with the Lumia, picking this thing us just did not feel very nice. It's so incredibly hard and cold. It's absolutely gorgeous to look at, but overall the experience wasn't a pleasure in the hand. On the flip side, it seemed like the Lumia 830 could endure almost anything. Even with Gorilla Glass along the bezel, the aluminum rim on this device is looks definitely able to take a beating. Although one of the corners did take some noticeable damage on a drop (yet another argument for rounded corners).
As for general software, the double tap On/Off screen feature on Windows 8.1 is very endearing, especially with so many buttons on the right side of the device. However, many times it took a few tries to register double taps, which made me stumble to to find the power button instead.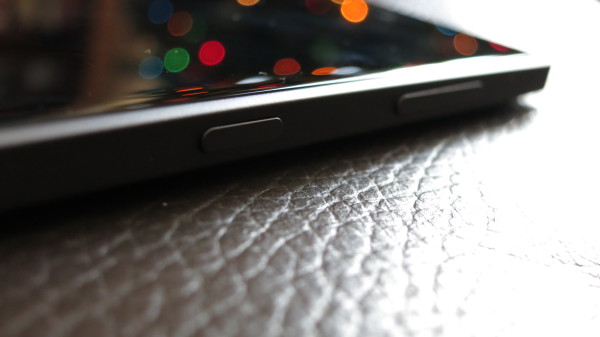 However, many times I confused the power button with the shutter button. Nokia has kept its phones point-and-shoot focused with a dedicated button to open the camera and take shots. This IS and amazing feature. However, since this button is  just below the actual power button on the 830, muscle memory takes a bit of time. At the end of the day, it's a wonder why Nokia didn't simply throw the volume rocker and power button on the left. Small gripes, but noticeable.
Phone calls are decent on AT&T's network in DC and typing on this device with trace is perfectly doable for texting. There is a speaker on the back of the phone and for all intents and purposes it performs stereo sound pretty well. It's not tinny and the bass, while mild, comes across fairly decent.
Software
In terms of the real Windows 8.1 experience, the customized tiles and and simple swipe-to-app-list will not feel new to anyone from previous versions. The best new and noticeable addition to Windows Phone is the personal assistant, Cortana. Cortana is the best AI friend a person could have. She much like Siri but sounds much more human. She tells jokes, sings songs, and even alludes to her actual origin in the Microsoft Xbox video game exclusive, Halo. She's also blazingly fast, beating Google Now in many of our attempts find locations, call friends, or search simple facts. Obviously, she uses Bing (Microsoft and all). Holding the Search button brings up Cortana in an instant, putting simple requests at your fingertips.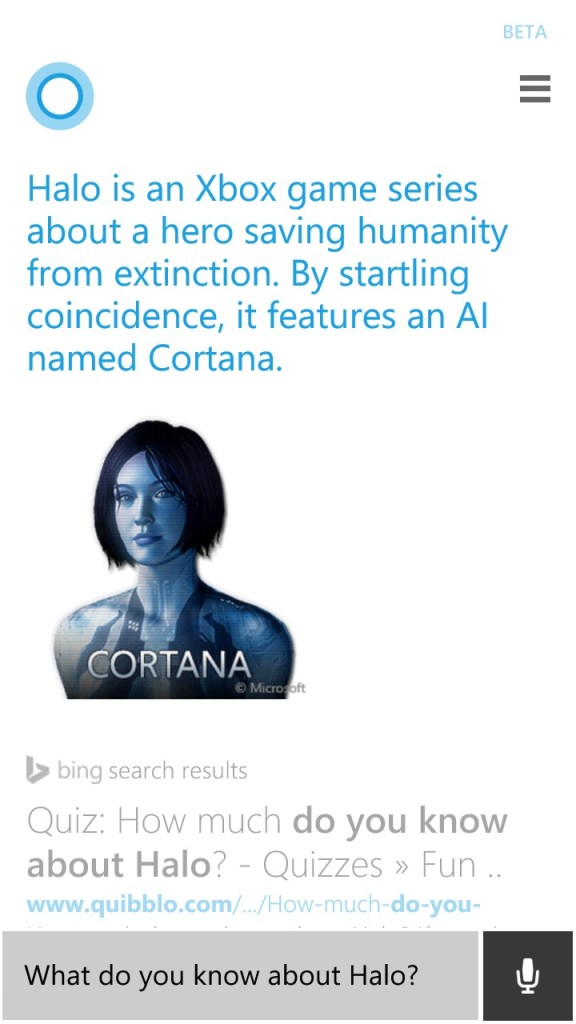 Of course, the biggest problem with Windows Phone is that it's lack of support in terms of apps, especially for Google. Third party applications are still used for Gmail, Snapchat, among others. You can thankfully Uber, Instagram, and find most other official social media-useful applications. Nevertheless, you can still find numerous games, and with Microsoft's support for mini-Xbox games for mobile, this phone is great for keeping kids occupied in a car or yourself during public transit. Sonic CD is a great time suck.
Microsoft has also thrown in its Health app on Windows Phone 8.1, allowing you to track your steps and workouts. Considering Google and Apple have now added their own fitness applications, this is an absolute must, gimmicky or otherwise.
Battery Life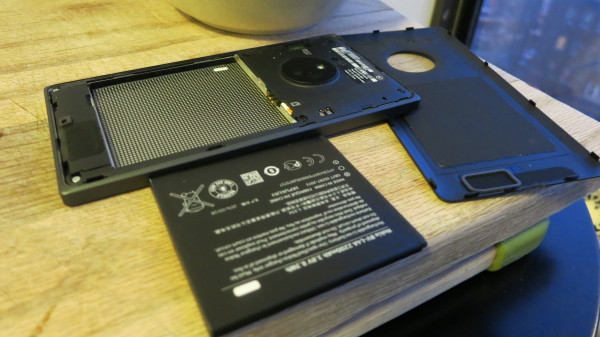 Windows Phone is a very bare bones OS, and you can see that by booting it up alone in ten seconds. With so few widgets and background work, keeping Lumia devices efficient is not very difficult. I never had trouble making it through an entire work day and then some using the Lumia 830. With heavier use, one work day is about all I'd muster, but a day and a half or even two on standby was also possible. And even if the phone died, the ability to replace and wirelessly charge are great additional features. And if nothing, the battery saver features on Windows 8.1 also help keep this phone alive without much effort.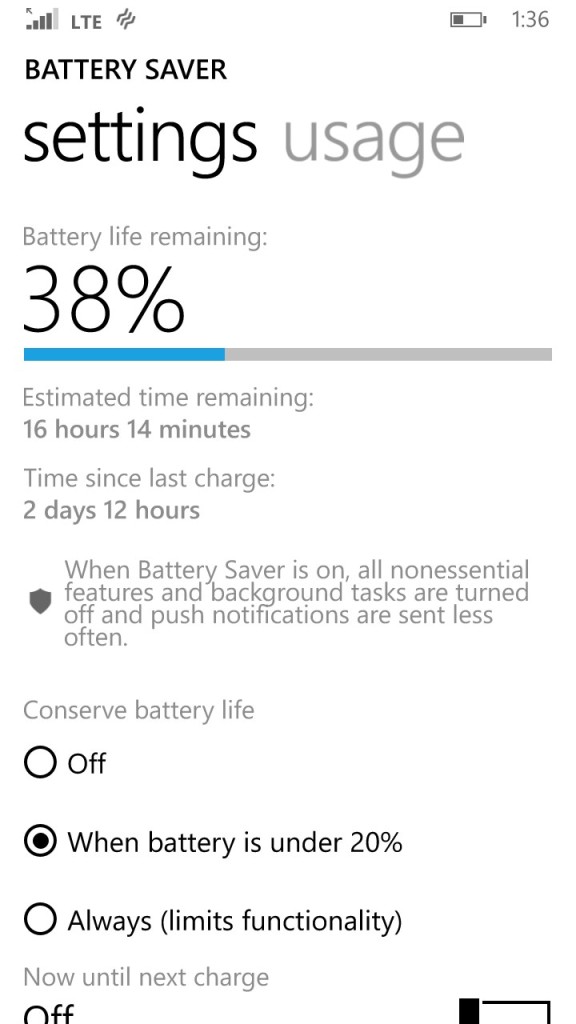 Camera
The 10 megapixel PureView Zeiss camera does a very Lumia job at snapping photos. The clarity and pop of most shots are amazing, so long as the subject or scene is near you.  It's very much a Nokia camera, as the software options are endless. Like the Lumia 1020 and other Lumias before it, users have complete customization over the camera. Whether you're an ISO and shutter speed nazi or the quick and lazy burst shooter, Microsoft and Nokia has lenses and manual setting customizations for you.
[slideshow_deploy id='6917′]
Of course, distortion with any movement is the main problem with this camera. The sensor, while great, is nowhere near as detailed or zoom-worthy of a point and shoot as the 41-megapixel Lumia 1020, which took the most incredible photos we've seen with a  smartphone. The dedicated camera shutter button is of course still well loved and placed perfectly. If you buy this phone, it's definitely for the camera software features, but this isn't to say this is Nokia's best quality camera either.
I must say again  how colors pop out very on this device.  And the 830's affinity for clarity and hyper-contrasted photos isn't a bad thing. I figure HD-life is what we want to see on social media and in our music videos, so why the not with our smartphones on a boring, grey rainy day?
The front-facing camera is fairly decent even in low light, but there's a major issue with it–airbrushing. This is likely a software thing, but this almost mandated airbrush effect seems to happen no matter what lens I used to capture a selfie. This might be great if you really have troubled acne scars or want to completely wash out your complexion. But if not, you may have to play around with this deeper.
Overview
The Lumia 830 is dated by all accounts. It's specs are very early 2014 and some of the previous Lumias (930/1020/etc.) have hardware that squash it in resolution, speed, and camera sophistication. Even Nokia's previous iterations are faster and equally attractive smartphones with better specs, better camera sensors, and even more internal storage. The 830 also only comes in two color options, while the Lumia 1020 and numerous newer models have at least 3-5.
Still, the 830 is still has its charms of updated Windows Phone software with the addition of Cortana and a decent and fun camera to play with. At the end of the day, $99 for a new phone and a two year contract can get you a lot of different options. The 830 was a good option in 2014, but we suggest you look ahead to 2015 and the most current lineup available. After all, CES 2015 starts this week.
If you're still interested in the Lumia 830, head over to AT&T for pricing.
6/10