The Samsung Galaxy S5 is currently the manufacturer's flagship, but that hasn't stopped Samsung from producing some budget versions like its competitors. And the Samsung Galaxy Alpha is exactly that. Okay, budget is harsh. It's still a very quality device. This mid-range smartphone is a smaller, tighter, and more compact Samsung device with a notable reduction in hardware specs compared to the S5. Nevertheless, its build quality is nothing to sneeze at. Below you will find our full review of the Samsung Galaxy Alpha on AT&T.
Design
When we removed the Alpha from its box and packaging the first thing we noticed was the brushed aluminum that surrounded its edges on every piece of it. Even the volume rocker and power button are covered in the shiny metal.  That motif alone brings back memories of the iPhone 4, the very beginning of the premium smartphone, built with sturdy materials besides polycarbonate plastic.  Holding the perfectly-rectangled Alpha feels just like that, a sturdy (and thinner) iPhone 4. It has more heft than an iPhone 5, and the back is the same soft, Band-Aid-esque material you'll find on the S5. But honestly, it's one of the most gorgeous devices Samsung has ever made.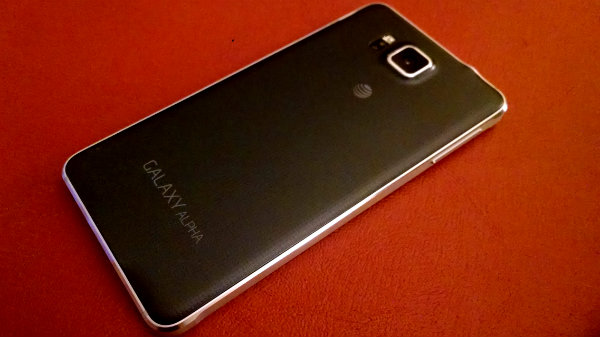 Because of its smaller 4.7″ display, it fits better in an average person's hand and its rigid yet rounded corners and edges make it feel indestructible. There is a headphone jack up top and one speaker on the bottom right. The home button is tactile and the back and multi-tasking buttons are capacitive, just below the screen. Samsung has included the S5's fingerprint scanner on this device, keeping it up to snuff for 2014. On the back you'll find the square, protruding 12-megapixel camera, as well as a heart rate monitor. You'll also see a small slot on the upper right for your fingernail to pull off the backing and reveal the internals.  Can you say replaceable battery?
Screen
The Samsung Alpha, while smaller than the S5, still packs a reasonable punch. The screen is the same Super AMOLED used on their other devices, so per usual, it's absolutely gorgeous and vibrant with decent viewing angles. 4.7″ i still my personal favorite for phone size, and if Apple's recent 4.7″ iPhone 6 is any testament to the consumer market, a lot of you probably think so too. The 720 x 1280 resolution isn't the 1080p you'll find on the S5, but unless you're using a gem magnifying glass, I'm asking to you to try and find the pixels. Text is clear, colors are fantastic, and there's literally nothing to complain about on this spec.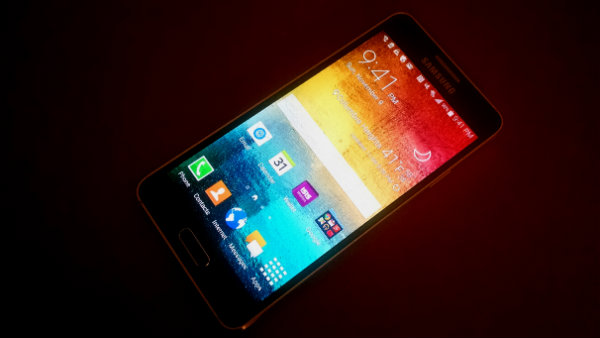 Hardware
As for the rest, you may find the Alpha has pared down its internals a tremendous amount compared to Samsung's flagship Galaxy S5. The Alpha does not have a Qualcomm Snapdragon but instead a ARM Quad-core 1.8 GHz Cortex-A15 and Exynos 5 Octa 5430 chipset. This chipset and processor are fine, however you may find the Alpha is not as snappy or without lag compared to newer, more powerful processors. There is a replaceable 1860 mAh li-ion battery which is much smaller than then S5's 2800 mAh battery, and a 12-megapixel rear camera rather than the S5's 13.1. The front-facing camera is 2.1 megapixels.  Coolly, video can be shot with the rear camera in UHD 3840 x 2160 resolution (almost 4k) at 30 fps. An accelerometer, gyroscope, compass and heart rate monitor are also included. The heart rate monitor sits left of the rear camera and requires an index finger hold for detection. Lastly, the Alpha comes with 32 GB of internal storage and no microSD slot for external storage–a major downer when you consider the ability to actually take off the back plate.
General Use
Let me say again how much I liked carrying this around with me. Something about this perfectly formed rectangle that fits right in your hand just screams quality. Those rigid aluminum edges make solid and satisfying contact with your skin and the back's soft and leathery texture feels premium. Despite this having lower specs and a slightly lower price tag (it's still a $600 phone), this is not a device that feels cheap or budget. Typing on the Alphas is accurate, and having Android 4.4.4 KitKat make notifications easily manageable. The camera was a joy bring up, and you can do it straight from the lock screen with a simple swipe over the camera icon. The fingerprint scanner was a fun way to unlock the phone, and I didn't have many issues with it other than sometimes having to center my index finger and try a second time.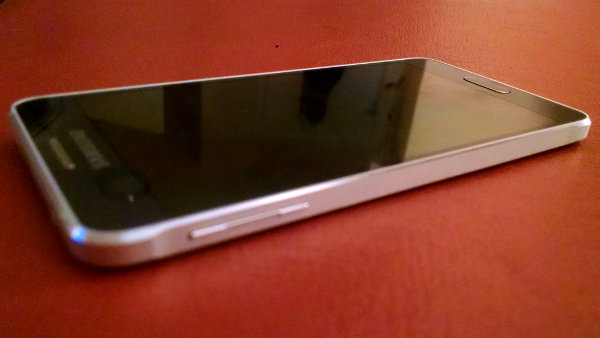 Phone calls were fine on AT&T's network and and the bottom right speaker worked perfectly fine for Netflix and YouTubing. As said before, the display on this phone is as attractive as any other Galaxy model. While it is only 720p and has lower pixel density than its larger counterparts (Note 4 and the S5), watching HD content was still luscious in color and detail and almost never choppy.
Unfortunately, the ARM processor included in the Alpha does have some pacing issues. Lag on responsiveness, glitches in apps, and problems with the gyroscope in games were a relatively obvious and somewhat frequent issue. It wasn't enough to warrant screams, but I definitely quit playing Temple Run fairly quickly.  The heart rate monitor works decently in a quiet environment, and it's a cool enough gimmick to show your friends at parties or play with after workouts.  The paring of S Health with all of this is a bonus, and I checked the pedometer frequently during my daily commutes.
I really enjoyed using the Alpha during the review period, however the processor issues were a bit of a wet blanket on a premium feeling device, among other issues you can read about below with the battery.
Camera
To start off, the 2.1 front-facing camera is so bad they might as well have left this phone without one. Indoor lighting conditions bring a constant yellow tinge to selfies and everything looks distorted, noisy, or just awful in most shots taken. In direct sunlight it performs like an average front-facing, but I could not get this thing to work well indoors for the life of me.
[slideshow_deploy id='6564′]
The 12-megapixel shooter is a gorgeous addition to the Alpha and paired with the snappy software of Samsung, it was splendid to use. It's also just really fast. There is no lag whatsoever when taking photos. Just be sure to turn of all of Samsung's slightly over-the-top features first. Image stabilization delays taking photos and "Beautify," a Samsung standby feature that airbrushes subjects, has always been annoying and stupid. Colors were always vibrant, hyper-contrasted, and simply clean looking. I'd compare it well to the Amazon Fire Phone camera and the iPhone 5 models. Samsung did this one right. Check out our slideshow above.
Software
The Alpha is running Android 4.4.4 KitKat and has Samsung's usual Galaxy skin (TouchWiz)over it. The Alpha comes with all of Samsung's favorite apps including My Magazine (made by Flipboard), a bit like HTC's BlinkFeed. Swipe left and you'll be able to select every publication and topic you want to read on a daily basis and keep updated with your favorites. Unlike BlinkFeed, I actually don't like My Magazine and wanted to remove it without much avail. AT&T's plethora of bloatware is also included.
The rest of Samsung's Galaxy skin remains the same per usual. The two-finger swipe settings menu is still there, allowing you access to almost any setting you could ask for. Smart Stay, Screen Mirroring, and all those standby Samsung features are still here, remaining about as useless to the average consumer as always. The capacitive buttons next to the home button are "back" and the "recent key." Like most phones, the recent key brings you a list of all of your open applications and makes for quick access when multi-tasking. I use this constantly on most of my devices, and Samsung makes it easy enough to use. Close enough to stock Android, you can trash an app  with a swipe and scroll up and down to find one you want to go back to.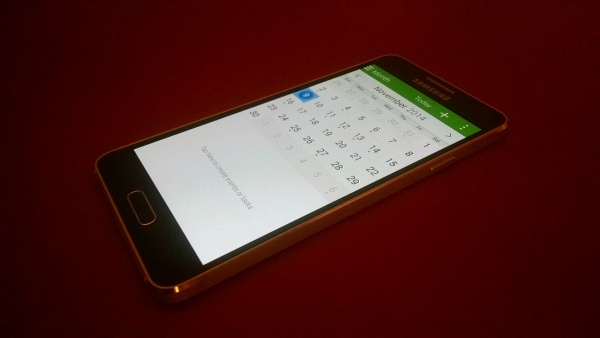 S Voice and S Health are also included with this phone. S Voice is able to be set up with the Home button, but, I chose to use Google Now as my personal assistant instead. S Health is probably Samsung's best software thanks to its ability to track all of your exercise data from multiple tools in one place. The pedometer is something I used daily to check my daily activities and the heartrate monitor is a fun gimmick to show friends or check your livelihood after a hefty workout.
Battery
The battery on the Alpha is only a 1860 mAh li-ion, which is nowhere near as powerful as the 2800 mAh bettery housed in the 5.1″ Samsung Galaxy S5. However, paired with the two battery saving modes available, the juice from this phone can be extended for some time. Nevertheless, on average, a day and a half was about the longest I could get from the device. 1860 mAh is very small for all of the tasks we put our smartphones through these days. Snapchat, Instagram, and constant Facebook browsing can deplete this device quickly, and it's not exactly a surprise. Thankfully, if you still really liked the design of this phone, Samsung's removable backing makes it just as easy to replace the battery when its kicked. Don't expect wonders on battery life with this device. For real battery lovers, you're better off with the S5, the HTC M8, or the Galaxy Note 4, which houses a whopping 3220mAh battery.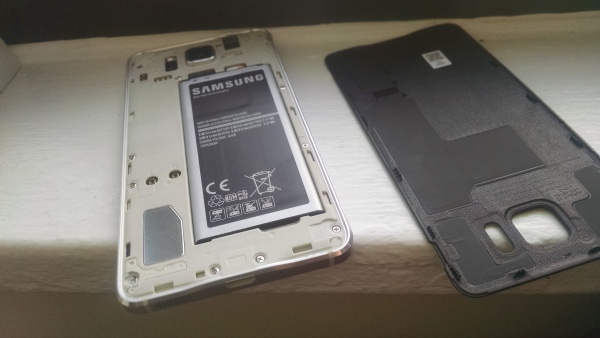 Overview
Let me state this again if I haven't before. I've never been a fan of Samsung products. I find them to look bulky, rounded, cheap, massively large, or really just unattractive. Yet the Samsung Galaxy Alpha is anything but. And that's because it's only 4.7″, has beautiful brushed aluminum edges and honestly looks and feels a lot like the original iPhone 4, albeit slimmer. I really loved using this device. The rear camera and its software work magnificently, the screen is as gorgeous as any other Samsung AMOLED, and this device just feels great in your hand. However, there are some problems with it that can't be overlooked. Slight glitching in software and lag in responsiveness was an ever-present problem with the meager ARM processor. In addition, the front-facing camera is horrible in most lighting, and the battery is hard pressed to make it over a day and a half, even using battery saving features. This slightly cheaper model in the Galaxy lineup is a great phone and would work well for anyone who isn't terribly concerned with the latest tech, specs, or selfies. You can get one for yourself at AT&T for $199.99 on contract or for $20.43/mo with AT&T Next.
7.5/10