Just when you thought Amazon's Fire Phone was a bust, Amazon released yet another tech product for its users. Meet Echo, a wireless speaker that acts as yet another computerized personal assistant (she's named Alexa).
Like Siri, Google Now, and even Microsoft's Cortana, Echo responds to your voice to answer trivial questions, play your favorite genre radio and even update you on news, weather, and the time. While the idea is obviously not new, the ever presence of the device in your home certainly is. The Echo brings something from Sci-fi film to reality. Like 2001: A Space Odyssey's infamous Dave, Echo has the ability to communicate with you at any time, anywhere in your home at a reasonable speaking voice. This is due to its "far-field voice recognition," according to Amazon. The small speaker actually has seven microphones embedded in its housing, so Echo can listen to you no matter where you are in the device's vicinity.
What's missing is of course the ability to control your other devices in the home, which leaves us one step away from a legitimate smart home. But this proves that Amazon is definitely onto something, especially with Nest being eaten up by Google months ago, an entirely voice-controlled home is almost here.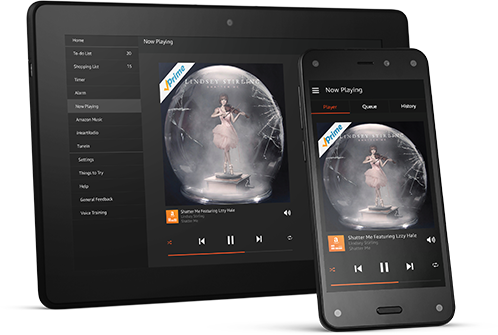 Echo plugs into an outlet, so power is never a concern, which certainly doesn't make this a mobile product. But then again, why would you need to take Echo with you when you already have Siri and various other talking tech devices? Amazon's Echo updates its information from "the Cloud" according to its cheesy 4-minute infomercial below. It also hooks up to Amazon's proprietary Echo app for tablets and mobile devices, so you can control it from afar (like, not even in the room). The Echo comes with wi-fi and Bluetooth capability to make it all work. But the question remains, can you use it with Pandora, iTunes or other third party applications? Thankfully its Bluetooth-capability allows you to stream from any of these services including Spotify and iTunes. For now, the Echo will only be able to use Amazon Music, Prime Music, iHeartRadio, and TuneIn via its wireless signal.
The video mentions that you can program whatever name you want to control the device, but Amazon's page suggests "Alexa" is the only name Echo has to offer you. Echo can also be used with Amazon apps to make to-do lists, for example. But what's cooler is Echo can also be used as standalone alarm clock. As for the speaker tech, the Echo has speakers are "dual downward-firing" omni-direction speakers, which produce audio in all directions to fill the room with sound. This will obviously need to be tested in person, but it's a great pitch, nevertheless.
Gimmicky as voice recognition tech has been so far (i.e. Xbox Kinect), I can see Echo becoming a start to acceptance of controlling our electronics more frequently. The AI IQ is still up for debate on Amazon's new toy, but the price isn't. The nifty Echo will only cost $100 for Amazon Prime members (for a limited time). For those who aren't Prime members, it's $200.
Unfortunately, like Google's new Inbox app, you have to request an invitation to purchase this brand new device. Cross your fingers.
Would you buy the new Amazon Echo? Let us know what you think below.