Smartphones these days come in two versions, the mega and the minor. The iPhone 6 Plus and the iPhone 6. The HTC One and the HTC One Mini. The LG G3 and the LG G3 Beat or Vigor. In this age of consumer-driven markets, you have to fulfill the needs of the large and the small-handed buyers–those who want to shell out a few more Benjamins for those extra features, and those who don't need the most premium of handsets. This isn't to say that smaller devices with lesser components are lacking in speed, cunning software, or gorgeous build quality either. No, these devices are attractive, blazing, and completely up to date in terms of tech.
And despite its shortcomings, so is the LG G3 Vigor, which is what we're talking about today in this review. The name may confuse you as AT&T's smaller version of the G3 is titled "Vigor." Some mobile carriers are calling it the Beat and others the G3 S. But in the end, the devices are all the same, despite their differences in nomenclature.
The Vigor is 5.0" rather than 5.5". It has a 720p display (720 x 1280 resolution with 294 ppi) rather than 2k, and it has 8GB of internal storage rather than amazing 32 GB standard of the G3. The Vigor also has an 8 MP rear shooter rather a 13 MP camera. At first glance this sounds like an amazing sacrifice from an intrepid, astounding product. Yet despite these giant spec differences, LG has built another gorgeous smarpthone.
Design
The LG G3 Vigor comes with a black or white plastic backing that is smooth to the touch and an aluminum rim around its edges that screams "premium." The corners are round, and the device feels deceivingly thin, even when you're used to a 4.7" or smaller device. The front looks just like the G3 with an aluminum chin at bottom and black trim around the display. Slipping this into my pocket never felt like a burden and any time I pulled it out, (if people were actually looking around the real world) it would catch someone's eye.
[slideshow_deploy id='6328′]
The Vigor is simply just a very attractive handset, whether or not it's missing the G3's hardware guns. The 720p IPS display is vibrant, although not great in sunlight, and buttons on the back are svelte enough to almost forget they're there. And you'll definitely forget them because like the LG G Flex, these buttons are, yes, on the back. The power button is sandwiched vertically between the volume rocker directly below the rear camera. This unique design feature can come with a cumbersome reach problem, which I'll get to further on, but the lack of any buttons jutting around the sides of the device only add to the comfort.  I constantly looked at it thinking, "this is something I want to hold."
Hardware

The LG G3 comes with a giant 2540 maH battery and it's one of the best features of this device besides the attractive IPS display. But it's not just that the G3 Vigor lasts up to a whopping two days with mild use, it's that you can take the back off of the G3 Vigor (just like the G3) and replace this removable battery when dead. Under the back is where you will find that MicroSD slot for an additional 32 GB of external storage unlike the 2 TB supported by the G3 flagship (depending on carrier/international differences). This a wonderful thing considering the Vigor only has 8 GB of internal storage, which barely is enough for an average 16-year-old's selfie album these days.
The processor is Quad core 1.2 GHz Qualcomm Snapdragon 400 and it has an Adreno 305 GPU.  This is about half the speed of the G3, yet I didn't feel a single glitchy or lagged moment when using the device. Unless you're a hardcore mobile gamer, the performance of swiping around this 4.4 KitKat-embedded device is not going to trouble you one bit. The Vigor only has 1 GB of RAM, but you'd be hard pressed to figure it out streaming videos or taking photos. If anything, LG makes the G3 look like a ridiculous monster in comparison, one that may dwarf any necessities in smartphone use at this time.
Some of the coolest additions to the Vigor include the NFC chip for mobile payment and an RF chip for remote control. Both additions are becoming increasingly relevant for 2014 for mobile wallet applications and the use of controlling media devices and televisions. I made use of the RF with my own television and setup was ridiculously simply and exciting. You simply pick your TV's manufacturer with LG's installed remote control application and it will check every channel at once, turning your television on or off. You then confirm whether or not the settings and input buttons are working. I find this pretty handy considering I can never seem to find a remote control but never have  a problem finding my smartphone.
General Use
LG's Vigor never felt like a burden to take around town. Since design of this device is so thin (10.3 mm), it's completely unobtrusive in the hand or the pocket. I really liked the large display, even though I'm not a "phablet" fiend by any means. 5" phones are beginning to grow on consumers and this device is definitely one way to get comfortable with that idea.
In terms of issues, I felt like this device lacked a lot of brightness (literally). Compared to the iPhone 6, you would think there was something missing on this display. Sure, it's not 2K, and despite a decent 720p resolution, in sunlight it just was not the greatest screen to look at. In all indoor conditions, the display has great viewing angles and decent color reproduction, but I felt a need to keep it at full brightness at all times. Nevertheless, it's still seemed clearer than my (admitted favorite) Moto X original, but it just lacked the comparison to newer displays that are knocking it out of the park.
The buttons on the back initially feel like a drawback, however LG's Knock On software solves this by allowing you to double tap the screen on and off during use. This is a genius innovation that has been around for years (see my LG G Flex Review), and it makes for easily accessing notifications without having to fumble for the right button. Still, getting to the volume rocker can be tricky when listening to music, and it takes a bit of getting used to. Once the muscle memory is there, it's not the biggest deal, but if you have smaller hands it definitely can be a pain in the ass.
The speaker on the back is pretty clear and doesn't sound tinny like some smartphone speakers. We compared to the iPhone 6 and had trouble judging which was better. Phone calls are clear, and texting is fine once you get the hang of the keyboard. The main issue is that the keyboard starts out quite small. Thankfully, LG offers the ability to completely customize the Smart Keyboard to your liking, i.e. changing key height, width, arrangement, etc. Once that's calibrated, typing is a breeze.
Battery
I'd be remised not to mention how much the battery life was appreciated in this device. Like the HTC One and Samsung Galaxy S5 this battery lasts a decent amount of time. It doesn't hurt that it's pretty big. At 2540 mAh, it's larger than the iPhone 6 and the new Moto X, and only a tad smaller than the M8's 2600 mAh battery. I easily got 36 hours out of the device with light use and never had a problem making it a full 12 hours with heavy use. Of course, the coolest part is that you can replace the thing if you're on a long trek without an outlet available. Considering some carriers were offering a free extra battery with its G3, it's possible similar promotions for the Vigor could pop up.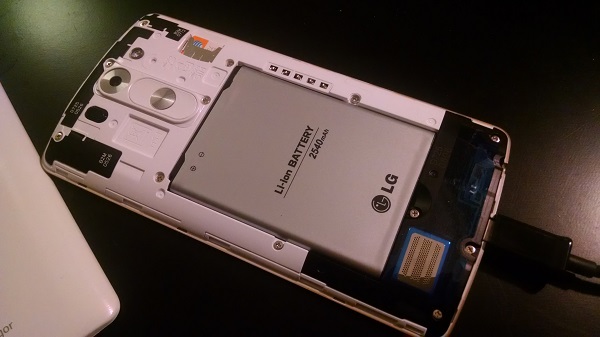 Software
The G3 Vigor comes with Android 4.4 KitKat and LG's own skinning over the software. The skinning has attractive flat square icons with fairly fun 3D animations. The settings menus are decent but the functionality left something to be desired. For instance, you can't two-finger swipe to a separate menu. Compared to some of other custom skins including HTC's Sense and Samsung's Galaxy settings menus, it just wasn't as smooth or intuitive. There is an ability to scroll through menu options above your notifications (side to side). This is an interesting take, but it lacks the "here's what I was looking for" feel. The Vigor's menu system gives handy access to apps that involve its QSlide feature. This allows for using multiple apps in windows on one screen. Quick Memo is a good example, as it allows you to take notes right over the home screen with text or drawings.
If you're really into multi-tasking, these features can be useful, but I feel it's just another unnecessary addition to stock Android LG needn't futz with. LG is attempting to add lots of customization for users including the keyboard, but if you're new to LG's software or Android, it makes for a very cluttered and confusing experience. How many kinds of BBQ sauce do you really need?
Camera
The 8-megapixel camera on the Vigor comes with laser auto-focus and it's a bit of a crap-shoot to use. In well-lit scenarios the photographs come out with amazing color reproduction and the sharpest details I've seen from a smartphone camera in a while. Fine lines in architecture really stand out, and it's really interesting to see. But even half-lit scenarios throw this camera's auto-focus off and shots become full of obvious noise even before taking the photograph. This ruins the fun considering how many other smartphone cameras (even LG's G3 original) are so much better in low-light settings. Unfortunately for you, Google Drive deleted most of our examples of this photography.  Below you'll see a couple examples of the Vigor's better shots.
[slideshow_deploy id='6347′]
The 2.1 front-facing camera is what you would expect. It's okay in well-lit scenarios. The "Beautify" setting can be fun to play with. it will cover up your blemishes or make you look like a photoshopped cartoon character. Per usual, you can say "whiskey, cheese, kimchi" and other fun phrases to take shots with either camera. This gimmick has always been fun to show off to friends, but you quickly forget about it. With video, the Vigor does shoot in 1080p and results weren't great during our sunrise window shoot.
 Overview
In 2014, phones come in two sizes and specs, monstrous and Energizer bunny. The LG G3 Vigor is clearly the Energizer bunny in this case. While it's literally about half the power house of the G3, this is still a phenomenally attractive handset that will make the average smartphone consumer happy. While its 8 GB of storage and 720p screen are a letdown, the additions of MicroSD storage and a giant (and replaceable) 2540 mAh battery that lasts two full days are completely palatable. However, we also weren't huge fans of the confusing software customization LG put over Android KitKat. The 8-megapixel camera is also real disappointment in less than optimal lighting conditions. At the end of the day, there are plenty other smartphones with better hardware and software available on the market, but they're definitely more costly. There is a place on the market for this budget smartphone with beautiful, solid build quality and battery life. You can pick up your own LG G3 Vigor at AT&T for $49.99 with a new 2-year contract or $334.99 at retail.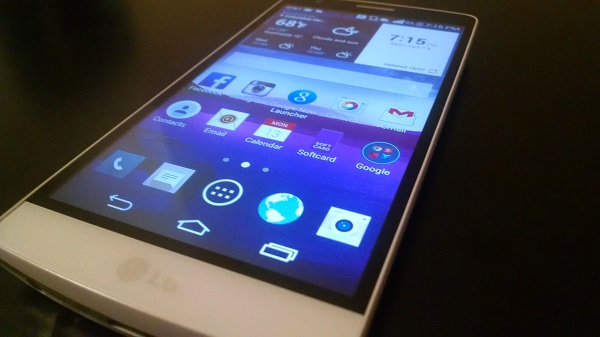 6.5/10