Today is the day Google has finally released official information on its new Nexus devices, the Nexus 6 smartphone and Nexus 9 tablet. Both appeared on the Google Play Store today and the Nexus 6 is larger than rumored.
At 5.96″, the Nexus 6 surpasses all previous iterations of the Nexus smartphone, and it comes with a 2K display (2560 x 1440 resolution). This is larger than both the iPhone 6 Plus and the Samsung Galaxy Note 4. The brand new handset comes with Android L 5.0, the most recent upgrade to the Google smartphone OS. As for cameras, the Nexus 6 has a 13-megapixel rear shooter with image stabilization and an f2.0 lens, as well as a 2.1 megapixel front-facing camera capable of 720p recording.
But most striking of all is the GIANT 3220 mAhbattery. The Nexus 6 comes with a battery that will last up to 6 hours with only 15 minute of charging. Read that sentence again. 15 minutes of charging will get you 6 hours of battery life with the Nexus 6 (Think Google is stressing the number 6 enough?). This exciting juicy revelation is fairly new in the realm of smartphones, and could be the most game-changing factor to date since the first iPhone in 2007. This fast-paced juicing is due to the recent debut of the Motorola "Turbo Charger" using Qualcomm's Quick Charge 2.0 technology. The charger allows charging of all recent Snapdragon processor devices within 15 minutes. Of course, Google waters down their statement on fast charging with fine print:
"All battery life claims are approximate and based on an average mixed use profile developed and tested by Motorola that includes both usage and standby time. Actual battery performance will vary and depends on many factors including signal strength, network configuration, age of battery, operating temperature, features selected, device settings, and voice, data, and other application usage patterns."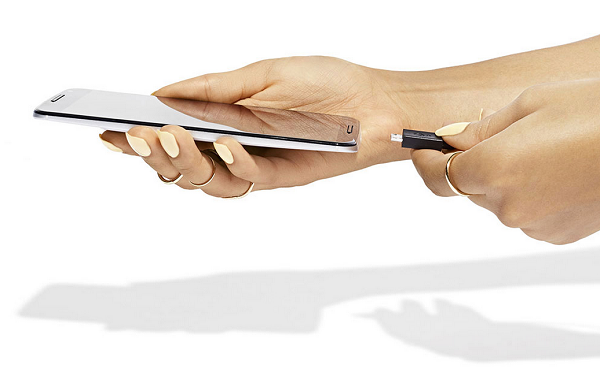 Aside from the battery, the Nexus 6 also packs some hefty hardware including a 2.7 GHz Snapdragon 805 processor and an Adreno 420 GPU. It also has 3GB of RAM (like the Note 4) and 32-64 GB of internal storage. This processor beats most as the S5, M8, and other flagship smartphones use the slightly slower Snapdragon 801 chipset. As for a release date, pre-orders start in late October. Pricing is set at $649 without a contract.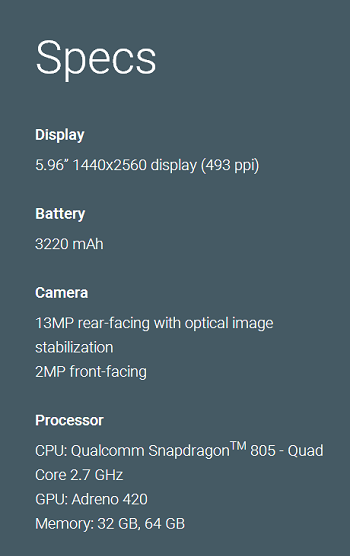 Source: Google