I live in Washington, D.C. and like to refer to it as the Portland of the East Coast. We have plenty of hipster beards, a constantly churning service industry, and more veggies and vegans than any other place I've lived. But most of all, Washington is known to be one of the most bike-friendly cities on the East Coast. Almost everyone I know here has a bike or knows a cycling enthusiast.  Heck, we even have a Bike Party dedicated to DC's love for cycling and listening to indie music.
Unfortunately, DC is even more notorious for its bicycle thieves. It's always the same sad story. You went inside your house for five minutes, left your bike out front (maybe even locked it), and POOF, it was never seen again. I see these grief-stricken Facebook posts every month–a crowdsourcing effort to find a stolen bike. Perhaps it will hit Craigslist or be seen locked up at a random bar or restaurant. Sometimes people even find them (albeit damaged from their theft). But there's light at the end of this cliche. A really simple solution to this stupid problem exists, and it's one involving age-old tech: GPS tracking.
It's 2014 and we've tracked our smartphones with "Find my iPhone" apps for years. Why is it we're willing to proactively protect all our other expensive toys yet not our $2,000 bicycles? Clearly your bike lock is just a bow on a thief's present, so it's finally time to try something better.
Meet BikeSpike. This 2013 Kickstarter project was successfully funded ($152,000) and started shipping last October. The $129 security tech device attaches to your bike's frame, and can even be disguised under a carbon fiber cup holder (another $40).
The device does have a battery, but charging is only needed about once a month, according to the BikeSpike team. The genius of the device is its connection to a beautifully useful smartphone app for iOS and Android devices. It uses BikeSpike's GPS and accelerometer chips to track your bike's movement. Not only will it notify a rider if their bike has moved from its original location, but it also allows cyclists to prepare police reports directly in the app.
Bike Spike promo on Vimeo.
And BikeSpike isn't just a preventative measure, because users can also track their rides, share their routes with friends, and even allow others to view their performances during a race. What more could you want in a security device? Unfortunately, SpikeBike does come at a price, because in order to keep track of your bike at all times, a data plan is required between $5-7 a month. This might seem like a lot, but when you consider the average $7-10 one pays for smartphone insurance, it's not that much different.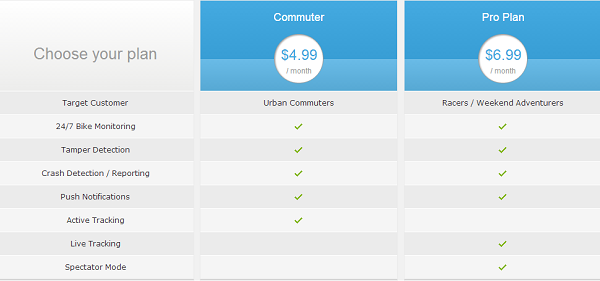 Of course, there's an argument for the possibility of bike thieves tampering with the device while attempting to steal it, however with the additional task of the lock, it seems like an unlikely scenario. Plus, the cup holder cage conceals the device really well. There are other companies offering chips that can be hidden inside handlebars and other various places, but BikeSpike suggest they lack the same utility (fitness tracking) and easy of installing their product.
And in this age of data love (another term I've coined), who doesn't want to see the numbers stack up to their daily workout? Security is the initial benefit, but the toy aspect is even better. Just be sure to charge your phone before locking up.
Update: Despite BikeSpike's successful funding, currently BikeSpike still appears be stuck in a reserve/preorder stage in October 2014. We're awaiting additional comment on that.
Source: BikeSpike