PNC Bank sent an email to its customers today announcing the addition of Apple Pay services via Visa payWave sensors. The new money management service from Apple was announced last week during Apple's iPhone 6 event. Apple Pay will be available for use via its NFC chip much like Google Wallet and Verizon Wireless' own ISIS (renamed Softcard) payment software.  The software will not be available for use until October with select Apple Pay partners.
"It's an easy and private way to make purchases, while receiving all the benefits of your PNC Bank debit card. We expect that you can start using Apple Pay on the iPhone 6 and iPhone 6 Plus later this fall," wrote PNC.
A quick wave of a smartphone is how Apple Pay and other mobile wallet applications work. Stores using transaction devices like Visa's payWave or Mastercard's PayPasss technology allow these mobile wallet transactions to occur via the NFC chip embedded in smartphones, which interface through secure mobile software.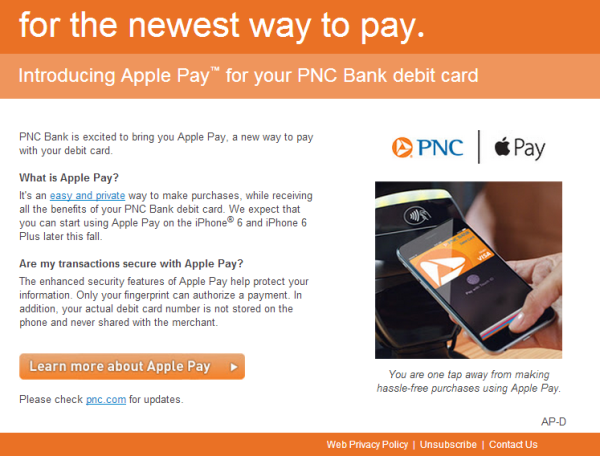 Apple Pay's October partners will include the following: Amex, BOA, Capital One, Chase, Citi, and Wells Fargo. Service will be added later to Barclaycard, Navy Federal Credit Union, USAA, US Bank and PNC. Apple Pay will be compatible with the iPhone 6, iPhone 6 Plus, and devices paired with the Apple Watch, which will not debut until early 2015.
For the full PNC FAQ, read on below:
Will PNC support Apple Pay?
We are working to make Apple Pay available for PNC consumer debit and credit cardholders. Please check back here for updates.
It's very easy to set up your mobile wallet and add your debit and credit cards. You can do this when you first set up your iPhone 6 or iPhone 6 Plus, or later when you open the wallet application. If your card is already being used with iTunes® and the App Store℠, you will be able to select that card first without entering any extra information. PNC and Visa will work to create a digital version of your account which will let you make purchases immediately with your iPhone 6 or iPhone 6 Plus. When making purchases with a retailer who has a contactless payWave terminal, you will simply hold your phone over the terminal and accept the charge with your fingerprint or passcode on the iPhone 6 or iPhone 6 Plus.
payWave is a contactless payment technology that allows cardholders to wirelessly communicate with a payment terminal in order to make purchases.
How will Apple Pay keep my information secure?
By using a device-only number as a substitute for your real credit or debit card number, you no longer need to share your personal account information when you shop. Using the digital account number reduces the possibility of your sensitive data being stolen or compromised because only the device-only account number is passed to the retailer and your personal details are never actually shared.
Will Apple Pay be available on my Android Phone?
At this time Apple Pay is only available for the iPhone 6 and iPhone 6 Plus. PNC intends to offer a similar service that allows customers with Android devices to make purchases wirelessly.
Source: PNC