Today is yet another day Apple product owners have been waiting for–the debut of iOS 8. The new operating system for iPads, iPods, and iPhones  is now available for downloading and installing on Apple mobile/tablet devices. The update is a rehash of iOS 7, one almost everyone loved when it was revealed last September, but the update isn't much different.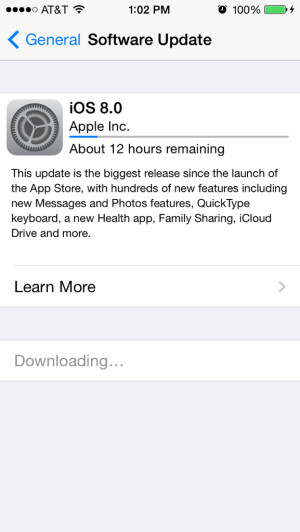 Today we took it upon ourselves to test it out (on an iPhone 5) and see how rough the update process is. As it turns out, the size is approximately 5.7 GB (1 GB compressed) and depending on your internet connection, it could take two hours to download and install. That's ridiculously large for a mobile OS. In my case, downloading iOS 8 took an hour, even with a 100 Mbps connection. We can definitely forgive Apple for slow downloading being debut day and all, but the process is certainly not one for the impatient.
After about five minutes of iOS 8 use, I was quite bored. iOS 8 doesn't change much from iOS7. Unless you're playing hard with Apple Maps or the new keyboard function of QuickType (which I do love, despite Android applications having this for the last four years), there's not a lot of differences period.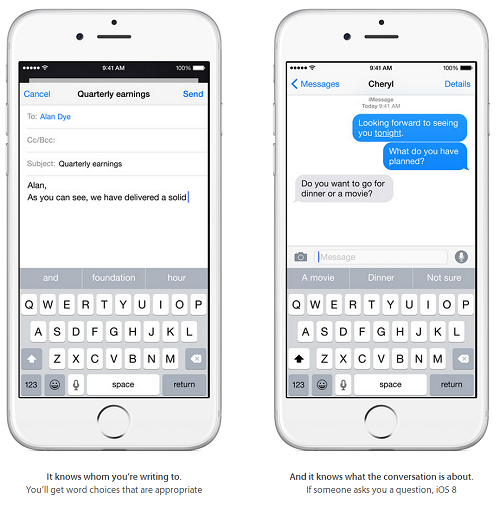 QuickType is great, because it predicts some of your most used phrases and longer words you feel too exhausted to type. There is still no swipe typing, but the ability to use third-party keyboard applications was finally accepted by Apple fairly recently.
But overall, Apple has left its bubbly icons, home screens, and general software untouched on established products. Larger changes to the camera and other iOS apps (including landscape mode features) will only persist on the iPhone 6 and iPhone 6 Plus.
What has your experience with iOS 8 been so far? Let us know in the comments. And don't forget to check out the results of Launch Day.