Good morning, Tech Void readers. We're going to attempt to cover Apple's iPhone and (hopefully) iWatch event today at 1 EDT. The long-awaited event should reveal a likely 5-5.5″ iPhone 6 and a smaller version with less features. In addition, Apple may debut or announce a new smartwatch ready to compete with the Moto 360 and LG G Watch Android smartwatches. Could it be the iWatch? Time will tell.
iPhone Predictions?
We're thinking premium iPhone 6 will include IR, NFC for an "Apple Wallet" application, major upgrades to the iCloud (especially security: Think J Law hack), and feasibly better Gorilla Glass, as well as an even more spectacular camera than the iPhone 5S (if possible).  Also, considering yesterday's leak, we believe the phone will look a lot like the HTC One M8. Two stripes on the back, aluminum backing, and rounded edges with the same fingerprint scanner on the current iPhone 5S. Personally, I hope a new battery-saving mode is featured, but we all know how efficient Apple is already with power consumption.
Stay tuned as we start updating at 1 EDT. Sources: Verge, CNET, Gizmodo, Engadget
2:30:  The Apple Watch apparently comes in three models, the Apple Watch, Apple Watch Sport, and Apple Watch Edition. It will be available in early 2015 starting at $349. No word on how it connects to your iPhone (Bluetooth, yeah?) or battery life. Hold your breath, Apple fans. That's all for now.
2:22: Usability of the "crown" wheel is minimal, it seems. Press for home, scroll for zoom. You can use Watch for Maps and directions:
2:21: Raising your wrist will wake up the watch. Texts can be answered with pre-written answers or emojis. Apple Watch actually analyzes responses based on texts you receive. This would help if people wrote simple questions on location, but it seems silly in principle.

2:17: My favorite watchface:
2:15: The Apple Watch interface is interesting and it software allows drawing and these interesting screensaver type things. Undulating waves and images. Pretty dots. There's a lot of art put into this design.
2:14: There appears to be several sizes, as well.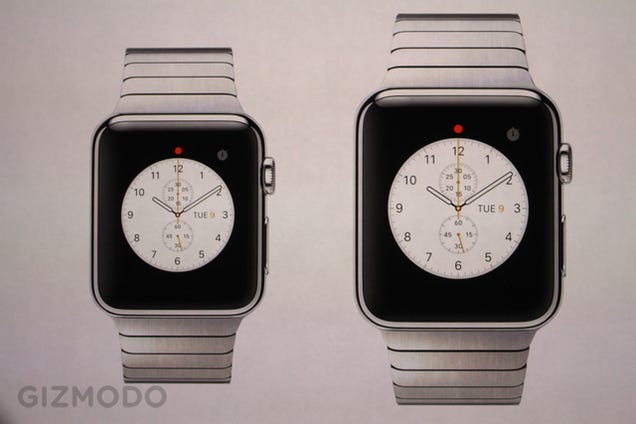 2:13: Apple says it's sealed to be water resistant. In addition, it has a wireless charger, which is smart considering how annoying it is to charge other smartwatches.
2:08: it's looking a lot like the Moto360 here. Weather, running pedometer tracking, etc. The interface is simple and even has Siri. Apprently it can tell the difference between taps and presses. Its "Sapphire" screen and "taptic" engine help this, sensing force vs. tap feedback.
2:07: The Apple Watch appears to have a heart rate monitor attached to the watchband, the ability to text or view notifications, and it doesn't look much bigger than the Moto360 or G Watch.
2:05: Apple Maps on the Apple Watch.
2:04: The Apple watch has a dial called the digital crown. It can be used to zoom and zoom out on a map.
"What we didn't do was take the iPhone and shrink the user interface and strap it on your wrist." – Tim Cook
2:01: The Apple Watch! Silver. Gold. Lots of colors and metal wristbands.
2:00: It happened guys. They had one more thing!
1:55: Apple has gained a bit of sponsorship with Apple Pay.
1:55: Back to Apple Pay a minute. You don't have to enter your card numbers, addresses or share your personal information with merchants. Security indeed. It clearly uses NFC and workes with TouchID for that one tap purchase. They call their new chip Secure Element. It's built into iPhone 6 and stores all info securely and stores all your credit cards.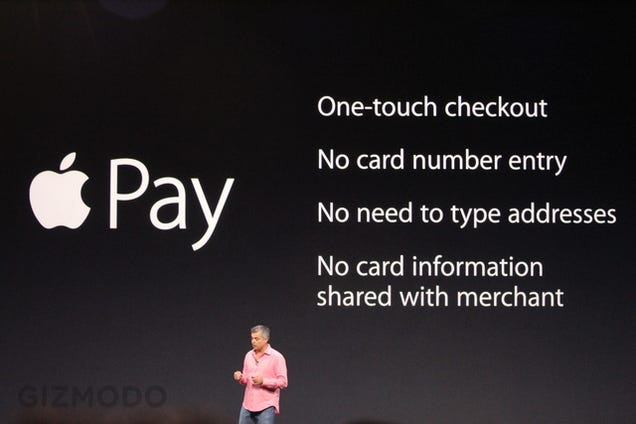 1:52: the iPhone 5S is cut down to $99. We missed this. The iPhone 6 models come in three sizes of storage. Finally a 128 GB phone. $499 on contract. The
1:48: Pricing! The iPhone 6 is $199 and the 6 Plus is $299 (on contract, of course). All phones above iPhone 4S receive iOS 8. September 19th is when you can buy the new iPhone 6 models. Joy to those with cracked screens!
1:47: We were right. Apple Pay has been created for electronic payments with Apple. What will ISIS and Google Wallet do now?
1:46: Apple has added a lot of one-handed functionality for these larger phones. I bet Steve Jobs is rolling. That said, it makes a lot of sense. TouchID allows use of your finger print to authenticate purchases. Pretty cool.
1:44: Ironically, a lot of these shops look horribly Photoshopped.
1:43: Something we can all be excited about: Improved selfies with face detection and burst selfies. Awesome for the narcissism in us all!
1:41: They're showing demos of the slo-mo, but Nokia has been doing this with its Lumia cameras/smartphones for years.
1:40: They're hyping video a lot right now. 1080, 30fps, all things you've seen in Android phones the last two years. Slo-motion too. Impressed?
1:39: Reports are Apple's site crashed. Anyone else having this problem?
1:37: The camera lens protrudes out of the new iPhone 6 models.
1:36: The iPhone Plus has actual optical image stabilization, something featured in nearly all flagship phones this year. The regular 6 has digital.
1:33: The camera is no different in the new iPhones apparently. Faster autofocus and true tone flash. 8 megapixels. But you can take pictures up to 43 megapixels, panoramas, that is.
1:31: There's a new motion chip, the M8, and a barometer. They're adding Nike Plus functionality and atmospheric pressure apparently. In addition, There is now VLTE, voice over LTE. It's supposed to make you sound clearer. Really, it just sounds like more data costs.
1:25: We're onto the battery. Apple says the new battery lasts 10-14 hours. The iPhone 5 is 10, so it's an improvement. But uh, really not much better. See the breakdown:
1:24: Apple is demoing a game called Vain Glory. it looks GORGEOUS.
1:20: Apple says the new GPU gives direct access to game developers. It's called Metal and is apparently better than OpenGL.
1:19: The new chip is called the A8 and is 64-bit. Graphics are apparently 50% faster than the iPhone 5.
1:18: They just talked about CNN having landscape mode functionality across all platforms. Boring, however the processor in the new iPhone 6 is 25% faster:
1:16: Verge has noted that the UI is different on the 6. Faces on the messaging app, for instance:
1:14: Thin is in and the iPhone 6 is no different. 6.9 mm is the iPhone 6. 7.1 mm for the Plus. Squashed indeed.

1:13:  4.7/5.5 inch are the two models. Full 1080 display on the 5.5 inch. Resolutions are 1334 x 750 1920 x 1080. 1080p on the 6 Plus, everyone.
1:12: New generation of retina displays. Retina HD. iPhone 6 has 1 million pixels and the Plus has 2 million. Absurd.
1:10: Two new models of the iPhone are confirmed. The iPhone 6 and the iPhone 6 Plus. Looks a lot like the M8!
1:08: Here's a great depiction of the iPhone evolution.

1:07: It's the most loved phone in the world, says Apple. Thoughts? I certainly love the camera!
1:06: Tim is talking iPhone numbers now. "Last year, we announced 2 new iPhones for the very first time. These iPhones helped iPhone become the top-selling smartphone in the world."
1:05: Verge found Tim Cook. He's had a career milestone apparently. Three years as CEO.
1:02: Apparently their feed to Apple owners is cutting out a lot. Errr.
1:01: There's a grandiose video on vision playing. People are being moved by innovation and other buzz words.
1:00: It has begun! Lights are down. People are cheering.
12:57: How many iPhone 5 sales do you think there were? I'm guessing nine billlion, a number just over the world's population.
12:55: Apparently Stephen Fry is hanging out.
12:54: Quite the theater:
12:53: Let us know what your predictions are! Seven minutes to nauseating Apple numbers.
12:51: Lots of celebrities are up front including Gwen Stefani, Jay-Z and some others yet to be named. It's getting A-List in Cupertino.
12:50: More lively journalists and epic logo photos: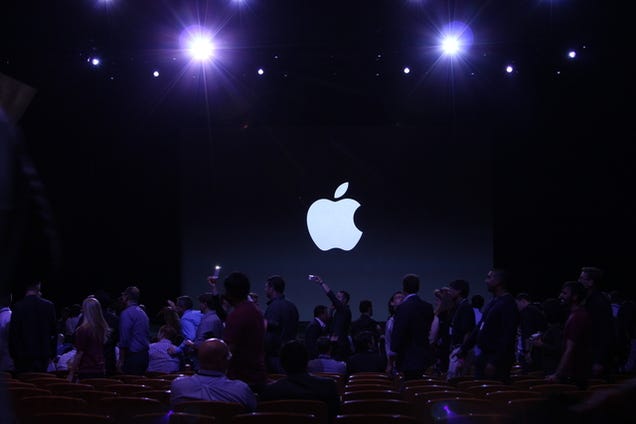 12:48: The Verge just posted this photo. Apparently everyone is shufflin'.
12:44: Press is being seated. Jokes about tech journalists and cardigans are being posted all around.
12:41: Some journalists are being allowed in apparently. In more exciting news, Gwen Stefani and Dr. Dre appear to be heading over

12:36: All journalists on Twitter currently report being crammed in like "sardines" and are waiting to be ushered into the auditorium, likely with Coldplay or Bob Dylan tunes playing. Photo: @JoshTopolsky