Smartphones are great tools for hands, but unfortunately sometimes they're better utilized without them. We're talking about those awkward shoulder-reaching selfies, holding your phone while driving to navigate home, and watching videos at the modern dinner table. Clipity, a new Kickstarter project, is designed to solve these small, albeit silly (#firstworldproblems) issues.
Clipity was originally designed by Steve Taylor of Salt Lake City to help people take better selfies. "l admit, it does sound a bit funny, but it works really well," said Taylor.
Currently Clipity has only received $1,790 of its $5,000 goal, but with 27 days left (at press time), I could definitely see this project being a success. You can purchase a Clipity and support this Kickstarter for $15 or $19, depending on your early bird-ness.
The Clipity is much like any clothespin-esque product. It has a spring-loaded, padded clip that can grab items. In addition, it has several suction cups on the back for sticking Clipity to almost any surface. Taylor says his product can hold onto the screen and bezel of just about any smartphone. After a few prototypes, he decided to try attaching Clipity to his rear-view mirror. "I've kept a prototype on the car's rearview mirror ever since," said Taylor.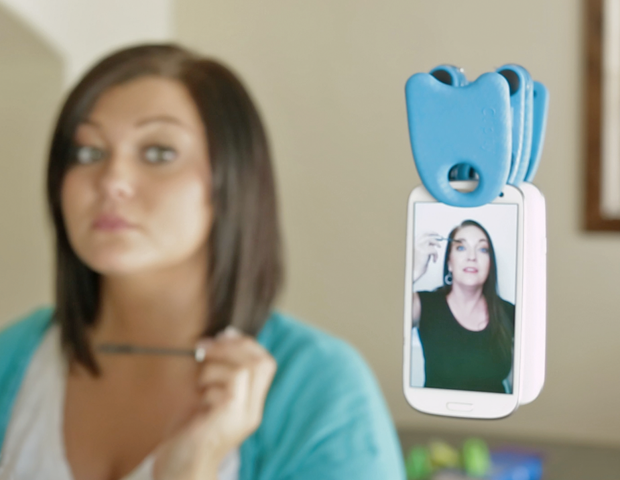 Taylor says the manufacturer's suction cups used for the Clipity are  known to hold security cameras to windows for years at a time, and the one on his rear-view mirror has yet to fall off. Clipity's cups are a bit smaller, but apparently stand the test of time just as well. According to the project page, each suction cup can handle up to 8 oz. For reference, the notably phablet Samsung Galaxy Note II weighs 6.3 oz.
Personally, my only concern with the product is it can potentially block your phone's screen during reading/viewing. Still, for casual navigation and free-handed selfies, Clipity is definitely a fun idea. Clipity comes in black, blue, green, and pink for the first production run. But the best part of this Kickstarter project is you only have to wait until October 2014 to reap the reward of your investment.