Sharp and Softbank are announcing a new lineup of smartphones in New York today known as Aquos Crystal. According to press releases and sources, these two devices have the thinnest bezels ever seen and a design out of an intrepid Sci-Fi film. Sprint's towers will be exclusive with these devices, named the Aquos Crystal and the Aquos Crystal X.
The design innovation give these smartphones a very sharp, sleek, and fragile look. The minimal bezel is impressive for its beautiful display contrast (much like Sharp's televisions), but it brings question to how a consumers could use them without covering the screen with their fingers.
Sharp describes the glass/crystal cut-like edges as below:
The "optical lens effect of the front panel which has been subjected to edge cut" and "frame LCD narrow panel" innovation of two frames of the terminal ※ 1 The pursuit of that limit to eliminate the "frame-less structure" was adopted to "CRYSTAL DISPLAY ".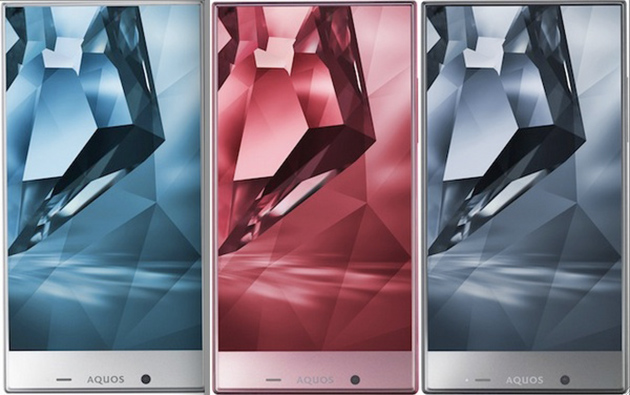 The first model, the Aquos Crystal, is a 5-inch mid-range device that will only cost $239 without a contract on August 28 with Sprint and it partners, Boost and Virgin Mobile. The phone has remarkable 10mm thinness. The display is 720p, and the phone houses a 1.2 GHz Snapdragon 400 with1.5 GB of RAM and a 2040mAh battery. The Crystal runs the latest Android KitKat 4.4.2. and has Harman Kardon-labeled sound included.
The Aquos Crystal X will be slightly larger and more interesting with its frame-less "CRYSTAL" 5.5″ 1080 LCD display.  It houses a Snapdragon 801 processor running at 2.5 GHz with 2 GB of RAM behind it. Packing a larger battery and larger frame, the X is a 11mm thick but still lacking a bezel.
Both devices are said to come with Harman Kordon sound and LiveStage streming, which allows for uncompressed streaming to a Bluetooth speaker. Seeing as Bluetooth speakers were the hottest gift last Christmas, this marketing tactic might be even more beautiful than the bezel for some.
At the end of the day, thin is in, but bulky smartphone cases preventing human error are too. Could Sharp's gorgeous attempt to flip profits from TVs to smartphones be a wise venture, or a fragile distraction? Let us know what you think in the comments.
Source: Sharp/SOFTBANK, Phone Arena