When I opened up the brand new AT&T Amazon Fire Phone, I was a little confused. And it wasn't due to its size or the Amazon logo on the back; it was because it could just as easily been mistaken for an iPhone. The device is a jet black 16×9, 4.7″ slab with rigid (but rounded) edges, and it has a glass backing like that of the iPhone 4S.  It feels sturdy and pocketable, fitting perfectly in one average-sized hand, even in comparison to the Moto X. In fact, apart from the Amazon logo on the back, no one would be the wiser that this is not a brainchild of Apple. But no, this is a Jeff Bezos (CEO of Amazon) device by all accounts, and it has the UI and software to prove it. Below you'll find the full Tech Void rundown and review of this AT&T exclusive device.
Design
As noted, the Fire Phone is an incredibly glossy device. The front and back are glass (unwise), the edges are round, and its long and skinny physique are quite reminiscent to the iPhone 5's debut. However, with a hard plastic encasement and smoother corners, it infinitely more comfortable to grip. This Fire Phone has a volume rocker on the left side as well as a nifty dedicated camera button. This is also used for Amazon's heavily advertised Firefly application included on this device (more info on that below). There is small tactile home button on the Fire below the screen, and a power button and headphone jack up top. At first look, you'll immediately notice underneath the 4.7″ Corning Gorilla Glass 3 LCD that five front-facing cameras are staring straight at you. It's technically not the most attractive thing to see either, but these are used for an innovative 3D-UI called Dynamic Perspective demonstrated in our video review below.
Hardware
The Fire Phone is packed with state-of-the-art tech including the 720 x 1280 4.7″ IPS LCD capacitive touchscreen and a Snapdragon 800 processor with a Quad-core 2.2 GHz Krait 400 CPU and Adreno 330 CPU, only one baby step down from the Samsung Galaxy S5's 801 chipset. It comes with 32 or 64 GB of storage, and 2 GB of RAM. But what's more is the epic 13-megapixel rear camera. The Fire Phone can shoot up to 4128 x 3096 pixels and film in 1080p @ 30 fps. Of the five cameras in front, only one is usable and it's only 2.1 mexapixels. The battery is a 2400 mAh Li-ion. Two decent  stereo speakers are included in addition to the usual gyroscope/GPS/accelerometer/WiFi/Bluetooth 3.0 features. It also has a barometer. The charging port is like any other Amazon device, microUSB.
[slideshow_deploy id='5733′]
Software
The Amazon Fire Phone was incredibly fun to use for a few reasons. The major one was it simply being different. After reviewing dozens of plain-Jane Android and iOS devices, it's really great to see something unique now and again, and Amazon has achieved that with adding dozens of new software features its Fire tablets have yet to see. Sure, Amazon's app carousal doesn't look much different, but its how UI is integrated with it that makes it really fun to use.
Dynamic Perspective
Take the new 3D feature of Dynamic Perspective, for example. This slight gimmick is the heart of this smartphone. The Fire's five cameras on the front follow your head around to change the perspective at which you see things. Whether you're in the bamboo forest lock screen, playing a game, or scanning through the Fire's applications, you can visualize each icon and pixel in a three-dimensional space depending where you are in relation to the device. But Dynamic Perspective can be utilized in more ways than gimmicky motion-sickness fun.
With the Fire Phone, you can actually scroll through emails and news stories by simply tilting the device back and forth. That's right, no pinching, or the need for two hands to do something as simple as reading. This is absolutely great for a rushed and cluttered morning commute. The Fire also utilizes perspective in Amazon's Maps application by allowing you to peer around corners or further up the street to your destination. It's a way to visualize where you're going without,  again, requiring two hands. These are both quite respectable and functional additions I have yet to see on any other device.
Firefly
As you can expect, an Amazon Fire Phone, like its Fire tablets, is a gateway to everything Amazon. Amazon Video, Amazon Prime, Amazon Music, and general Amazon shopping. That's the exact advantage Jeff Bezos has in building a custom interface that brings customers directly into his billion dollar Amazon world. And despite the tacky thought behind it, it's basically no different than Apple monopolizing with access to its iTunes Store and plethora of software. However, the Fire Phone is definitely the first phone with a button dedicated to shopping. Enter Firefly and its direct link to your Amazon wallet.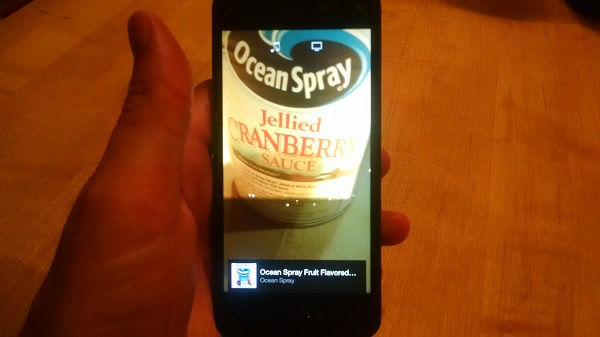 Firefly is launched by holding the "Firefly button" as noted in Amazon's specs page. While a quick tap only opens the Fire Phone's camera, holding this button down opens Firefly, an entirely different camera application. The basic function of this program is to identify anything and everything one can buy. Any product on a grocery store shelf with a readable label will be quickly identified, priced, and located on the Amazon store for you in a second.
And just like that television commercial (the one where a kid identifies the correct Hugh Jackman Wolverine film in an airport), Firefly was able to listen to the movie Bubble Boy on television and successfully identify and price the film for me. In my playing, I was able to pick out Heinz Ketchup, Ocean Spray Cranberry Sauce, Tostitos Salsa, and most other items I spectated on with the app. I did have trouble with some store-bought tequila and other obscure items, but basically Firefly finds anything it can sell via Amazon in less than a second. The problem is, Firefly may end up finding you the wrong version of your product.
If price comparison is the game, Amazon's Firefly fails in defaulting to single item pricing. Identifying Heinz Ketchup may bring you a Costco-worthy bulk buy of six bottles. This can be a problem considering how easily you can purchase items too (Seriously, two taps.). If nothing, Firefly is a great price comparison tool, and I like the ability to quickly remind yourself of things you wanted by going through a list of recently Firefly-ed items. If anything, it's something fun to show off.
Mayday
Without Amazon's notably great customer service, it's likely they wouldn't be so loved. Thus, they've made sure to include an application dedicated to keeping its users happy. Mayday is already on Kindle tablets, but here it serves as a smartphone fixer, giving you direct webcam access to an Amazon customer service rep or "Tech Advisor" ready to serve any need. Interestingly (and thankfully), despite having a visual on the customer service rep, Amazon says Mayday only shares a visual of what your Fire Phone's displays. To me, the idea is still a bit creepy, interacting with a stranger via webcam, but it's one that does seem to be fit for 2014 and Amazon's customer service reputation. It's also available any time, day or night, so when grandma can't seem to find her text messages, she doesn't have to call you at 5:3o in the morning.
General Use
Thankfully many of the stock Android features of Swype typing are included on the Fire Phone, so typing was generally quite easy and accurate on this device. Also, adding all of my Google contacts, emails, and home WiFi was quite simple from Amazon's Fire Phone startup guide launched at first boot.
But beyond basic functions and setup, it was the unique UI features that really made the Fire Phone stand out for me. This is the first phone I was able to use physical gestures to get to different settings and menus.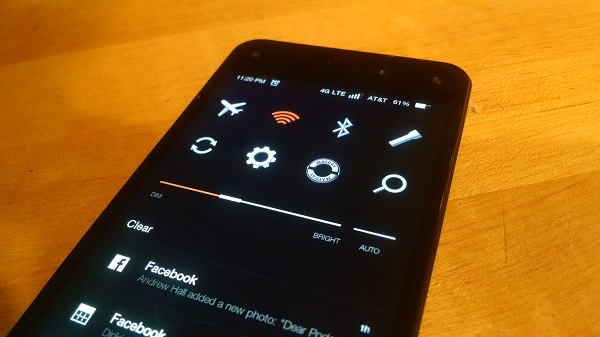 Gestures
With a simple 45-degree flick to the right or left, you can bring up the brilliant Fire Phone settings menu with toggles to your most basic needs (Wi-Fi, airplane mode, Bluetooth, etc.) and a list of your current notifications. In addition, if you wrist flick the phone to the left from any menu screen, a table of contents-style menu moves to the left giving you access to everything including Apps, Kindle, Prime, Shopping, Video, and everything else without having to scroll through the above carousel menu or a list of applications. I found this particularly helpful when being rather unfamiliar with all of Amazon's custom icons and their functions. Flicking the device with your write to the left will bring up the weather.
Better yet, all of these gestures are utilized in actual applications, allowing you to bring up the Settings menus and other features unique to each app. It's definitely a bright future for developers, as the SDK for all of this is open for use.
Adversarial with Google
One of the problems I had with the Fire Phone is how locked down it is. The Amazon App Store is extremely limited and in a way that can be prohibitive in social media and general use to those who love Google's Android products. While you're able to get Twitter, Instagram, Uber, Whatsapp and Facebook without issue, applications such as Snapchat are not yet supported by the Fire Phone. In addition, as Amazon will not include the Google Play Store, I was unable to install a dedicated Gmail application, Google Hangouts, or even Google Maps, my all-time favorite Android application. The navigation app available is Amazon Maps.
While I respect the war on third parties, as this is an Android device on the back-end, not supporting Google products is ironic and really annoying. Sure, you can install a random developer's workaround app to gain access to all of your Gchat friends and preferred email, but why bother if you could have purchased a stock Android device in the first place? There is a reason Google has a stronghold on products such as Gmail and Google Maps, and Amazon should accept it. Amazon's Fire tablets and even Apple's devices have gotten away with this in years past, but third party Google applications are being increasingly accepted across devices (even on Apple's Google-hating iPhones). Due to this, I feel Amazon should have been more progressive with its first phone.
Battery Life
Battery life on this device was definitely decent, but it still doesn't contend with other flagship 2014 phones. I could get a day and a half out of the Amazon Fire with very limited usage. The issue is attempting to tag-team a review and keep track of your personal phone's livelihood at the same time. I imagine the life of this battery isn't an issue if you're an 10-hour day, charge-your-phone-after-work type of person. Nevertheless, considering our reviews with the Samsung Galaxy S5 Active and the HTC One M8, one day on average is still a disappointing result in an era where extra-long battery life is a necessity rather than a bonus. Also, like the iPhone, the battery is non-removable and likely to falter with age.
Camera
The 13-megapixel camera on the Fire Phone is one of the best we've reviewed aside from the Moto X and the Nokia Lumia 1020. 9 out of 10 images taken on this camera stand up to the best from the iPhone 5S, and that's an incredible feat for Amazon's first smartphone. Color reproduction is brilliant, and contrast and lighting are more than decent. Taking pictures of people and their faces is honestly just a fun and beautiful experience. I'm not sure what's happening with the sensor, but people and landmarks honestly just look more attractive in these photographs. It's the type of lighting that picks up your best complexion and reproduces in a photograph reminiscent of a dark and vibrant David Fincher movie. Who says not all of Washingtonians can be cast in House of Cards?
[slideshow_deploy id='5741′]
As for software, Amazon's camera is simple to use and makes a satisfying shutter noise. It's fast to focus and snap. Again, the results are absolutely stunning. I took it down to the National Mall after sunrise and got some amazing results above. Even the front-facing camera manages to take some of the most attractive selfies we've seen from an Android camera—or was it just that I woke up like this? With the Fire Phone's added sticker features, it's at least worth the fun of placing monocles, mustaches and cigars on your best friends. The 1080p video also came out quite well, contrasting flower beds beautifully and picking up traffic noise at a steady and fair volume.
Overview
The Amazon Fire Phone is honestly a great device. It's well-crafted, attractive, and has some of the most unique UI features we've seen from a phone in years. It's incredibly fun to use, and that's not something I can say for many devices I've reviewed. However, it also has a precarious glass backing, lacks any 2014-worthy waterproofing perks, and it has incredibly limited access to useful and popular Android applications such as Google Maps, Google Hangouts, Snapchat, and others. The battery is also fairly average, meaning owners are going to have to charge at work or when they get home.
The Fire Phone's general stress upon Amazon products and features, including added Mayday and Firefly software,  is an obvious ploy by Bezos and his team to keep users' wallets and minds accessible to Amazon.com. This could be considered highly convenient or devious and dangerous depending on the person. All of this said, the brilliant camera on this device is almost worth it alone to purchase the Fire Phone. We loved the design, the camera, and the general UI and gesture functions.
You can pick up this AT&T exclusive online for $199.99 (32GB version) with a new 2-year contract or $649.99 without. the 64GB Fire Phone will cost another $100 for both.  There's also an Amazon incentive for buying one. A full year of Amazon Prime is included on all Fire Phones for a limited time. If you already are a member, Amazon will extend your membership another year.
7.5/10