When the Samsung Galaxy S5 came out this spring, it was one ugly band-aid of an unveiling. You know what I'm talking about, that dimpled pleathery backing on the device. Still, it had state-of-the-art specs, a beautiful 5.1″ HD display, and improved Touchwiz overlayed onto the smooth 4.4 Android KitKat running behind the scenes. But with all S devices, there's always a counterpart to follow. And, in this case, it's the Samsung Galaxy S5 Active. Like the original S4 Active, this device is ruggedized for the outdoorsy, the clumsy, and the generally careless with their belongings. AT&T was nice enough to send us a review unit and we gave it a fortnight of data tracking, dunk-testing, and general smartphone gauntlet of use. Read on below to see how the Active is one of the most indestructible flagship phones on the market.
Design
This sturdier version of the S5 comes with ribbed, hard plastic casing, port covers, and tactile plastic menu buttons. Being rugged, completely watertight (cover on the USB port), and near impossible to damage with a tumble, this device is meant to weather almost any storm or careless owners the S5 Active encounters. But it's damn ugly. The back has a jungle camouflage print to it just like the previous S4 Active, and the black plastic rim around the device resembles some of  the toughest third-party smartphone cases. The corners are angled, yet rounded. Despite all the ribbed edges and stylistic changes, the S5 Active still remains relatively hard to grip. The back is slippery and pulling it out of your pocket can be a bit cumbersome with all of the bumps and ridges around the edge.  Since the internals are exactly the same in the S5, the Active is literally the same device with extra girth and durability. However, there is one other difference and it's the magic blue button on the left side above the volume rocker. This "Active" button plays a significant part of the software bonuses of the device which we'll get to later.
Hardware
The S5 Active comes with the same exact specs (internally) as its more attractive and dimpled brother, the S5.  Its display is a 5.1″ Full HD Super AMOLED covered with the sturdy Corning Gorilla Glass 3. It's very visible in sunlight and gorgeous to play any games, browse photographs, or watch media. Of course, with its extra casing, it's a little larger around the edges. Inside the phone you will find 16GB of internal storage and a microSD slot that supports 128GB of external storage. In addition, the AT&T S5 Active comes with an extra 50GB of storage through AT&T Locker. The S5 has 2GB or blazing RAM, a 2.5 GHz Qualcomm Snapdragon 801 processor, Adreno 330 GPU. All of this runs on 4.42 KitKat. There's also a giant 2800mAH removable battery thanks to a friendly back panel. Finally, the Active's standout feature is the heart rate monitor on the back. It also comes with a 16 megapixel rear camera, 2 megapixel front-facing camera, and an IR blaster on top for remote control features. In essence, this phone is stocked with the best smartphone hardware components around along with some extra features to support its "active" purposes. [slideshow_deploy id='5550′]
Software
Samsung's TouchWiz brings vibrant and attractive theme alterations to Android 4.4. It also comes with flat icons and full-blown settings menus with simple tapping for toggling. Seriously, settings are everywhere and absurdly easy to control. Samsung has also included some extras like My Magazine news aggregation app, standard AT&T applications, its S Voice software (like Siri or Google Now) and the Samsung Activity Zone, which the phone's name is based upon. TouchWiz, while bubbly, is actually pretty easy to use and more user-friendly than stock Android for the average users. This is why my mother can use the S5 and not be totally lost. But better yet, even as a power user, the functionality of the giant TouchWiz settings menus will always be appreciated. Unlike HTC's Sense, TouchWiz feels actually useful rather than prohibiting to the Android experience. Swiping left on the S5 Active brings up My Magazine which is almost exactly like BlinkFeed or Flipboard if you're more familiar. Since I never store any applications to the left, it wasn't annoying either. I actually enjoyed using it in the morning to catch up on my favorite news sites and blogs.
S Voice
S Voice is Samsung's own voice command assistant. It can be accessed by tapping the home button twice. S Voice has a lovely female voice like Siri (and less robotic), and its functionality is also much like Google Now or Microsoft's new Cortana voice assistant. S Voice will open apps, tell you the weather or World Cup scores, and send friends texts on a dime. In our tests, it was just as fast as Google Now, but more information was searched than it was read aloud. While I'd personally prefer to use Google Now, the accessibility with the home button was enough for me to want to use S Voice more often without any frustration.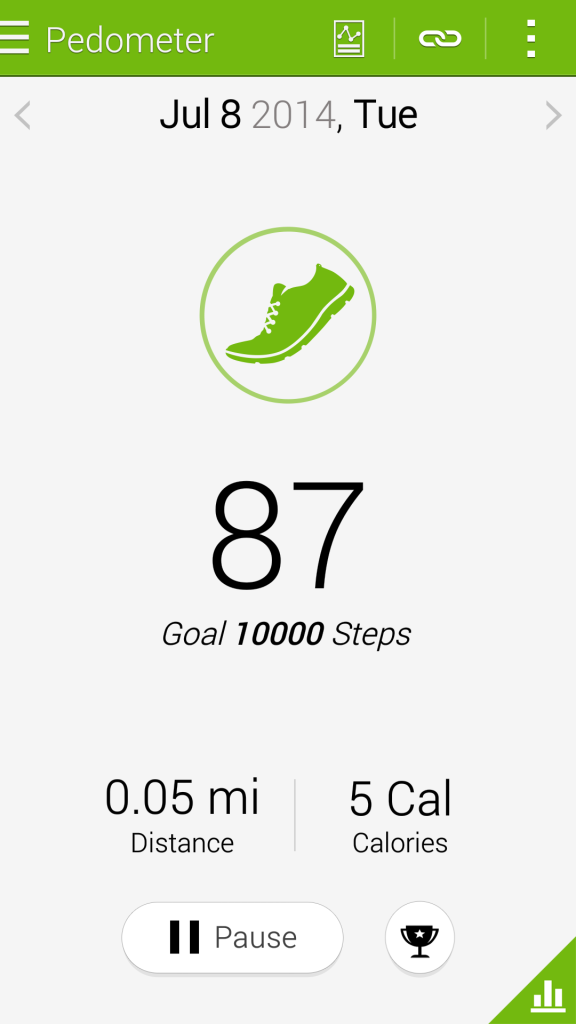 Samsung Activity Zone/ S Health 4
The magic blue button we mentioned earlier will bring users to the Activity Zone. This app toolkit includes a: Barometer, Compass, Flashlight, Stop watch, and Exercise tools. Within this app drawer, more app shortcuts can be added, but the basic tools are amazing. My first love was the compass, simply because of how geographically challenged I am. Knowing where North is when trying to find friends at a Washington, DC bar is pretty clutch. It's also insanely accurate down to your address thanks to the GPS-pairing. I was also happy that I could get to the flashlight with a tap of a button, rather than browsing the shortcut on my phone in the dark. In my video overview up above, you can see me run through some of these features and why it's so helpful. It should also be noted that the blue button can also be programmed to open just about any application. Plus, if you hold it longer, you can launch the camera instead. Both of these commands can be altered in settings (short and long press), however you can't actually use the blue button to unlock the phone, let alone when the the phone is unlocked.
S Health
The Activity Zone is also linked to S Health where you can track workouts (running/walking) and graph your progress. The feature is pretty fun. You can do this using Samsung's internal gyroscope-driven pedometer or more accurately by linking to any compatible wearable like the Samsung Galaxy Gear 2. Unfortunately, part of the gimmick of this phone is that in order to use its "Active" features, you're likely going to want to own another Samsung device to pair with it. The internal pedometer tool is nice, but accuracy can be a little suspect with so much jostling around in a pocket. Plus, do you really want to run ten miles carrying a giant phone? I recommend getting an armband, if so. While you can also use third party applications like MyFitnessPal and others to track workouts, compatibility with say, Fitbit won't work with standard applications. [slideshow_deploy id='5577′]
<!–-nextpage–->
Battery Life
Honestly, this is one of the best feature of phone. Samsung's Galaxy S5 lineup has the most incredible battery life we've encountered in 2014. But it's not for the reasons you think. While the  2800mAh battery is generously large, it's the two battery saving modes included are incredible. The first is Power-saving mode, which allows you to max out the entire life of your S5 by turning down brightness, screen frame rate and limiting background application data. But the coolest feature, which is usable in both power-saving modes, is the ability to turn the phone grayscale. Who knew 16 million colors was so harsh on a battery? It's also a bit of a fun feature, because everything looks antiquated and more attractive. Your photos and videos look more romantic than ever before in grayscale mode. Just don't forget you to actually Instagram filter your content when you turn the colors back on. Ultra power-paving mode is probably the most dire and awesome ways to save on battery life. Ultra limits just about everything you do, looking to maximize that last 10% of juice to another 24 hours. At full charge, Samsung claims you can get about two weeks on standby using this feature. At half charge it told me 7 days. What is this, a Nokia candybar? Ultra power-saving will limit your phone to one home screen and half a dozen apps of your choice. I had five including my internet browser, email, texting, and Facebook. There are only a few options to select, including Twitter and Google+. Ultra manages its amazing battery saving by turning off mobile data when the screen is off as well as Wifi and Bluetooth. It also utilizes the same energy tactics from the former power-saving mode. Both of these were features were utilized throughout the review, especially when out all day without a nearby outlet. We all know the feeling dismay from a dead battery before an evening out. While using the S5, I never missed a single text or impromptu venue change. Perhaps battery woes are on their way out.
General Use
The Samsung Galaxy S5 is clunky, but a great phone to take with you hiking or exercising if you have the accessories, pockets, or ability to make it comfortable or manageable. We've definitely carried larger phones in our pockets, so the S5 Active isn't the worst in terms of comfortable handling, but it does feel cumbersome. Nevertheless, this phone can take a beating, and you can leave it out in the rain or on the ground at a July 4th picnic without worrying about its safety in the slightest. Drown it; give it a tumble in the dirt, or throw it in your truck. No matter how rough you are, the Galaxy S5 Active handles it all without so much as a scratch. If you want some proof, check out my zany water test in the video below. Phone calls were crisp on AT&T's network, and signal strength was never much a problem for the Active, save for during Metro rides or basements. While I'm not the most appropriate person to test the ferocious fitness functions of this phone, I found the Activity Zone applications really convenient and fun to use. The compass is more useful than you might think for general navigation, and it's accuracy is spot on. Of course, if you aren't very active or don't have a Samsung-compatible wearable the prolonged or convenient use of these features are questionable. Either way, it's a great part conversation starter. "Which way is North again?" In terms of reading, typing, and using the phone for general email and media consumption, the S5 Active is great. Typing is accurate and the screen is absolutely gorgeous and readable in sunlight. Netflix and playing games is flawless and lagging is unheard of with its quad-core specs. My only real gripe with the Active is that you can't actually double tap the screen on, you can't use the Active button when the screen is locked, and unlocking the screen is just difficult in general. For the "Active," it makes sense, especially if you're using this on a hike and don't want to butt dial the entire world any time you jump on a rock. Nevertheless, the option to change this setting would still be appreciated.
Camera
The 16 megapixel camera is another best of for the S5 Active. Pictures in ample lighting come out perfect, just about every time. I took some great shots on Independence Day across from the Lincoln Memorial you can see below. In addition, it's one of the fastest cameras I've used on Android. It snaps as quick and as focused as the iPhone 5S and with just as much quality. Just be sure to turn off "image stabilization," which is turned on by default and doesn't allow for the tap-and-snap speed you're seeking. In low light, the camera still manages pretty great color reproduction without and a hint of noise.
[slideshow_deploy id='5544′]
The S5 Active camera software comes with a plethora of features you'll never use, including "Beautify Face for selfies, Panorama, Virtual Tour, Dual Camera, Panning, etc. Useless tools aside, the compilation mode options can be really fun, using burst shots to build an interesting collection of one moment. In addition, the Virtual Tour mode is pretty interesting, as it creates a 3D slideshow of a location. Keep this in mind for your next apartment hunt. If you're into selfies, I don't recommend the Samsung Galaxy S5 or the Active, because this 2.1 megapixel shooter is as washed out as can be. It's better when you turn off the airbrushed Beautify mode, but whether in low light or ample, this is one horrible camera. The S5 shoots video up to 2160p (4k) and it turns out beyond great. The gorgeous hyper-contrasted results will make you taste colors. I can't imagine any adventurer who wouldn't love to have a rugged all-in-one smartphone and camera like the Active in their pocket.
Overview
The AT&T Samsung Galaxy S5 Active is a device that will not drown in your pool or die in the dirt while camping. There's something to be said for that. Just think about how many phones you've murdered in pools or on concrete. This will likely not be one of them. But you don't have to be a klutz to like this phone. It has some of the finest specs in all the land, incredible battery life, and a glorious display for Netflix, YouTube, gaming, and the like. The tactile/hard button menu buttons may be a drawback for some, but for others it will be reminiscent to the genuine feedback we once all knew from smartphones. The AT&T Samsung Galaxy S5 Active can be had for $199.99 with a 2-year contract.
8/10