Despite the storm Facebook has endured since involving users (unknowingly) in a psychology study, the social networking site isn't going anywhere. And, as it turns out, neither are the constant updates to its layout and functionality. Several of such changes were rolled out over the weekend, including the ability to build a status on any page of Facebook, without actually leaving it.
This new pop-out status functionality is actually pretty useful, as it remedies one of the most annoying problems with most websites–the inability to muliti-task. The new feature allows users to upload a photo or video, check-in at their favorite restaurant, write a status, or even add a "Life Event," from any page on Facebook. Just hover your cursor over the top of the page in any browser, and you'll see the new status menu.
The addition definitely seems marketed to the ever-distracted Millennials of the world. It's great for any social media power-users, who may be chatting, browsing their newsfeed, and looking to upload photos from their weekend all at once.
Better yet, Facebook has updated its mobile applications on both Android and iOS devices as of July 3. Included in the update is an easier way to filter your posts to select audiences. Going to a private party but don't want to the entire world to know? Facebook's mobile application now puts a a giant "To: Friends" drop-down menu item smack dab at the top of the status tool. Breath easy Moms and Dads, you'll no longer have to read about your kids' bar-hopping exploits.
The new addition seems to take note from Google Plus, which puts "Circles" at the forefront of its sharing functionality. Considering how Google+ has pulled some of its user based upon frustrations with Facebook's constant privacy issues, making this similar feature more prominent is a smart move for the social media heavyweight. Of course, after years of Facebook making posts automatically public without much warning, time will tell how much consistent censorship users will be privy too.
Oddly, this updated "To:" filter feature is not mentioned in the update, but most changes are simple design and readability enhancements. The other most prominent and useful updated included in the July 3 patch is having the "Search" function accessible on any page you're viewing, much like the actual website.
Let us know how you feel about the changes below in the discussion.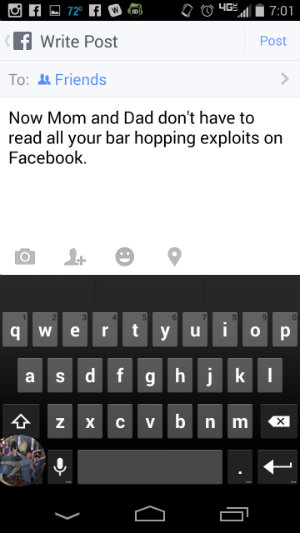 What's New
• A new look and other design updates:
– Swipe to quickly navigate among different areas in Facebook
– Search anywhere using the new search button
– Access Most Recent and other feeds under More on the right
• Improvements for reliability and speed
Source: Facebook on Apple Store and Google Play