God knows the worst part of booking travel is watching prices go up every minute you delay booking. Thankfully, a new service called Level Skies looks to remedy the wallet-crushing problem. LevelSkies.com allows travelers to "lock in" a specific airfare itinerary at a designated price point, even without booking. Even once you decide to click "Book," Level Skies will keep your "Flex Fare" and literally pay you out for any increases in cost.
In order to do all this, customers must purchase a Flex Fare, which costs about $25. We set one for a vacation to Florida and the reserve lowest price listed as $325. So how does this work? The friendly staff at Level Skies actually want you to email your initial itinerary or confirmation to them before and after buying the Flex Fare. After officially purchasing your confirmed trip, Level Skies will pay you if the lowest airfare on the route ($325 in our example) goes up by the time you booked. The most convenient part of this service is that even if you book with miles or points, Level Skies will still send you cash for the difference. Level Skies keep saying "cash," but it's likely they mean a check.  For the full explanation, read their FAQ below.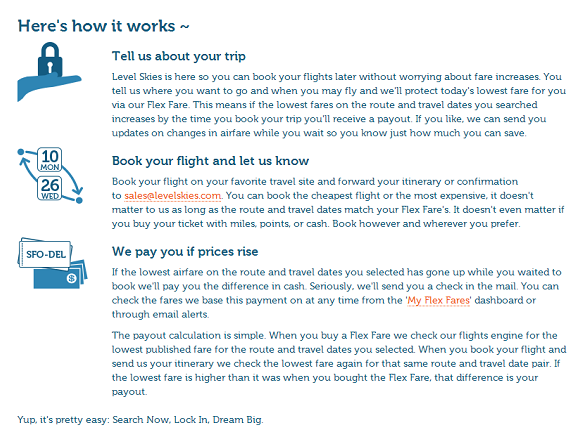 Level Skies has a pretty simple UI too. When buying your Flex Fare, Level Skies has you enter your dates, departure flexibility,  and how much time you need to wait to book (between 1-4 weeks). Click "Find a Flex Fare," and Viola! A lowest price Flex Fare can be purchased for $25.  The only issue I've seen with the website is that it didn't initially like my use of airport codes in Chrome. I had to type in actual cities to get to a drop down list of desired airports. This wasn't the case for other testers. Nevertheless, here's a word to the developers: Some stuck is happening. In addition, selecting dates was a bit glitchy, and Level Fares spit out error messages during the first few attempts of Flex Fare booking.
Level Skies says they currently do not cover every route, but the ability to book whenever to almost anywhere is a pretty flexible trade off for this service. All that said, with trip insurance only costing about $15 on third party airfare sites like Orbitz, it's a wonder if their Flex Fare can be competitive in such a large airfare market even with this added flexibility.
Hiccups and competition aside aside, this service could be really helpful when attempting to plan vacations you haven't quite thought out or saved enough scratch for. Sure, a month isn't that long to book ahead, but if I can reserve a $300 airfare in the summer anywhere, I'm generally a happy camper. Check Level Skies out for yourself and let us know what you think.
Source: Level Skies